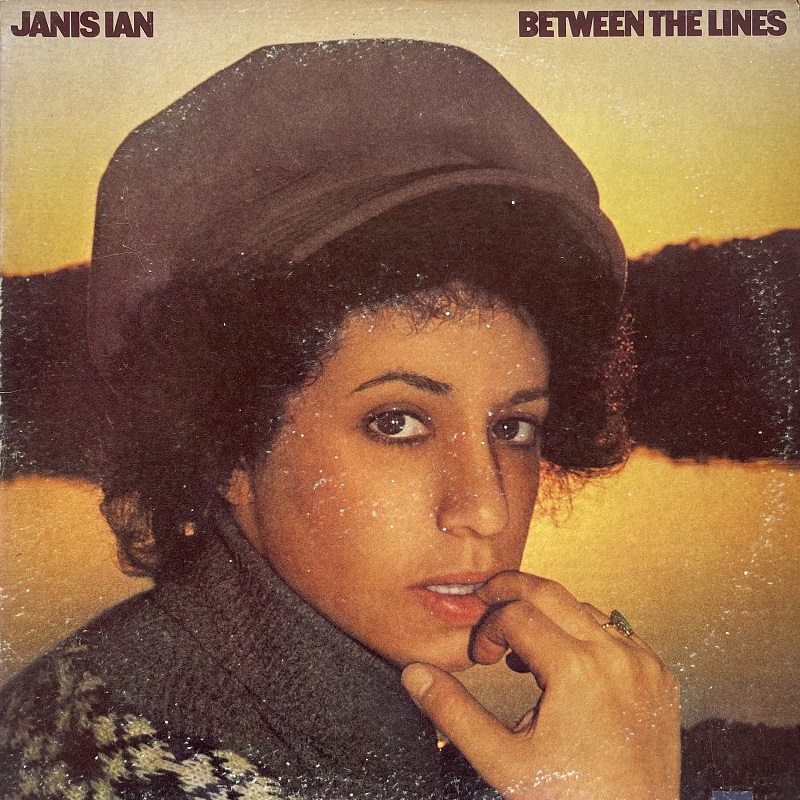 Garage Sale Vinyl: Janis Ian
Between the Lines / Columbia Records / March 1975
by Christopher Long
There's a memorable scene in the Oscar-winning 2000 Cameron Crowe film, Almost Famous, in which the fictional rock band Stillwater is being schooled by their big-time music manager on the importance of mystique. The cool thing about prolific singer, songwriter, and author Janis Ian is, she oozes mystique. She always has. As a naïve church boy growing up during the late '60s and early '70s, even I could spot her undeniable mystique factor. You could see it in her eyes, especially in her various early TV appearances: Janis Ian was transmitting from an entirely different dimension from her contemporaries.
And she wasn't playin'. A fresh-faced teen at the time, Ian stirred a mighty shitstorm when she dropped her debut single, "Society's Child." Clearly, in 1966, America wasn't nearly ready to embrace the (then) taboo topic of interracial romance. I was too young to feel the effect of Ian's first tsunami in the late '60s. However, as a devout pre-pube parishioner at The First United Church of Casey Kasem, I nearly drowned during Ian's second massive wave in the mid-'70s.
Following a few of her leaner years, Ian's seventh LP arrived in stores during the spring of 1975, and by the summer, Between the Lines was bubbling up as one of the season's hottest album releases. My family had just relocated from the Ozark mountains of Missouri to the sunny beaches of Florida. Suddenly, I found myself in an unfamiliar place, with no friends. The few people with whom I did connect were way too cool, pretty, and popular to have much need for a nerdy, 12-year-old "new kid." As a result, Janis Ian became my one friend, offering me solace via the little AM radio tucked under my pillow. Through the lyrics of her chart-busting single "At Seventeen," we seemingly "understood" each other — at an incredibly difficult and awkward time.
Fast forward nearly 50 years, and there we were, the GF and I, hauling off a bag-o-budget-priced used LPs at the Mount Dora, Florida flea market — super-scores from the likes of Bob Welch, Dave Edmunds, Leo Sayer, and that Janis Ian album. Upon arriving back at the GF's funky abode, I placed the "seasoned" copy of Between the Lines onto the turntable, posthaste. Wow, this record is still SO beautiful! Then, a few nights later, I popped by the GF's for dinner, when I received the tragic news. Poking her head out from the kitchen, she proclaimed boldly, "BTW, you're NOT getting that Janis Ian album back, ever." Ugh, I now would have to seek out a second vinyl copy of a decades-old LP that ain't exactly easy to locate.
Oddly though, I somehow accomplished the perceived impossible mission. And since then, the lives of both the GF and myself have become consumed completely by this magical record. Then, I was struck with a wacky notion. What does Janis Ian think of Between the Lines? So, I reached out to her publicist, and in short order, I had her on the line. And I got the ol' 411.
• •
Chris: Overseen by Brooks Arthur (Neil Diamond, Van Morrison), Between the Lines still feels good, from start to finish. What was it like working with such a celebrated producer?
Janis: Brooks was amazing. I've been very lucky that I had two great producers in my life. I've had very good producers like Jim Cregan, but Shadow Morton and Brooks Arthur were great producers. Shadow went from the Shangri-Las to me and "Society's Child" to "In-A-Gadda-Da-Vida." Brooks engineered "Society's Child" and then produced "At Seventeen." He really taught me how to sing in the studio. He had an ear for how to combine sounds so that the singer's voice was never obscured, but all the instruments were heard. It's nice that people remember how involved he was, because without Brooks or Ron Frangipane, to be fair, that record never would have been what it turned out to be. We stayed close friends until literally, he died a few months ago.
Any particular "fly on the wall" recollections?
There was a little stress between me and Brooks because the studio was operating 24 hours. I was swapping off times with Bruce Springsteen, who would come in when I was done, and Melanie, who would come in after Bruce. Brooks was trying to engineer everybody, so you can imagine how stressful that was. But on top of it, we all knew we had something special going on. I remember going to Brooks at the end and begging him to try and find enough money that we could afford to record another six songs, because I felt like the band we had, the studio we were in, the timing of everything was just right and we would never be able to replicate it. And I was right. We never were.
Between the Lines soared to #1 on the Billboard chart and moved over a million copies quickly. Were you surprised by the album's overnight success?
That's a funny question, because none of us had time to be "surprised." "At Seventeen" and the Between the Lines album looked like they suddenly came out of nowhere and shot up the charts, but we worked that record for six months before it really went anywhere. And by "worked," I mean I got up at 6am every day to do the morning news shows, and then I'd do the afternoon shows, then I'd do the afternoon radio, and the drive-time later, and then go to soundcheck, and try to eat something, do the show, meet the mayor and his family afterward, and fall into bed at midnight or one or two in the morning. We all — all the CBS promotion people, all of my band members, everybody on my team, we worked and worked and worked.
Oddly, "At Seventeen" was not the first single released from the album. Was that some sort of label goof?
That was very calculated. The executive producer was Herb Gart, a very smart fellow. And he said, "'At Seventeen' is gonna be a tough record to break. It's too long. They're gonna say it's depressing. They're gonna say it's not a drive-time record. So, let's lead with 'When the Party's Over' and have all the DJs come back to us and say, 'Are you nuts? This song is the single'." At the same time, to get it on TV, he sent copies to all the television news anchors' wives. At the time, pretty much all of the news anchors were male. So he sent the producers' wives and the news anchors' wives copies of the record, which was really smart, because then they'd say, "Why isn't she on your show?" I don't know that the record would have broken without that kind of outside-the-box thinking. Because that album was, in hindsight, pretty radical.
Honest and pure, cozy, yet compelling, Between the Lines found the 24-year-old singer-songwriter at the top of her game. Were there any other personal highlights besides the monster hit single?
"From Me to You," I think really shines on that album. I think "Watercolors" is a standout. That's (about) a relationship that has splintered, except nobody knows it yet. To tell you the truth, I didn't know what that song was about, 'til years later when an ex-boyfriend said to me, "I can't believe you wrote that about us." And I thought, "Oh my gosh, I did."
Nearly 50 years following its initial release, Between the Lines remains one of the most sought-after titles in your impressive catalog. Given the additional renewed interest in vinyl, are there any plans to perhaps reissue the record?
We're trying at some point to put something together to release the remastered version on vinyl. We just managed to re-release it on CD, completely remastered with all the correct artwork, and I'm hoping to release it again on vinyl, because the vinyl everybody's hearing is the original vinyl. Which is great, except there's not a lot of it around.
• •
Still oozing mystique some 60 years into the game, Janis Ian continues to transmit from that different dimension. Her 2009 best-selling autobiography Society's Child is an absolute must-read, and her latest album The Light at the End of the Line, not only is one of her strongest efforts in years, it also was nominated for "Best Folk Album" at the recent Grammy Awards. And the shitstorm continues!
(5/5) ⭐ ⭐ ⭐ ⭐ ⭐
Between the Lines Track List
SIDE ONE
When the Party's Over (2:57)
At Seventeen (4:41)
From Me to You (3:19)
Bright Lights and Promises (4:17)
In the Winter (2:29)
Watercolors (4:58)
SIDE TWO
Between the Lines (4:03)
The Come On (3:56)
Light a Light (2:45)
Tea & Sympathy (4:28)
Lover's Lullaby (5:25)
---