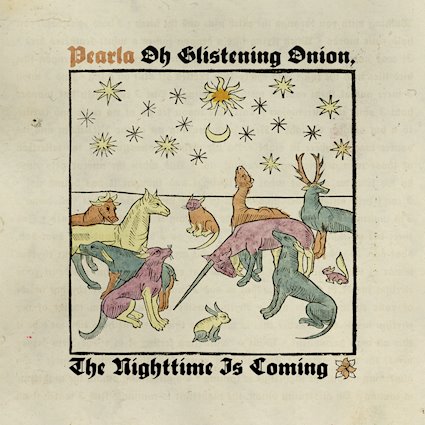 Pearla
Oh Glistening Onion, The Nighttime is Coming
Spacebomb
Pearla, the moniker of Brooklyn-based Nicole Rodriguez, releases her first full-length album, three years after her debut EP. At 12 gorgeous tracks, it gives us many layers to peel back, without the dreaded eye irritation — ok, maybe a well-earned tear or two. This is not a sad record by any means. It's whimsical. It's melancholy on a mission. I recommend exploring it in sections of uninterrupted time.
Her writing and vocal styling remind me of Regina Spektor with a nod to Lisa Loeb. This stream-of-consciousness meets well-crafted phrasing is so hard to do well. I respect anyone who can make each song feel completely unforced, yet show the listener the work that went into it. A delicate balance. You're in her world, behind the secret bookcase. Step in and enjoy.
Opening the album with "Strong" was a wise choice. I immediately wanted to hear more. Getting one's credit card stolen in a flower shop isn't a common songwriting theme, but Pearla makes it work. The production behind this and so many of the tracks adds depth without ever overpowering her. Nicole's voice is the star here. The electronic bed in "Ming the Clam" is a perfect contrast to "Strong" and gives us a sweet hammock from which to think about the lyrics.
"With" is a lovely sway in 3/4 time. This pared-down track with a hint of country begs for a sawdust dance floor. "Balm" and "Funny in Dreams" show us Pearla's folkish sensibility without being soggy. I landed on "Flicker" and let it repeat a few times. The background vocal and an almost cowboy campfire vibe make this one a favorite. "I loved you like a far-gone ice cream truck" is not exactly cowboy fare, but I stand by my first impression. If anything, these songs open up the imagination to a place where ice cream trucks "could" show up in nontypical places.
"The Glistening Onion" title track moves between waltz and more free-form phrasing with the addition of strings, horns, and a merry-go-round feel. Hop on one of the bobbing horses and take this one for a ride. It's just lovely.
Closing out with "The Mysterious Bubble of the Turkey Swamp" feels like a squiggly signature with a playful wink. The song is strong lyrically, but I wasn't able to really grasp the melody and wandering on this one. There are some obscure references that are both fun and distracting. Another listen might prove otherwise.
When asked about the album title, Pearla explained in part that "you don't have to peel back every layer before you go to sleep." That's enough explanation for me. I plan to keep this one in rotation and explore it in layers.
---