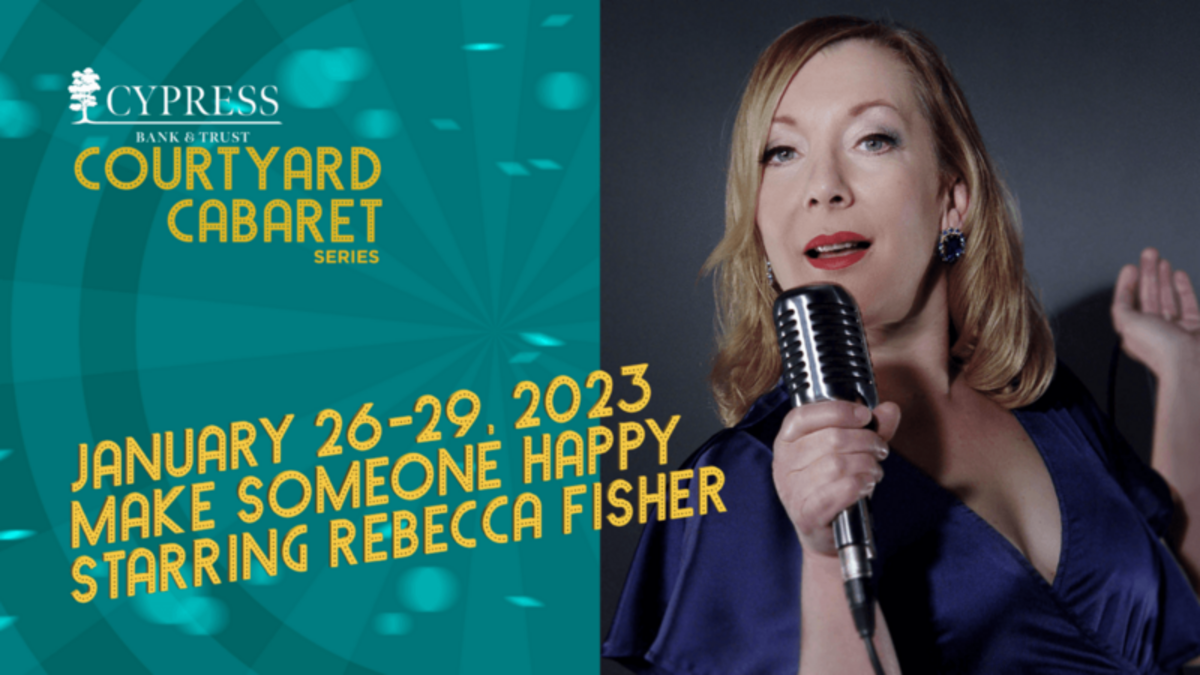 Make Someone Happy, Starring Rebecca Fischer
Orlando Shakes Courtyard Cabaret Series
by Carl F. Gauze
I expected a harsh January evening for this Central Florida show, but the gods of cabaret smiled on us, and it was pleasantly cool in the giant "Tents of Entertainment" out in the back courtyard of the Orlando Shakes complex. Parking was a small challenge, "Henry V" was also performing tonight, but we all fit into the parking lot nicely. Ms. Fisher is a long time fixture in Orlando arts scene, and tonight she presented a 70-plus-minute show, complete with an intermission and bar service at your table. Her theme tonight focused on her experiences as a performer, an endless topic, as everyone in the business carries around a suitcase of horror stories. You can't sing cabaret properly without a suitcase full of stories.
Tonight's show had a rather elaborate backing group: we hear from a drum, a guitar, and keyboard. Tunes tend to stick to the classic pop varieties: "Make Someone Happy," "Everyday People," and " The Stars and the Moon" are typical, and the execution is, naturally, flawless.
Even though we were outside at the end of January, the weather was pleasant, and the gas heaters in this monster tent help you remain comfortable. The bar staff dropped by regularly keeping everyone happy, and the tent was nearly full. This is the second event of this season's cabaret series at Orlando Shakes, there's another, more Latin show coming up in mid March, check their website for details. Unlike some other cabarets in Orlando, this one runs 90 minutes of show with an intermission. Yes, you are at the mercy of the weather, but inside the giant COVID-relief tent, all of that is of rather small interest. Drop by, you're sure to meet an old friend or make a new one.
---