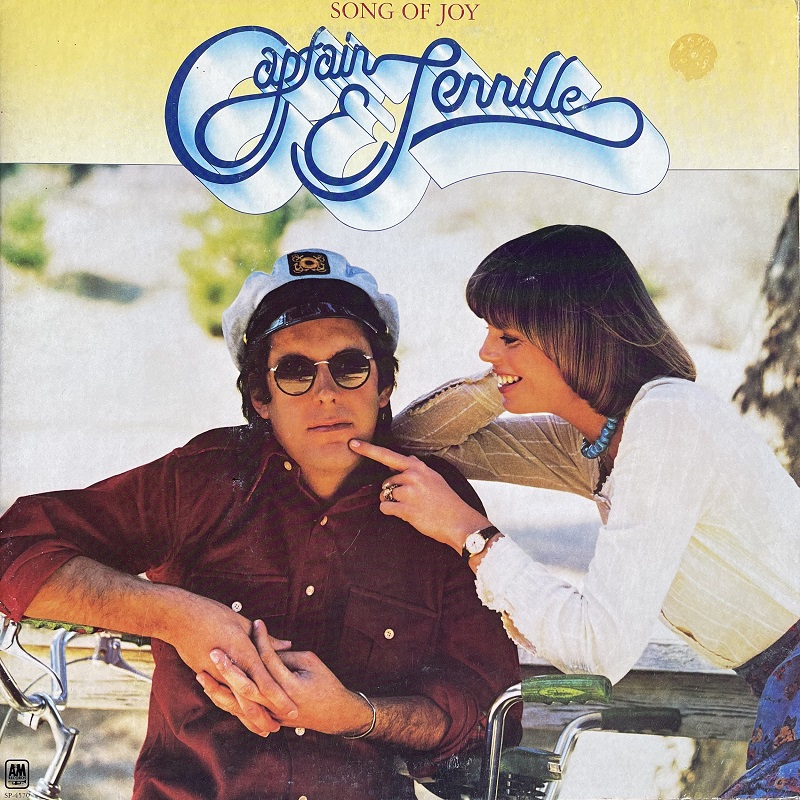 Garage Sale Vinyl: The Captain & Tennille
Song of Joy / A&M Records / February 1976
by Christopher Long
Dismissing the Captain & Tennille based solely on their perceived saccharine-sweet sound and goody-two-shoes image would be to reveal one's naiveté regarding the duo's legit roots, authentic artistry, and acknowledged industry cred.
Like most tweenage AM radio junkies of that era, I first heard the Captain & Tennille when their single, "Love Will Keep Us Together" came seemingly out of nowhere and took ownership of the airwaves immediately in the summer of '75. Meeting with similar results, the follow-up (re-released) single, "The Way I Want to Touch You" dropped in September. Their sound was catchy and hooky, sweet and sunny. At age 12, I found Daryl Dragon's mystique to be intriguing and Toni Tennille's girl-next-door appeal to be rather, um, frustrating.
Even at $4.98 (at Sears), full-length LPs typically were beyond my pre-pube budget. But at just .89¢, I did buy LOTS of 45s — including those first two Captain & Tennille singles. And when their sophomore album, Song of Joy, arrived in early '76, I had the good fortune of winning a copy via a call-in radio contest. I'd soon score an additional copy on 8-track, you know, for family station wagon excursions. In short order, Song of Joy became MY "Abbey Road." Over the years, I've also bought it on cassette and CD, as well as another four LP copies from various bargain bins and flea markets, including a vinyl copy I found recently at a neighborhood garage sale.
Crackling with pop / rock crunch, while dripping with soulful, bluesy passion, the self-produced set found Daryl and Toni doing most of the heavy lifting, along with famed studio drummer Hal Blaine and a procession of horn players and backup singers. It ultimately would birth three massive Top Ten singles: "Lonely Night (Angel Face)," "Shop Around," and "Muskrat Love."
From the heart-stopping Billy Preston-penned opening title track to the sax / organ-driven "Mind Your Love" to the Gospel-tinged "Smile for Me One More Time" to the irresistible remake of Smokey Robinson's aforementioned classic, "Shop Around," to the honey-soaked "Thank You, Baby," to the funked-up, record-closing "1954 Boogie Blues," Song of Joy remains a true treasure — as crisp and vital as ever. And it continues to demand respect. Now, if I only still had a functioning 8-track deck. CAH-CLANK!
(5/5) ⭐ ⭐ ⭐ ⭐ ⭐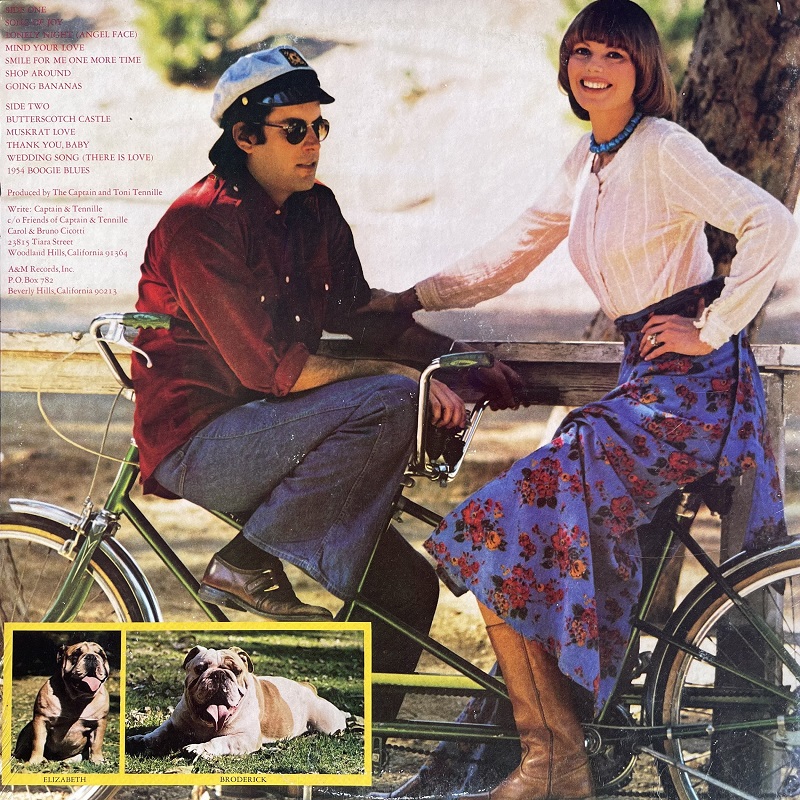 Song of Joy Track List
SIDE ONE
Song of Joy (Preston, Boutte) 3:14
Lonely Night (Angel Face) (Neil Sedaka) 3:16
Mind Your Love (Hubbard) 2:59
Smile for Me One More Time (Tennille) 3:17
Shop Around (Robinson, Gordy) 3:29
Going Bananas (Dragon) 2:10
SIDE TWO
Butterscotch Castle (Tennille, Dragon) 3:19
Muskrat Love (Ramsey) 3:48
Thank You, Baby (Johnston) 3:38
Wedding Song (There Is Love) (Stookey) 3:18
1954 Boogie Blues (Tennille, Dragon) 4:54
---