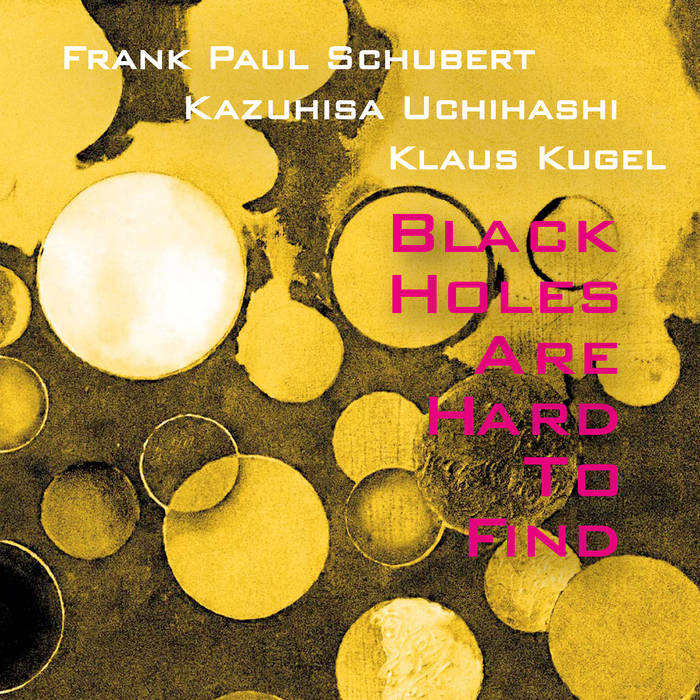 Schubert Uchihashi Kugel
Black Holes Are Hard to Find
Nemu Records
I've escaped from the experimental jazz labyrinth several times, only to get sucked back into the vortex when I least expect it. This mini time-travel machine takes you to seven small planetoids of jazz, each sadder and more self-absorbed than the last.
On this avant-garde time machine from Berlin, sirens wail as saxophones beg for their lives and drums thunder away, hoping to lay down a smokescreen of alternative noise. But alas, there is no escape until this enigmatic Central European trio decides to let you flee.
As I cue up Black Holes Are Hard to Find, I'm drawn to the photos of the band. Frank Paul Schubert, Kazuhisa Uchihashi, and Klaus Kugel guide me into the the title track of this project with its creepy, anti-harmonious drone of random cymbal clashes, a meandering woodwind, and otherworldly groans that have escaped from a haunted house and hidden out in a basement. The strings here are NOT happy.
I quickly scurry to track three. This effort calls itself "Explosive Past," and it slithers out silently into the opening notes of a jazz-flavored exploration of civilization. Tempo rises, kings collapse and die, and the citizens scurry along, doing their daily chores and avoiding the cataclysmic battles overhead.
There is much, much more, but you will need your own spirit guide to understand the logic under the sound. We have but an hour to study in this world, and a mysterious hour it will remain, on this avant-garde trolley to higher enlightenment.
This is not an album for the neophyte. This is an album best appreciated after a snifter of your favorite intoxicant and a long, dark night ahead of you. Pack your passport and a raincoat — I can't predict where you might end up.
---