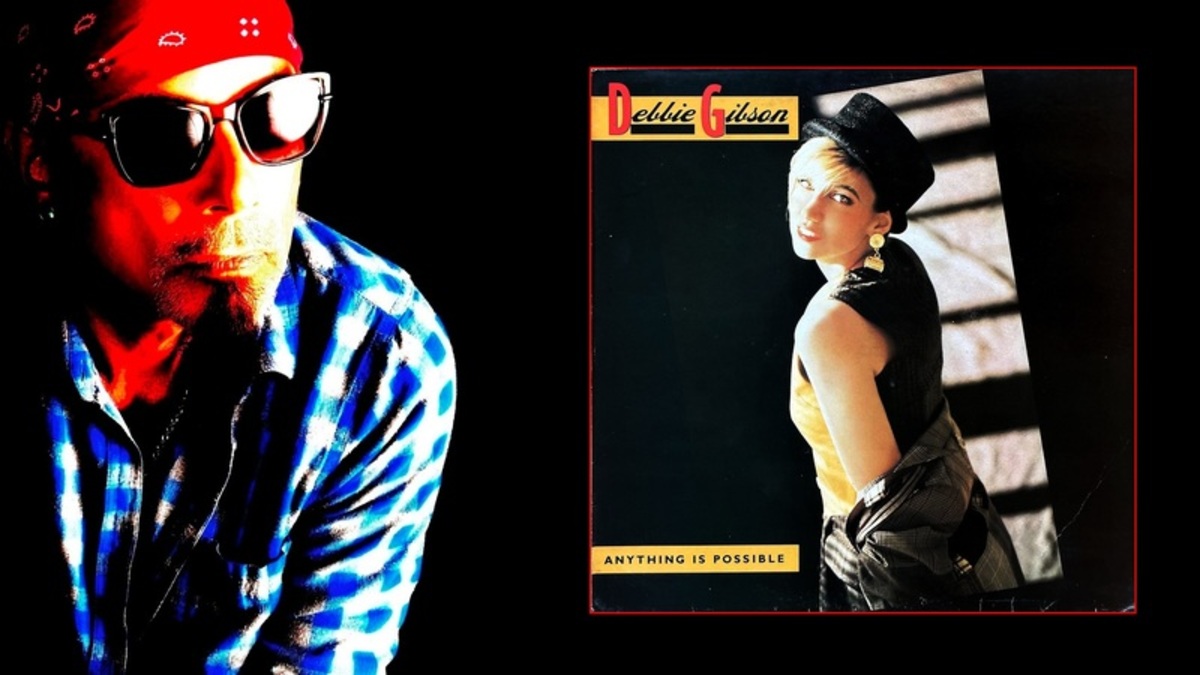 Garage Sale Vinyl: Debbie Gibson
Anything Is Possible / Atlantic Records / November 1990
by Christopher Long
Simply put, this was a superb piece of work. And had the other shoe not dropped for another 18 months, you'd likely not be giggling right now. But drop, it did.
The first shoe to hit the floor was the arrival of the '90s: a new decade, full of promise. Then, in short order (with a deafening thud), came the second shoe: the mass extermination of music artists who had committed the unpardonable sin of rising to prominence during the '80s. While many of the vanilli-flavored, aerosol-sprayed acts of that era deserved to be put out to pasture, many did not. As a result of this sweeping cleansing process, some amazing work created by some amazing artists was dismissed or ignored completely.
Truth be told, despite her squeaky-clean persona and sunny-sounding songs, in the '80s, Debbie Gibson was a freak. A pop music genius. A powerhouse singer, prolific songwriter, and gifted producer, Gibson racked up two multi-platinum-selling Top Ten albums: Out of the Blue (1987) and Electric Youth (1989), as well as a string of eight Top 40 hits, including five Top Tens and two #1s ("Foolish Beat" / "Lost in Your Eyes") — ALL before her 19th birthday. By the end of 1989, it seemed as if Debbie Gibson was unstoppable. Then came the '90s. THUD!
As they say, "Timing is everything." In 1990, the 20-year-old Gibson was developing nicely as a singer and a songwriter. However, tragically, her strongest record dropped during the early stage of the aforementioned cleansing process. And although it owned many of her all-time best songs and was promoted fiercely for more than a year with a whopping six singles, Gibson's third studio set, Anything Is Possible just couldn't catch fire. The LP ultimately did achieve gold record status and hit the Top Five in Japan, but it struggled to ignite the Top 100 elsewhere — including the US, where it stalled at #41.
But be sure, Anything Is Possible is a bona fide banger. Hence, I've taken the liberty of breaking a few sacred rules with this installment of my column. I didn't "stumble" upon this treasure at a local thrift store, flea market, or neighborhood garage sale. And I didn't buy it for a buck, either. In fact, for all intents and purposes (in the US), Anything Is Possible doesn't even exist on vinyl. Honestly, I had no idea it ever was pressed on vinyl, period, until recently, when I was apprised otherwise by a trusted connection at my preferred proper hometown indie record joint.
I had owned the CD version of Anything Is Possible since day one. But in the spirit of full disclosure, I must confess that it would be decades before even I recognized its true splendor. Upon revealing this truth to my extremely savvy vinyl dealer, she located an LP copy of the record for me in a snap on her in-store Google machine. The used album would cost me $50 (with shipping), and it would have to be ordered from an exotic overseas locale. I agreed to the transaction, posthaste.
After more than a month, the record finally arrived. And it was well worth the wait and the absurd price. The LP version contained only 12 tracks, as opposed to the CD's 16 tracks — not a deal-breaker, as there was no way 70-plus minutes of music was going to fit on a single 12-inch. The cover and lyric sheet insert both were surprisingly pristine. The vinyl itself also was clean — just enough crackle to feel cozy.
Produced primarily by Gibson (of course), Anything Is Possible possessed a sorta split personality, like that gal with the vodka / Xanax issue who I once dated (for way too long), but in a sweeter, "Brady" kinda way. Listed on the record's label and album cover as "NRG↑," Side One was upbeat, fun, and funky. For the music snobs still rolling their eyes, be advised that Side One was a songwriting and production collab between Gibson and Motown legend Lamont Dozier. And what screams "CRED" louder than Motown? Not much. Conversely, listed as "Mood Swings," Side Two hung a hard left. And for my money, that's where the real magic happened — soft, yet soaring songs, soaked with soulful and seductive sophistication.
With only a couple of exceptions, Anything Is Possible dealt nothing but Aces. Poppy, punchy, and playful, "Another Brick Falls" and the lead-off single, "Anything Is Possible," both showed Gibson maturing naturally as an artist, right on schedule. Additionally, "Reverse Psychology" and "One Step Ahead" established the electro-pop blueprint that continues to define Gibson's current dance club music.
Absolutely heart-stopping, "One Hand, One Heart" made the iron-clad case for Gibson's world-class, across-the-board talent. In fact, I encourage any naysayer to take the "O.H.O.H. Challenge." Clear your head of all distractions and your heart of any misguided preconceptions, and let the song wash over you. If you're not elevated to an all-new level of spiritual consciousness, well, rest assured that Jesus still loves you. He might be a smidge disappointed, but he'll love you, nonetheless.
Enhanced beautifully by ambient guitar garnish, "Sure" and "Where Have You Been?" both are heart-felt, piano-driven, Tapestry-worthy delights that help propel Side Two further into the stratosphere.
Then there's the record-closing, Gospel-tinged heartbreak ballad, "This So-Called Miracle." Arguably Gibson's single greatest musical achievement, this magnificent, seven-and-a-half-minute epic is so powerful, so honest and pure, it prompts me to curl into a fetal position and sob, every time, like a shattered 14-year-old schoolgirl locked out of a Tay Tay meet-and-greet. Yeah, dude — it's exactly like that!
In sum, this marks the 20th installment of my Garage Sale Vinyl series. And I wanted to commemorate the mini milestone by revisiting a very special record that's particularly important to me. This unexpected journey all began quite organically during the 2022 holiday season with a simple pitch for a single review of an old LP I discovered at the flea market. My editor embraced the feature fully. "You know, this could be a weekly column," she replied. Hmm. So, I took the ball and ran with it. Quickly, "the little column that could" sprouted teeny legs and soon became one of my most rewarding writing ventures ever. I only hope folks enjoy reading it half as much as I enjoy creating it week after week. Stand by! Elvis Costello, Barbra Streisand, and Foghat all are on deck!
(5/5) ⭐⭐⭐⭐⭐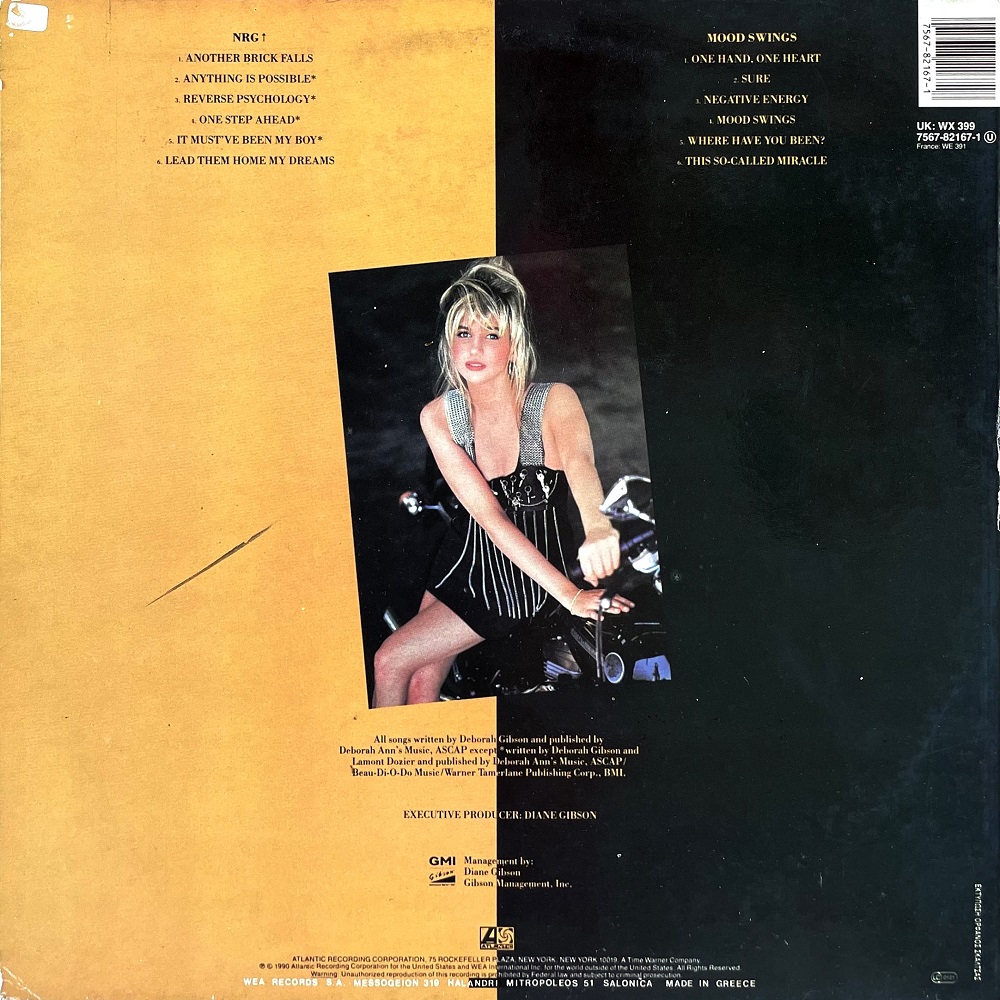 Anything Is Possible LP Version Track List
SIDE ONE (NRG↑)
Another Brick Falls (Gibson) – 3:55
Anything Is Possible (Gibson, Dozier) – 3:44
Reverse Psychology (Gibson, Dozier) – 4:25
One Step Ahead (Gibson, Dozier) – 4:51
It Must've Been My Boy (Gibson, Dozier) – 4:19
Lead Them Home My Dreams (Gibson) – 5:32
SIDE TWO (Mood Swings)
One Hand, One Heart (Gibson) – 4:35
Sure (Gibson) – 4:17
Negative Energy (Gibson) – 3:40
Mood Swings (Gibson) – 3:52
Where Have You Been? (Gibson) – 6:07
This So-Called Miracle (Gibson) – 7:28
---