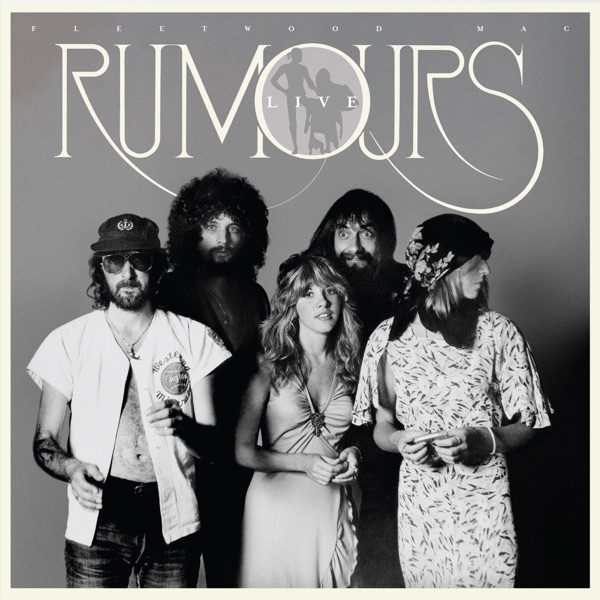 Fleetwood Mac
Rumours Live
Warner Records
While this package certainly will appeal to a good many enthusiasts (myself included), the latest from Fleetwood Mac is hardly a "new" album. In fact, from the vintage live recordings to the classic featured photos, the content, or very similar content contained within this double-CD / double-LP set has been joyriding in various vehicles for decades. Which isn't a bad thing.
Recorded at the Forum in Los Angeles during the final dog days of '77, Rumours Live captures the mighty Mac onstage during the white-hot Rumours tour. Energized by two consecutive, multi-platinum-selling, chart-topping LPs and a fistful of recent Top 40 singles, the British / American hybrid was revving to become the true "Hottest Band in the Land" — before performing death-defying, mile-high acrobatics was a requirement for music artists. OMG, Ashley! She puts on such an amazing SHOW!
Engineered by Rumours co-producer Ken Caillat, the top-shelf, 18-song set list is culled primarily from the afore-referenced mega monstrous Fleetwood Mac and Rumours albums. The 90-minute tour de force further finds the Fab Five firing on all cylinders — serving as something of a perfect Polaroid from an amazing era when rock stars were rightful "Golden Gods" who snorted blow, emptied whiskey bottles, wrecked hotels, and banged groupies. I want LARGE bread!
Rock stars of yore also put some stank on the ball — playing real instruments and singing with their own non-computer-enhanced voices — without need for backing tracks, reliance on laptops, or prior publicist approval. Case in point, Christine McVie's funky-ass, down-and-dirty, sexy A.F. vocal / keyboard execution on "You Make Loving Fun."
But, it's the album's unrestrained non-singles that perhaps prove best why Fleetwood Mac was such a superb LIVE rock band. In fact, it can be argued that Rumours Live gains the most traction when taking the roads less traveled. Lindsey Buckingham seemingly donates a full pint of plasma on the menacing six-minute bruiser, "I'm So Afraid." Featuring a groovy signature Mick Fleetwood solo, "World Turning" is an eight-minute show-stopper, to be sure. The double-sass factor of Buckingham's lead vocal pinned to Stevie Nicks' harmony vocal makes "Blue Letter" an electrified, country-fried, chicken-pickin' banger.
It might not be exactly new, but HO-LEE COW, Rumours Live is a sunny-sounding gem of a record — a feel-good time capsule from cozier days. But more importantly, it's a bright and beautiful tribute to rock's beloved songbird, Christine McVie. Yeah, I bought two copies. BRAVO!
Rumours Live Track Listing
SIDE ONE
Say You Love Me (C. McVie) – 4:31
Monday Morning (Buckingham) – 3:27
Dreams (Nicks) – 4:08
Oh Well (Green) – 3:03
Rhiannon (Nicks) – 8:05
SIDE TWO
Oh Daddy (C. McVie) – 4:54
Never Going Back Again (Buckingham) – 2:48
Landslide (Nicks) – 4:17
Over My Head (C. McVie) – 3:27
Gold Dust Woman (Nicks) – 7:19
SIDE THREE
You Make Loving Fun (C. McVie) – 4:48
I'm So Afraid (Buckingham) – 5:47
Go Your Own Way (Buckingham) – 5:00
World Turning (C. McVie, Buckingham) – 7:44
SIDE FOUR
Blue Letter (R. Curtis, M. Curtis) – 5:38
The Chain (Buckingham, Fleetwood, C. McVie, J. McVie, Nicks) – 5:39
Second Hand News (Buckingham) – 3:17
Songbird (C. McVie) – 4:08
---