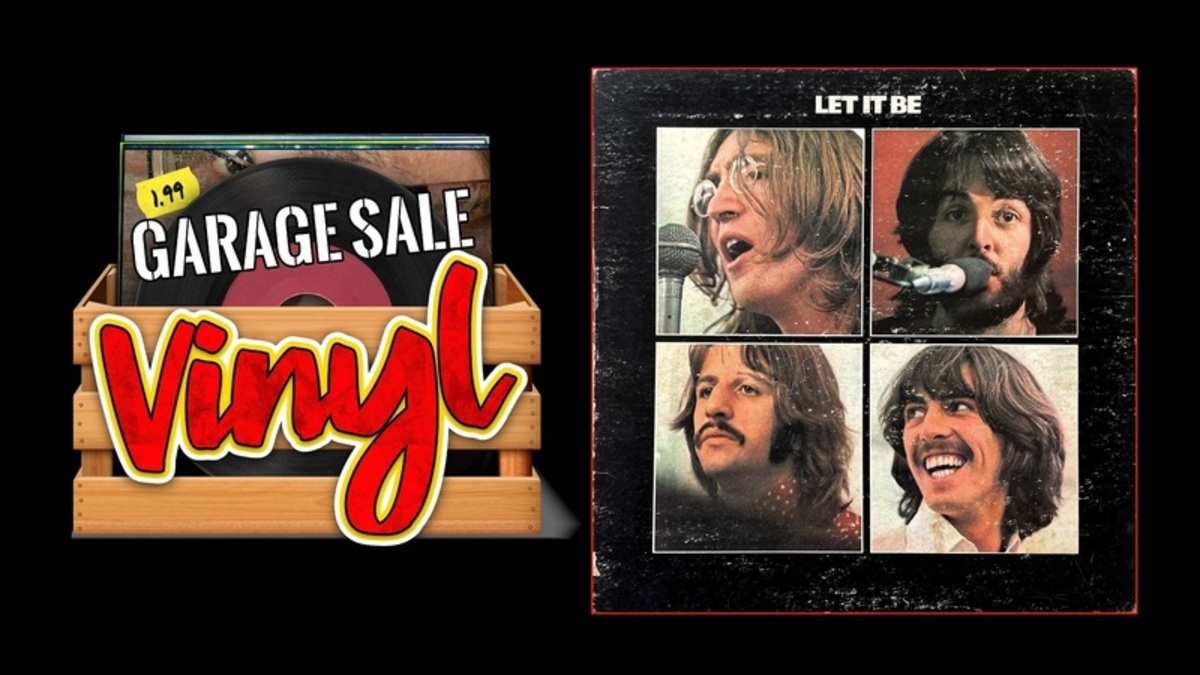 Garage Sale Vinyl: The Beatles
Let it Be / Apple / January 1970
by Christopher Long
This installment captures the full spirit of my Garage Sale Vinyl column — from the music and the format of this classic album, to the conversations it still inspires, to how this particular copy found me — on the cheap.
Fortunately, a good many consumers do embrace the true essence of the modern-day vinyl experience. They understand that it should be a lifestyle — one that extends beyond just collecting records. But, unfortunately, in our current TikTok culture, there are too many others who honestly believe that Discogs is a "record store" and that an authentic record shopping experience involves nothing more than a click on the keyboard and a trot to the mailbox.
Truth be told, these (primarily) younger aficionados are missing out on (almost) all of the fun. The beauty of the vinyl experience continues to be mostly about "connection" and "community" — engaging (face to face) with the chill ponytail guy who runs the used record concession at the hometown thrift mall, or the quirky spiky-haired gal who owns the funky new music joint downtown, while also interacting with other likeminded (human) customers. And if you're extremely diligent, and you're (physically) in the right place at the right time, you can often discover and score some pretty incredible records, without coughing up a kidney.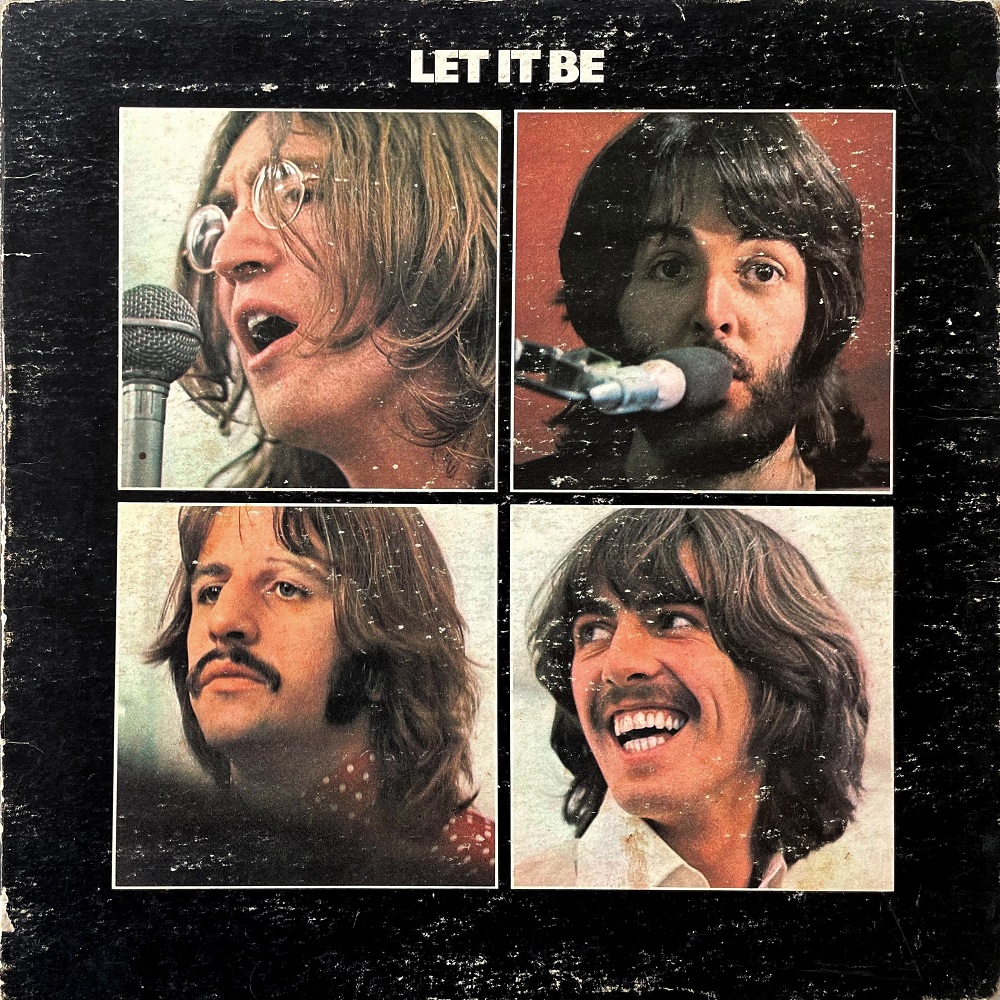 In that regard, I'm reminded of a local flea market excursion I made last spring. While perusing the "junk" bin at one vendor, I stumbled across this — an early pressing of Let it Be… FOR A BUCK! "This price can't be right," I said to the 17-year-old, rainbow-colored pigtail gal with big horn-rims and impressive tatts who was running the lil' retail operation that day. She assured me that the price WAS right, and in short order, she began sharing with me what an amazing record it is (as if I was new) and how much she loves the Beatles — especially Paul. Lickety-split, she pulled out and handed me another ONE-DOLLAR vinyl treasure — Paul McCartney & Wings Band on the Run. Two classics for two bucks, total. That's the beauty of the vinyl experience — "connection!"
Over the years I've had the good fortune of interviewing a menagerie of multimedia personalities. And somehow, the Beatles pop up frequently even in non-music-related conversations. In 2021, I conducted a phoner with TV's reigning "Queen of Late Night," Kat Timpf. Given her notoriety as a bona fide Beatles buff, I had to bring up the Fab Four.
"I absolutely love the Beatles. I have so many of their albums on vinyl. They were a huge part of my childhood, a huge part of my life. They changed music, forever." —Kat Timpf
Earlier this fall I found myself backstage at Orlando's Hard Rock Live, interviewing 25-year-old UK singer-songwriter Lauran Hibberd. Known for crafting her own irresistibly catchy pop-rock music, Hibberd discussed the Beatles' legacy from a rather unique perspective.
"In my later life, as I've kind of grown into music, I've gone back and discovered the Beatles kind of all over again. I'm a fan of music. I love to find whatever — new, old, anything. And I think anything's new if you find it for the first time." —Lauran Hibberd
As for the album, aside from being their last official studio effort, Let it Be remains an important Beatles LP for other reasons. Contrary to what many "smart" writers had to say at the time, the record has aged extremely well since first dropping more than half a century ago. It served as a vivid audio snapshot of the biggest band in the world — splintering and ultimately imploding. The oft-lo-fi factor only added to some of the songs' individual mystique and the album's overall allure.
Five-plus decades later, the three singles — "Get Back," "The Long and Winding Road," and the title track — remain as iconic as it gets. However, the soaring "Across the Universe," the funky "I've Got a Feeling," and the blues-injected "For You Blue" still speak to me just a smidge louder. And not for nothin', but "Two of Us" will always be one of my top two (or three) all-time Beatles faves.
This one was a tremendous score, indeed. However, in the spirit of full disclosure, I must confess that it wasn't exactly in the best condition. In fact, I have to play it wet. Yes, that IS a thing. But, HEY — it's a very early vinyl pressing of Let it Be, for goodness sake. And I got it… FOR A BUCK!
(5/5) ⭐⭐⭐⭐⭐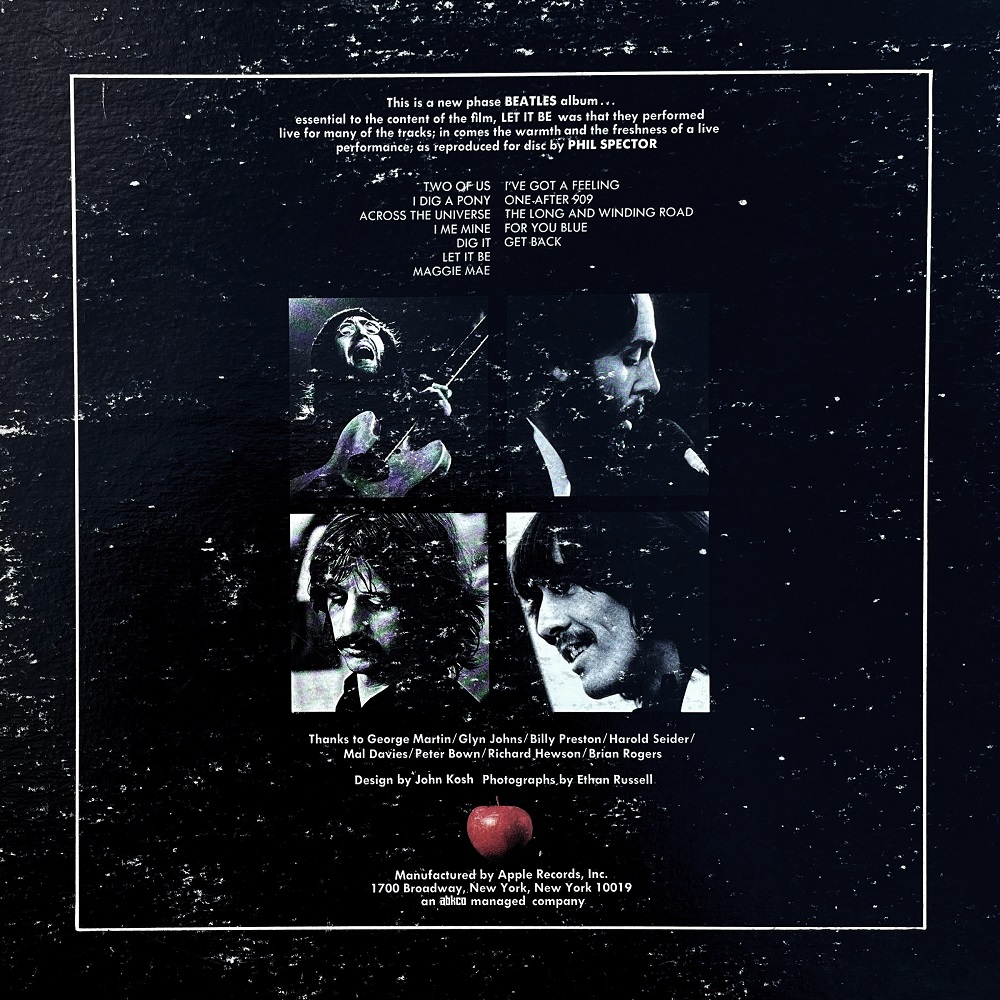 Let it Be Track Listing
SIDE ONE
Two of Us (Lennon, McCartney) 3:36
Dig a Pony (Lennon, McCartney) 3:54
Across the Universe (Lennon, McCartney) 3:48
I Me Mine (Harrison) 2:26
Dig It (Lennon, McCartney, Harrison, Starkey) 0:50
Let it Be (Lennon, McCartney) 4:03
Maggie Mae (traditional) 0:40
SIDE TWO
I've Got a Feeling (Lennon, McCartney) 3:37
One After 909 (Lennon, McCartney) 2:54
The Long and Winding Road (Lennon, McCartney) 3:38
For You Blue (Harrison) 2:32
Get Back (Lennon, McCartney) 3:09
---