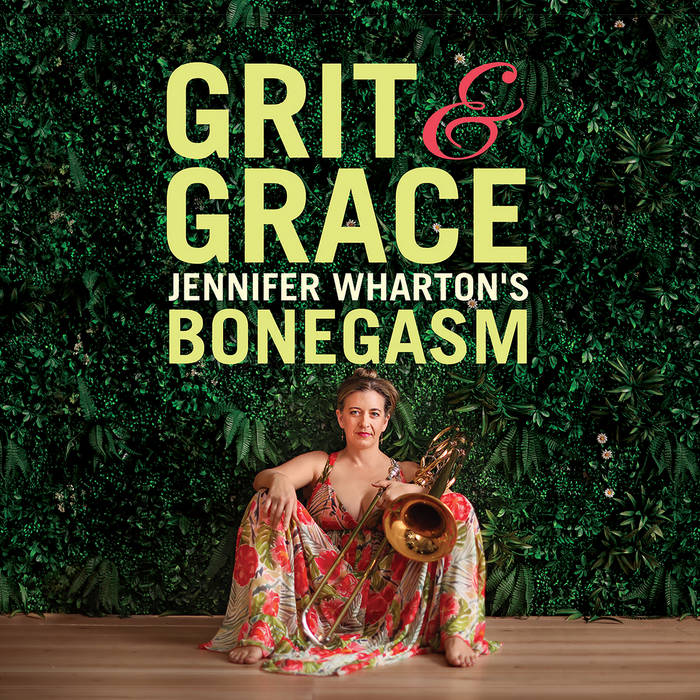 Jennifer Wharton's Bonegasm
Grit & Grace
Sunnyside
As a lapsed trombone player, I always perk up when I see a group that is trombone forward. Jennifer Wharton's Bonegasm features four tenor trombones and Wharton's bass trombone as a mini jazz orchestra. While Wharton is a jazz player, she makes her coin playing in pit orchestras for broadway shows. That rubs off on her jazz work in that the songs she performs are more composed than improvised and have a sleek, big band feel, sometimes bleeding over to a sound like a classical brass choir. It's a rich, full sound with special attention payed to the low register of the bass trombone. (I played bass trombone in high school, so I am particularly happy to hear those low tones taking a lead role.) The album title comes from a line in a Forbes_magazine article on women executives. The two characteristics women need to make it in the business world are "grit and grace." That idea resonates with Wharton, who has to display her own grit and grace to succeed in a male dominated music world. For _Grit & Grace, Wharton commissioned new works from leading women composers including Vanessa Perica, Miho Hazama, Carolina Calvache, Natalie Cressman, and Nadje Noordhuis. For the first time, Wharton contributes three of her own compositions to the Bonegasm repertoire.
The album opens with "Be Normal," a Wharton composition arranged by her bandmate and husband, John Fedchock. "Be Normal" features some fine unison playing that reminds me of classical composition. Of course, there is a meaty part for the bass trombone, too. Another Wharton composition, "Mama's Alright," is a tribute to Melba Liston, who played trombone with Dizzy Gillespie. At that time, women were really a rarity in the ranks of big bands, but Liston proved herself as a player and arranger in a display of grit and grace.
Australian composer/conductor Vanessa Perica contributes the moving "In Our Darkest Hour." The song draws inspiration from the recent political turmoil in America. Wharton carries the melody, first as a low moan, then gaining power like the country's will to stand up to fraudsters and liars. Miho Hazama's "Norhala" draws inspiration from a fantasy novel called The Metal Monster. The rich brass harmonies of Bonegasm certainly put them in the category of being a metal monster.
The album closes with the anomalous vocal track "Coop's Condimints." Writen by Nadje Noordhuis and sung by Wharton, the song is a tribute to the spices that go into New Orleans cuisine. The song gives Jennifer a chance to let her hair down and play with the New Orleans sounds (and spices) that she loves.
https://jenniferwharton.com
---