The White Stripes
Atlanta, GA • June 10, 2005
Jen Cray
A few years ago, when I started photographing concerts regularly, I made a list of the bands I would l most love to shoot. Of that list – Social Distortion, R.E.M., Pixies, Red Hot Chili Peppers, U2 – some of these dreams I've been lucky enough to obtain. Still the band in the #1 slot hovered on the horizon, until recently. A band so superior to all others, in my mind, that I drove 7 hours north to Atlanta and endured a tropical storm just for the precious 10 minutes I could spend standing in the rain photographing them. My moment with The White Stripes had finally come, and that was all that I needed.

In the minutes before they stepped onto the outdoor stage to close the opening night of Atlanta's annual Music Midtown Festival, I stood in front of a sea of spectators that numbered in the tens of thousands (the biggest turnout for any band of the three-day weekend, I'm told). A breeze cooled the raindrops on my skin and a chill crawled up my spine as a roar erupted behind me and I looked up to see Jack and Meg in all their red, white, and black wonder. The familiar bass drum of "When I Hear My Name" burst into the night and I found myself so caught up in the excitement of the moment, that it took a few seconds for me to remember that I had a camera in my hands.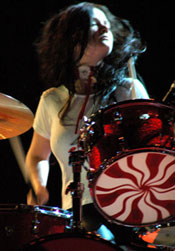 Dressed up like a Mariachi-meets-Flamenco, in a black-and-silver studded suit and a bowler hat, Jack White wielded his axe through a barrage of White Stripes classics which included "Dead Leaves and Dirty Ground," "Hotel Yorba," "Hardest Button to Button," and their awe-inspiring rendition of the Son House blues tune, "Death Letter." While these familiar guitar-heavy songs enlivened the crowd, the newer, more experimental numbers off their just released Get Behind Me Satan were met with nervous shuffling from all but the most avid White Stripes fans.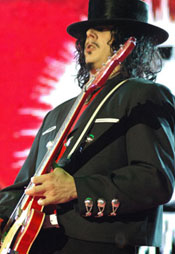 For the first show here in the states since their fifth album's release just three days prior (and one week after Jack's shotgun wedding in South America to model Karen Elson), the new songs may have been confusing to those who hadn't rushed out to buy the album right away. Songs like "The Nurse" (which features Jack on the marimba and no guitar) and "Little Ghost" (a bluegrass ditty reminiscent of his work on the soundtrack for Cold Mountain) proved to be more challenging for the audience that came to hear the blues rock hits that made them famous, but to those of us open to the mastery that is Jack White these songs were like little gifts between artist and fan.
The shift in styles added a new layer to the already complex duo. Seeing Jack pounding away on the piano on "My Doorbell" – hitting the wrong notes but not caring – and watching Meg's heavy-like-Bonham foot hammering down on her drum during "Blue Orchid" or taking lead vocals on the short-but-sweet "Passive Manipulation" is pure rock 'n' roll perfection. His vocals are different each time he plays, making every performance unique, and her drumming is a hell of a lot better than people give her credit for!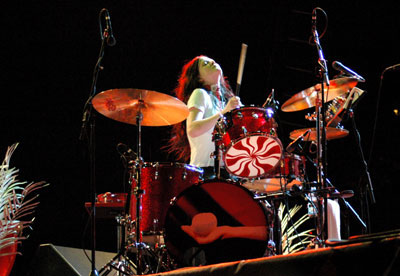 This is a band that personifies everything that music should be: sexy, dirty, complex but appearing to be simple, and ever-evolving. Their live show will go down in music history right alongside all the greats, and can easily be awarded the title of "Best Live Rock Act" when compared to any band out there today. The White Stripes have once more proven to me that they are carrying the torch of Led Zeppelin, with Jack filling the mold of Jimmy Page like a true musical genius.
White Sripes: http://www.whitestripes.com ◼
---