U2
Institute
Tampa, FL • Nov. 16, 2005
Jen Cray
On Tuesday night, I was shooting a trio of hardcore/metal bands in a little hole in the wall club that managed to cram about 500 people into a space fit for 250. People dove and crawled over one another in a sweaty, smelly, fantastically nostalgic throwback to the early '80s hardcore scene. It was the farthest thing from what I would experience on Wednesday night, for as I returned home from the club I found an email promising me not only two ridiculously good seats to the following night's U2 show in Tampa, but the much sought-after photo pass.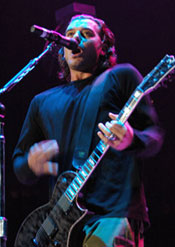 Let me just start by saying that this show- hell, the entire Vertigo 2005 tour!- has been sold out since tickets first went on sale several months ago. And I don't mean the usual Arena-show "sold-out," where the seats behind the stage are empty. Every seat in the 21,500 capacity St. Pete Times Forum had a happy ass in it – from the lucky fans who were randomly chosen to stand inside the horsehoe-shaped catwalk in front of the stage, all the way up to the nosebleed sections.
Opening for the Florida dates was Gavin Rossdale's new band, Institute. Yes, they sound like Bush and they even played a couple Bush songs (including "Everything Zen"), but so what?! I liked Bush! Rossdale jumped around like a little kid, incorporating U2's oval catwalk setup into his hyper runaround, as he led his band through a 40 minute set highlighting their debut release, Distort Yourself.

Making a surprise entrance in the middle of the catwalk, Bono entered the room under a rain of confetti and cheers. Living fully inside the rockstar mold that he has carved out for himself, he posed for the crowd (and the cameras) before slowly making his way to the main stage to lead the band through a trio of newer releases: "City of Blinding Lights," "Vertigo," and "Elevation."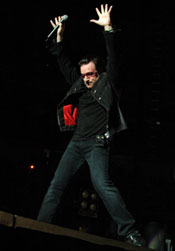 Unlike a lot of bands that have the expansive career that U2 has had (they're going into the 25th year as a band and still have all of the original members! Look out, Aerosmith, you've got competition!), the new songs garner just as much respect as the old. And whether it's a classic like "I Still Haven't Found What I'm Looking For," or a recent hit "Stuck In A Moment and You Can't Get Out of It" (dedicated to Bono's close friend and INXS' late frontman, Michael Hutchence), the communal singing that takes place is awe-inspiring. It's perhaps the greatest achievement in large scale venues like the Forum, when you can get that many people feeling the same thing at the same time and celebrate that elation through song. It's something everyone needs to experience at least once in their lives.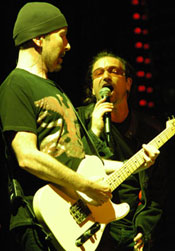 I could use 10,000 more words to describe how incredible U2 are as a band and Bono is as a frontman, but I'll spare everyone the ass-kissing and just list several of my favorite moments of the Tampa Vertigo tour stop:
"This is your song now," Bono explains before giving a spine chilling performance of the war-themed "Sunday Bloody Sunday" with the entire crowd singing with him.
Before "One," he told everyone to hold up their cellphones to create what looked like a galaxy of blue lights.
On "Miss Sarejevo" Bono sang opera parts written for Pavoratti, and nailed it!
With a white bandana that spelled "Coexist" using the Muslim crescent moon, a Jewish star of David, and a crucifix as letters, he played the part of a prisoner held bound and blindfolded while a large screen displayed Articles from the Bill of Rights.
"Where the Streets Have No Name."
During the encore, Bono brought a girl onto the stage and sang "With or Without You" while slow dancing with her in a tight embrace, then knelt down and kissed her hand before escorting her back into the crowd.
I don't care who you are, when you see this band live you can't help but be impressed. It happened to me in 1997 when my best friend, Sean, dragged me to their PopMart tour. "You owe me one," was pretty much my attitude on the way to the show, but as we left I said to him, "Thank You." Eight years later I was able to treat my girlfriend to her first U2 concert, and as we drove home she said those same words to me, "Thank You."
U2: http://www.u2world.com ◼
---