Sasha & John Digweed Present…Delta Heavy
directed by Ben Turner
starring Sasha, John Digweed, Jimmy Van M
System Recordings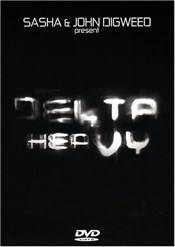 At first sight, the concept of a large-scale, arena-sized DJ tour seemed a bit precarious. Those maestros behind the decks, even some of the most well-known, seemed better off wedged in the jam-packed confines of a nocturnal downtown club than a 20,000-seat venue. But somehow, Sasha & Digweed seem to transcend the normal notions of what it means to DJ.
As a pair, the duo's name is not only synonymous with the Northern Exposure and Global Underground series, but also as the scions of the "celebrity DJ" set – touting five-figure deals for gigs that have them traversing the globe. But S&D aren't ones to flaunt such superficial aspects like being posterboys for dance music. Fortunately, they're serious, well-respected DJs who double as great producers, making them the ideal candidates to engage in such an ambitious undertaking as Delta Heavy.
The duo took the old touring band approach of crossing the US in a bus, with roadies and sound crews along for the ride. Considering that the Clear Channel-promoted tour was a six-week affair beginning at Miami's Winter Music Conference, then heading out west as far as LA before finally returning to New Orleans to cap it off, it's understandable that compiling and editing all the tour happenings would take a while.
The resulting DVD is a near-60 minute aural/visual encapsulation that shows two high-profile guys (as well as tour organizer/friend/opening DJ Jimmy Van M) basking in the adoration of thousands of all-night revelers in various, disparate tour stops, from Atlanta to Salt Lake City. The in-between bus interviews, video diaries, hotel conversations and boisterous fan testimonials are all included, with interludes of live "performances" featuring Sasha and Digweed music, as well as accompanying video installations spliced in.
Frankly, Delta Heavy could've just as easily been a PR reel for S&D, but it thankfully escapes such unsavory pitfalls by showcasing the ups and downs, and overall rigors of trying to bring electronic dance music to a wider audience. It's an admirable, bold gameplan, considering how fickle the mainstream American listener can be, but S&D seemed to have at least breached the populous.
The production value and length leaves more to be desired, especially for a DVD three years in the making (though additional interviews and video diaries are included in the bonus features). But director Ben Turner does an adequate job of evoking the feeling of being at Delta Heavy, and more importantly, giving us a little bit of insight into the decidedly low-key, self-effacing personalities of dance music's biggest mainstays – a revelation that in itself defies what it is to be a high-profile celebrity DJ at the top of your game.
Delta Heavy provides tangible evidence that dance music did have the ability to reach the masses beyond the electronica hype, giving hope to the bedroom dabblers and novice producers. Whether it could sustain that level of stadium-sized love and fame in the present day remains to be seen. But seeing the undisputed influence of Sasha & Digweed on this scene, perhaps they – or their followers – could prove us wrong once again.
Delta Heavy: http://www.deltaheavy.com
---