As I Lay Dying
Jen Cray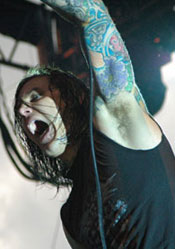 The San Diego metal act with the Swedish flavor- As I Lay Dying – did Ozzfest last summer, Taste of Chaos this past winter, and are gearing up to headline the annual metal smorgasbord- Sounds of the Underground– this summer. Lead singer Tim Lambesis took a moment during a rare week at home to chat with me about the band's past, present, and future.
Why are you doing the Sounds of the Underground tour this summer as opposed to doing Ozzfest again?
Well, Ozzfest tries to keep things mixed up (so that) they don't have the same bands on the tour two years in a row, except for Black Label Society- who always do it- and of course Ozzy. So they try to mix things up, and we knew that coming into this year. Our other options would have been to do our own tour, Warped Tour, or Sounds of the Underground. When got the offer to headline SOTU so we thought it'd be a good combination, since we were debating whether to do our own tour, headlining SOTU kills two birds with one stone.
Are there any bands on that tour that you're looking forward to playing with?
Yeah, there are definitely some metal classics on that tour, and classics within their own genre. Gwar puts on an amazing performance and I really look forward to seeing that. And there's Cannibal Corpse, as far as the really extreme side of metal, and they're one of the original bands to do that and to do it well.
Have you ever gotten to see Gwar?
No, but the majority of their catalog is on MetalBlade so I've been able to see some of their live stuff, but I haven't actually seen them play in person.
On last year's Ozzfest you got play with Iron Maiden. As your own tours grow larger do you see your shows getting becoming more like theatrical productions in the vein of Maiden, or do you want to keep it intimate?
Well, what I liked about Maiden was that their shows were still about them performing although they do have the background changes and Bruce Dickinson's running around on set carts, but the show really was about watching them play. I think a combination is great, but we're never going to be a band like Slipknot or Gwar where the majority of the show is the image of the bands… we'll have a combination where it's us playing, but still keep the background interesting.
Is living off of your art as you imagined it would be, or has fulfilling that dream produced a different reality than you expected?
For a lot of bands that we've met they'd say it's a different reality, but for me personally it's been beyond my expectations. I just want to be able to make a living doing something that I love and I obviously love playing music. The fact that that's happened and we've been able to make a good living and have the kind of support that we've had is beyond any of my expectations.
Do you see your band sticking around for decades to come and evolving, or is yours a band of the moment?
I think that the sound that we've developed has become somewhat timeless, and has those classic metal melodies from some of the European bands- and even like Iron Maiden- but also has a much heavier element to it. It's the combination of what's current and what's timeless. As the genre continues to grow in popularity I think some of the bands can get lost in the trend, but I personally believe we're at the forefront of that, and I think that we'll survive the trend.
Are you speaking of the MetalCore trend and the explosion of those bands?
Yeah, yeah… It's all very popular. Every new signing I read about is a MetalCore band that sounds just like the ones that are already out there.

Are there any that you feel proud to share the scene with?
Some of the bands that have really been part of the foundation of the scene… Killswitch Engage- those guys are great friends of ours…. Underoath is another band that are on our label and are our good friends. There's just some bands that have grown around the same time as us like Killswitch Engage for instance, that may be a couple years ahead of us, and that have not only become great musicians but also great friends.
You have Dan, from Zao, doing guest vocals on the album. Is that a friendship that has gone back over the years, or is that something new?
I'm a big fan of Zao, and they introduced the haunting sound that wasn't really within the metal and hardcore scene at the time so since I've always been a fan we got a chance to tour with them and was drawn to hanging out. We became friends on that tour we did together, and I respect him a lot as a musician so I thought he'd be the perfect person to have do guest vocals on the album.
If you could travel back in time and see any band, or any particular concert, who would you see and why?
I was old enough to go, but my parents didn't want me to, but Metallica and Guns 'n' Roses toured together when they were both in their prime. That would have been a great concert to be at.
Nothing further back than that?
Well, there's definitely stuff further back that I'd really really enjoy, but because of my age that was when I was first getting heavily into music so that concert would have been closest to home. Some of the stuff, previous to that, are classics to me in a sense, but I'd have to choose that (GNR/Metallica) because I was tracing back the roots of my favorite bands.
Is there any current music, that isn't metal related, that you're excited about?
Since we just did the Taste of Chaos tour which had a pretty diverse lineup, there was a band called Dredg that was on that tour that's one of my favorite bands. They were probably one of the lightest bands on that tour… it's funny cause maybe we were the heaviest band on that tour and yet they were the band I liked the most.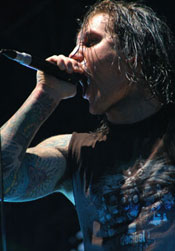 Maybe cause they stuck out as being different.
You know, I love stuff like Radiohead and Coldplay- stuff that's a little more atmospheric and they (Dredg) have that atmospheric sound, but are a little more rock based. I don't know, I just love that band- they're amazing.
What are some of the band's favorite movies to watch on the road, to pass the time?
This last tour we got kind of hooked on a movie called Blood In Blood Out. We watched it cause a couple of guys who work for us- our guitar tech and drum tech- they'd seen it before and they're both mexican guys and the movie's about growing up mexican in East L.A. We watched it and, originally, it had so many stereotypes it was funny but evantually it became kind of captivating because the movie actually gets pretty good. It seems almost like a comedy when it first starts.
So what's next after the big summer tour?
Probably we'll just do a couple of tours outside of North America- we'll go to Europe for a little bit and maybe have a few other overseas opportunities. Then our main focus after that will be writing- we want to get into recording our new record by December so that it can be out by next summer.
Cool. Well I look forward to catching your set, again, in July when you hit Orlando and thanks for talking with me.
Yeah. Thank you.
---