Hot Chip
Shy Child and Born Ruffians
Chicago, IL • Nov 10th
Chris Catania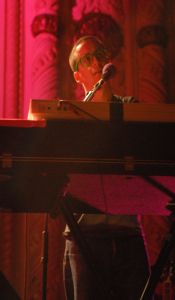 Hot Chip's last voyage to Chicago was bathed in the hot August midday sun on a Lollapalooza side stage. This time around it was the intimate, cozy confines of the Metro– a far better atmosphere and a stark but welcomed contrast to the pre-show icy downpour that bombarded fans outside.
As in August, the UK electro-pop quintet went about their business much the same, the audience succumbing to sporadic yelps and flinging various articles of wristwear on to the stage.
Leading the controlled chaos were co-song creators Alexis Taylor and Joe Goddard. Both animated maestros– Taylor sporting a clown-like pair of oversize green prescription glasses and Goddard doing a perpetual merry march– led the way from behind a stack of keyboards and hand drums as Hot Chip chased through slightly altered and more fleshed-out tracks from their recent 2006 gem The Warning and 2004's debut Coming on Strong. Smart to satisfy and deft enough to recreate, the duo were in complete sync as they also unveiled four new slick tracks said to be on their next album.
In fantastic frenzy the near sell-out crowd rubbed and bumped and grooved to favs "And I Was A Boy From School," "Careful" and "Colors."
Like the Whirlwind connector bounding on the stage floor Hot Chip is all things mixed into one: a healthy dash of Devo quirk, a precise electronic hip-hop injection and chant-worthy, well-crafted lyrics that possess hidden metaphor if you're looking for it. Don't be fooled by their initial tongue-in-cheek persona, it's only skin deep.
All of a sudden there was one Hot Chip left onstage.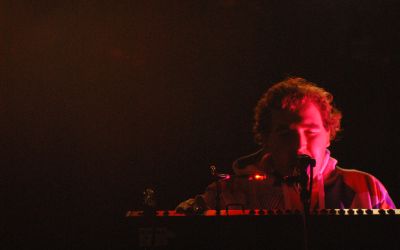 Al "Do It" Doyle (guitars/vocals/sampler) meticulously fiddled with the sampler, closing the set with the self-effacing but gloriously hypnotic "No Fit State." The engulfing cloud of electro-exhaust would have been a perfect sonic curtain to close the show, but succumbing to a case of chronic encore necessity– and committing the night's only misfire– Hot Chip came back on stage for two more. Had they closed up shop with "No Fit State" there might have been a bit more enticement, more allure for fans, just like the blazingly abrupt but appropriate Lolla set. A band doesn't always have to play an encore does it?
But I forgive them. For one reason. Keeping the crowd honest, Alexis and company reconvened and carried "Over and Over" on for a few more bars, catching most off guard and then sprinted to one of Hot Chip's most infectious choruses, "Over and over and over and over and over/ like a monkey with a miniature cymbal/ the joy of repetition really is in you/ under and under and under and under and under/ the smell of repetition really is on you/ and when I feel this way I really am with you."
Opening bands– and Hot Chip tourmates– Shy Child and Born Ruffians were a fine discovery.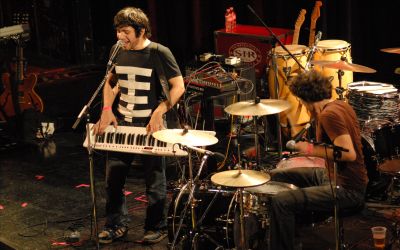 New York's Shy Child is a beautifully blended blizzard of avant-garde snyth anchored by ambitious crisp, powerful jazz-rock-possessed drumming cloaked in haunting vocals. Next was Toronto indie-rock trio Born Ruffians, a unique mix of crafty vocals, intimate lyrics and touches of Arcade Fire melodic drama. BR appreciatively covered Grizzly Bear while both bands offered mid-set admiration of their headlining gurus.
---