Joshua Radin
Schulyer Fisk
Orlando, Fl. • Mar. 28, 2007
Jen Cray
You don't have to be a hippie in flip flops to enjoy a good folk rock performance, but it is recommended that you take a quick nap before the show if the sort of live shows you're used to are a bit more plugged in and sweaty. Simon & Garfunkel-inspired songster Joshua Radin gathered up a tight crowd at The Social in Orlando, due largely to the inclusion of his song "Winter" on buddy Zach Braff's show Scrubs (once again, television – and Zach Braff – pave the path for an otherwise-unknown artist). Hippies, polo-shirt frat boys, college girls in sundresses and me. This was not my usual crowd. Luckily the music was as beautiful as was promised, so I could forget the fact that I haven't felt so out of place at a concert since I photographed Ricky Martin last year (go ahead, you can laugh, but he was fun to shoot).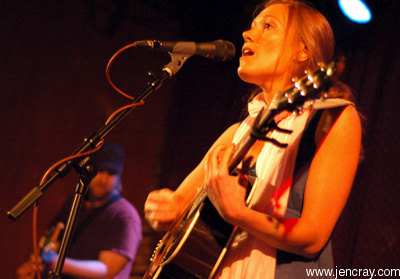 Radin shared his backup band with opening act and girlfriend Schuyler Fisk (pronounce Sky-ler). If she looks a bit like Sissy Spacek in Carrie, that's because the Oscar winning actress is her mom. You also may recognize her from movies Orange County, The Baby-sitters Club and most recently I'm Reed Fish. She acts, she writes, she sings, she's got red hair – we've got another Jenny Lewis on our hands.
What I can say about Schuyler's set is that her charm combined with her gorgeous voice, which is close to that of Frente's Angie Hart, was bewitching. She tells stories between songs, smiles and chats with her band members and gives off a Loretta Lynn, Joni Mitchell kind of vibe. For the early beginnings of a burgeoning music career, a song like "Hello" is a great start.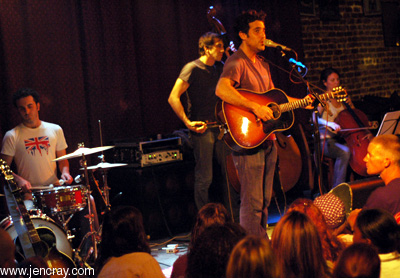 When Joshua Radin steps onto the stage, barefoot, you'd think that his audience of supporters would shut the hell up and allow his quiet folk songs to soak in. Instead, most of them left their concert etiquette at home and, when combined with the buzz of a handful of martinis, the chatter of pre-hookup banter was terribly distracting. One fan got so fed up he screamed out, "Shut the fuck up, you cocksuckers, and let him play!" While this outburst may have had good intentions, it got him kicked out and did nothing to silence the pickup artists at the bar.
Aside from the background noise, Radin sounded better live than on record. His often-breathy way of singing was smoother and, when combined with the backing vocals of Fisk (who joined him onstage for most of the set), took on a fuller sound that had more than just a passing likeness to Nick Drake. While songs like "Star Mile" and "Winter" song pretty on the stereo, they absolutely glowed in person.
To see more photos of this show, and others, go to [www.jencray.com](http://www.jencray.com/bands_live.htm).
---