All Smiles
Sea Wolf, Bronze
Chicago, IL • May 19th
Chris Catania
I'm confident that what I experienced at the Empty Bottle happens more often to the indie music fan than most would like to admit. Before the concert I listened to headliner Jim Fairchild's– guitarist for the recently disbanded Grandaddy– new project All Smiles' debut CD, Ten Readings of a Warning. My excitement grew as I wondered if the same warmth and simplistic, intimate atmosphere of guitar and piano melded by a cathartic croon could be pulled off live.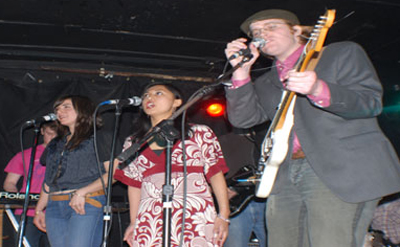 The show began and it was openers Bronze who brought their mix of 70's expansive prog rock and indie-orch pop via a ten-piece band that barely fit on the stage. Then came Sea Wolf. This Los Angeles four-piece, led by Alex Church Brown, built the anticipation for the All Smiles set that unfortunately was nowhere near as engaging and fun as the previous two bands.
So what happened was that I decided halfway through Sea Wolf's set that I was going to buy their CD, and a quarter through All Smiles' set I wondered why I was so let down. To add to my dismay, Fairchild kept on referring to their last show in Louisville, KY and how fun it was and how they were so tired. I thought to myself, please stop telling me why the show I'm watching is so flat and boring and just let me feel it. Don't rub it in my face. I than began to mentally drift away.
Fairchild seems to be in that artistically enigmatic middle ground where an artist from a hugely successful band is making a run at a solo career. Fairchild succeeds on the album, but it's clear that being the centerpiece for a live show is something for which he's not quite ready. Nonetheless, he's courageously attempting it. And so far his performance fears take away from the show instead of drawing in the crowd. This is not a direct comparison but I'm reminded of performances by Elliot Smith, who performed in the midst of his awkwardness and emotional turmoil and transformed his struggle into an irresistible lure for fans during the live show. Hopefully with more live shows Fairchild will develop and find a way to transforms his stagefright into the night's main attraction.
Unlike All Smiles, Sea Wolf is on the other side and is just getting started, introducing their mix of country-tinged folk-rock that hints at early Wilco. The songs glide wonderfully via a crisp undercurrent of cello, with Church's storytelling lyrics as the ship's lyrical rudder. Church's bandmates flashed euphoric smiles which resonated and became as contagious as the flowing rhythms. Sea Wolf's set was far too short but still sweet as Church guided the way through debut EP Get to the River Before It Runs Too Low which will do for now until the full length is dropped later this fall.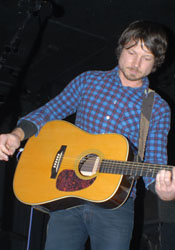 Openers and newly-formed Chicago ten-piece Bronze grooved beautifully and meandered from the funk to a jangly mix of jazz and orch-pop, squeezing all the soul out of a three-man horn section, two female backup singers, drummer, a keyboard/guitarist, lead singer/guitarist, bass and a warm Wurlitzer. With so many players crammed on stage I wasn't sure where the crowd started and the band ended but I had no problem trusting Bronze as they seemed to be channelling the Arcade Fire, who were playing across town at the Chicago Theatre.
I'll look forward to seeing Fairchild develop his live show and in the meantime I'll continue to enjoy All Smiles' debut, while keeping a close eye on Sea Wolf's and Bronze's exciting development.
---