Lollapalooza
with Pearl Jam, Ben Harper and Daft Punk, Iggy and the Stooges, Patti Smith, Regina Spektor, Lupe Fiasco, Rhymefest, Peter Bjorn and John…
Chicago, IL • August 3-5th
Chris Catania
In hindsight, I should have listened to my elders but I didn't. And for the second straight year Lollapalooza – the gargantuan three-day, 130 band festival that plops down along Chicago's shimmering lakefront in Grant Park – got the best of me. When Chicago Tribune rock critic Greg Kot wrote in his Friday Lolla prep article that "Lolla can make even the most dedicated music fan ornery if a realistic plan is not conjured" he was right. The festival, like last year's, was an overwhelming excursion and a perpetual joy ride, an opportunity to take in a gazillion styles of music that was heavy on the anti-war and save-the-earth politics, presented via the alternative rock – and in 2007 a bit more corporate – creative counterculture filter of festival creator Perry Ferrell.

But even though I did get a little ornery towards the end like Mr. Kot said I would, I still traveled across the sun-drenched Grant Park grounds in a constant state of adulation at what I was going to see, who I was seeing and what I had just seen. And if the following recollection appears to be out of order, swinging back and forth form Friday to Sunday to Saturday, that's because it's how I remember it. Not by what day the acts performed but how each act returned to (or in some cases, escaped from) my memory.
The sonic submersion starts on Friday night. While Daft Punk was busy erupting from a gigantic pyramid stage piece and performing impressive Big Brother theatrics, on the other side of Grant Park it was Ben Harper, armed with his soulful slide guitar and joined by his Innocent Criminals, dousing the crowed with the social-political reggae anthems "My Own Two Hands," "Burn One Down" and "I Believe In a Better Day." The set sparkled with a preview of Sunday night's promised closer when Eddie Vedder came on stage and the two traded verses of Dylan's classic "Masters Of War." This tag team version of the timeless Dylan diatribe was powered by Vedder's and Harper's not so subtle disdain towards the war in Iraq.
Although Regina Spektor's hit song "On the Radio", had been on constant rotation in the home stereo, courtesy of my wife, I wasn't that interested to see her perform but when her set got going on Saturday afternoon, Spektor grabbed me instantly, especially with the chilling "Ghost of Corporate Future" and her dazzling tribute to Patti Smith –during which Spektor played the keys with one hand and drummed a chair with the other. I immediately became a fan, realizing why my wife and hundreds of other females (and males, too) were singing along with Spektor who, on the surface, is a combination of Fiona Apple, Ani DiFranco and Tori Amos. Spektor's stage presence is magnetic and her irresistible jovialness only added to her masterful piano skills, siren vocals and amazing vocal infection, taking simple lyrics and transforming a Broadway musical into a deep but catchy pop song. Admitting my oversight, on the way home, I asked my wife if I could snag one of her Spektor albums.
But before Saturday was done, rain would fall on fans – like a rock n' roll baptism – while Patti Smith screamed, snarled and snapped her guitar strings one by one during her blistering finale. Smith, who explained that she was born in Chicago, forced her band, back onstage when it started to rain, saying, "I was born in Chicago during a blizzard… a little rain ain't gonna bother me."
The crowd yelled and raised a collective affirmative fist in the pouring rain.
Feeding off the crowd energy, Smith burned and chugged through her 1975 breakthrough hit "Gloria" and then let loose Nirvana's "Smells Like Teen Spirit," a track from her latest Twelve, an album of covers. Having grown up with Nirvana's Nevermind, I have a Pavlovian response to start jerking my head every time I hear the first vicious chords of "SLTS" but when Patti Smith sang it, I had a different feel as Smith, a legendary punk rock Baby Boomer, recontextualized one of my favorite songs from my generation and awkardly entertained me while forcing me to think about what the song means in present times, especially when she growled, "I don't fuck much with the past, and I don't fuck much with the future, but what I do know is that we have to do something with what we have got MUTHAFUCKIN' NOW!"
Earlier on Saturday, Chicago hip hop flexed its muscles as Rhymefest, who co-wrote the Grammy-wining "Jesus Walks" with Kanye West, turned the stage into a hip hop free-for-all. Rhymefest performed tracks from his 2006 debut Blue Collar via free-styling as his backing DJ laid down the soul-spliced grooves and a whole crew of b-boys rushed onstage to breakdance and lift the set to higher ground beyond the dazzling backdrop of Chicago's downtown skyline. Eyes closed, bouncing my right arm up in the air, to the philosophical "Bullet and a Target" among others, I relished the moment of seeing Rhymefest for the first time live, a confirmation that what you hear on Blue Collar is what you get live and more. Rhymefest is the anti-bling. His rhymes feed and nourish and entertain. It was encouraging to see a Chicago emcee take chances via chronic lyrical spontaneity that challenged even die-hard fans to really think amidst the bumping street party, whetting the palate for his next release, due soon in 2007.
On Sunday, I was leery about seeing Amy Winehouse but my wife had to see her. So we did and we left after two songs. Unlike the Winehouse set, I'll make this as painless as possible. Winehouse has talent but is a trainwreck waiting to happen and like her rebellious "Rehab" song implies, she is having enormous trouble coping with the rockstar lifestyle.
So we made the speedwalk trek across the grounds to see Lupe Fiasco, who kept Chi-town hip hop center stage. Fiasco dialed it up during his moment in the sun with the smooth glide of "Kick, Push" and the sublime dip into a dreamy moment in the ghetto "Daydream." In between songs he charged up the crowd with the uncontrollable and humorous "Can you dig it!" outbursts fueled by his apparent love for the '70s cult flick The Warriors.
Then it was time for the primal punk rock of Iggy and the Stooges. Even though it's not 1969 anymore and the act is a bit cartoonish, the show – which included the staples "I Wanna Be Your Dog" and "1969" – was something that every die-hard punk fan should experience at least once. During "No Fun" I was shocked to see even Iggy get scared when – after he incited fans to join him on stage in a massive bum rush – he had to awkwardly peel fans off him, calm them down and coax them to return to their rightful place off stage.
So we left Iggy and wandered around the grounds for awhile checking out Green Street, where Lollapalisteners could break from the tunes and become global activists and sign up for different causes or catch an impromptu Perry Ferrell unplugged concert.
I felt sorry for Swedeish rock trio Peter Bjorn and John, whose much anticipated Sunday afternoon set was postponed when the sound system went dead and the overflow crowd that had gathered with wet, pursed lips had to wait 30 minutes to unleash their collective whistle during the PBJ hit song "Young Folks."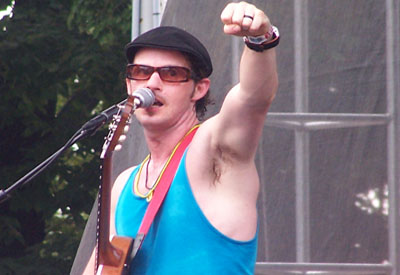 When you go to a festival two things usually happen. You discover new and exciting music and you have a favorite artist fall from the top because of the sad but true realization that they're not as good live as on album, or their undesirable personality upstages the music. While seeing Regina Spektor live won me over, it was Apostle of Hustle – led by Andrew Whitehead of Broken Social Scene – that fell a few notches when he detoured from the music and tumbled into yet another overblown rant aimed at George W. Bush and his Canadian Prime Minister. AOH's National Anthem of Nowhere album is one of 2007's best but it was tainted by Whitehead's political fluff that also plagued many sets during the weekend. Yes, many of us, regardless of political preference, are ready for new political leadership but sometimes musical artists should just stick to the music and let the tunes do the talking.
This being my first time seeing Pearl Jam live – their rebellious grunge-rock anthems painted much of my teenage musical backdrop – I stood among the thousands, taking in the jolting combo of nostalgia and poignant in-my-face-politics. Vedder and company began with tracks from Ten, Vitalogy and Vs, then created a swirling controversy with stage sponsor AT&T. During "Daughter," Vedder slipped in the chorus of Pink Floyd's "Another Brick in the Wall" but the second time through changed the lyrics to "George Bush, leave this world alone." After the situation happened, word got out that AT&T had hired censors to edit the lyrics from the AT&T Blue Room webcast version.
But before that, Vedder, a native of nearby Evanston, also challenged fans to boycott BP Amoco until the company "cleans up their act and stops dumping chemicals into Lake Michigan." Like Iggy and Patti Smith, the set was a dense, swirling mix of "yeah, I saw them live!" mixed with mid-songs musings like, "does my generation and the in tow, get it, do we really know how to use rock n roll to change lives or are we just addicted to being entertained by our past and is Perry Farrell just cashing in?"
As I rumbled home on the Blue Line CTA train, I realized I could have had an even more memorable time had I listened to the sage advice of Greg Kot or learned from my failure to wrestle the Lolla-beast last year. I also admitted to myself that the same deliciously luring rebellious spirit that makes rock n' roll so fun actually kept me from having an even better time. Please, if you plan on going to Lollapalooza next year, realize that it's a massive amalgamation of rock, politics and activism, and like any festival should be taken in small, well-thought-out-but-flexible doses. Without a doubt, I had an amazing time but I also believe that Lollapalooza is getting a bit too big for its own good as it forced fans to miss out on several great acts because bands like TV on the Radio and Cafe Tacuba, among others, played simultaneously on opposite sides of the mammoth park.
And aside from Lolla's bigger, stronger, more productive, more lucrative advancements – including a five year, five-million dollar contract with the City of Chicago – there's the growing feeling that the festival might actually be a hindrance, for the fans, artists and the future of live music.
Lollapalooza: http://www.lollapalooza.com ◼
---