Warped Tour
Bad Religion, Tiger Army, Coheed & Cambria, The Unseen, Revolution Mother, Circa Survive, Gallows…more…
Orlando, Fl • July 22, 2007
Jen Cray
It's 300 degrees in the shade, the Orlando streets are teeming with teenagers, and I'm whipping out my wallet to throw down $6 for a Bud Light. This can only mean one thing: it's time for another Warped Tour.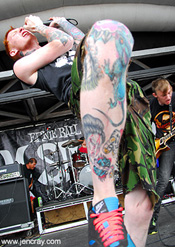 For its Lucky #13, the summer fest was a little light in the way of marquee acts. Taking a look at the Orlando roster read like a colleciton of opening acts for a second rate emo tour- with only a small sprinkling of punk acts to set my mouth a-watering. Think I'm exaggerating? Paramore, Cute Is What We Aim For, Chiodos, Norma Jean- these were main stage acts, while the invigorating innovators like Gallows, The Unseen and Revolution Mother were tucked away on the smaller- yet always crowd pleasing- Hurley sponsored stage. if it hadn't been for Bad Religion and Tiger Army I might not have hit the big stages at all.
As it was, my Warped day was the usual field-sprinting sweat fest. The only difference this year was that miraculously the skies stayed clear and the expected torrential downpour did not occur! I could hardly believe my luck at being able to check out 16 bands in 7 hours. It breaks down like this, in order of appearance:
Gallows are a destructive force to be taken notice of, and though there was little audience for their noon set, theirs was one of the most memorable half hours I saw all day!
" Tiger Army never dies!" Their corny, but crowd uniting, mantra is true. Not only do they never die, but they just keep getting better. They played one of the best songs of the summer, "Forever Fades Away," so I was a happy fester!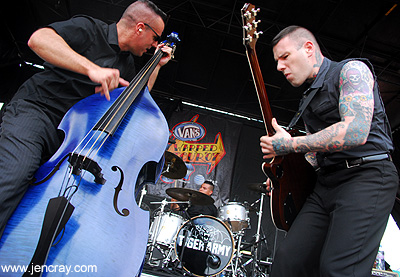 I shot Chiodos just because they happened to go on while I was walking by. Nearby, at the Vagrant tent, a guy held up a sign that said "Fuck Chiodos!"… That about sums it up for me.
Michelle Nolan, one half of the male/female vocalist couple of Straylight Run , looks like Natalie Portman, but not even this small detail could avert my boredom during their set.
The album by The Dear and Departed caught my ear a few months back, and though their set was fairly uneventful, those songs still tickle the pop-friendly side of my brain.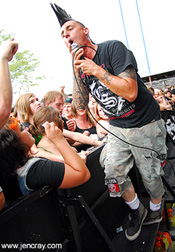 Killswitch Engage. This is considered metal?!!! Are you kidding me?!!!
I may not understand why Bayside attracts such a good sized crowd, but they pulled in enough kids to have justified sticking them on the main stage instead of the Hurley one.
Did you know that Hawthorne Heights were still kind of popular? Apparently they are and I will give them due credit for upping their energy since the last time I saw them play.
Thank the festival gods for The Unseen! Frontman Mark spent half of the set in the audience, reminding us all that this is what the Warped Tour is about!
I'm ashamed to say that I went from the dirty pits of The Unseen to the Clearasil sparkle of Paramore. I only checked this media-friendly band out because they are everywhere right now and I wanted to allow them to disprove my completely biased hatred of the band with the pretty girl singer and the guys with the weird haircuts. After just one song I can educatedly say that I still don't like them.
Street Drum Corps consistently put on one of the most unique performances you're bound to stumble upon, and you probably missed it. Playing in the Skull Candy Mix Tent, after a b-boy breakdancing troupe, the trio impressed me once again with their bang on anything approach to music making.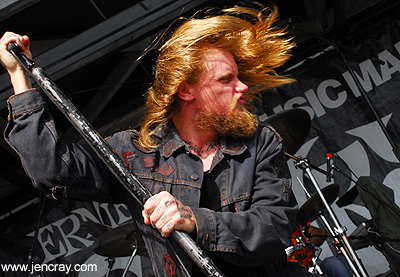 Back at Hurley, the ultimate declaration of what the Warped Tour is supposed to stand for was setting up to demonstrate itself: Pro-skater Mike V (you know, the craziest mother on Tony Hawk's Gigantic Skatepark Tour series- the one who loved to climb the tallest structure at the skatepark and then jump off of it repeatedly until landing it smoothly) has got a band that's equal parts punk, metal, and cock rock. Revolution Mother were the coolest thing about this year's Warped Tour!
I had to run across the baseball field to catch Pennywise and, though they're a classic that cannot be downplayed, I really wished that I would've stayed for the full Revolution Mother set instead. I did make it back in time to see the band do a quick meet-and-greet with the small handful of fans who watched the show.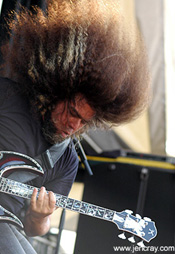 Coheed and Cambria – still not into it, but the appeal of Claudio Sanchez and his Melvins-esque hair cannot be denied.
I didn't care to see K-OS, or The Graduate so I found myself at the foot of New Found Glory's performance. I'll never like their music, but they're out to entertain- I'll give them that much.
Back on the other side of Tinker Field, Circa Survive was working out the kinks in their almost interesting musical repertoire. One day this band will totally click with me, and it'll be a moment like I had with Thrice where suddenly they just made sense. Frontman Anthony Green was all smiles and looking ecstatic to be on the main stage for such a primetime spot (6:10pm). Something makes me root for these guys, mostly because of Green's enthusiasm.
At long last, the legendary Bad Religion take to stage "13." Though I've been listening to these guys since my high school days, it was my first time seeing them live. I could go on and on about how cool that was, but let me just some it up by saying- they opened up with "American Jesus." !!!!!!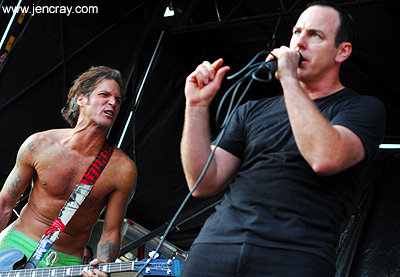 Like every other Warped Tour, it's not just about the bands, it's about the communal feeling of sharing an afternoon with likeminded fans who want nothing more than a nice long hot day of nonstop music. I, like many others, look forward to this every summer regardless of how many crappy emo trendy bands are on the bill.
To see more photos from this show, and others, go to [www.jencray.com](http://www.jencray.com/bands_live.htm).
---