Portugal the Man
The Great Depression
The Social, Orlando, Fl • Oct. 10, 2007
Jen Cray
Anyone can write a few songs, make a myspace page, and go out on the road, but only about 10% of these bands are any good, and it's even a smaller percentage that are talented and innovative enough to call great. Portugal the Man are one of the precious few currently sneaking under mainstream's radar these days.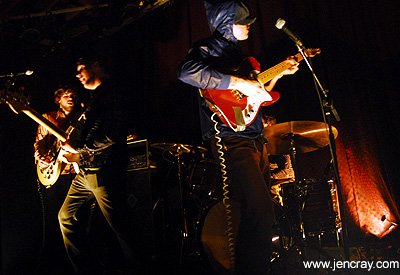 For their second trip to Orlando in just three months time, they took a backseat in billing (to Rock Votolato), and quietly appeared as an opener at the same venue that they had previously sold out on their own. Kicking off the evening was a quiet, folk duo from Ohio called The Great Depression. Sad songs and acoustic music wasn't anyone near the mood I was in when preparing to see PTM, but amazingly these guys had me (and most others) in the palm of their strumming hands. If not for the deeply painful lyrics, then for their inconceivably gorgeous voices which were a mixture of The Band, Ryan Adams and The Eagles. I don't know much about these guys except that their names are Tim and Jeremy. I know that they like to drink beer and chain smoke onstage, and they're somehow creating achingly authentic outlaw folk music without even realizing how good their songs are.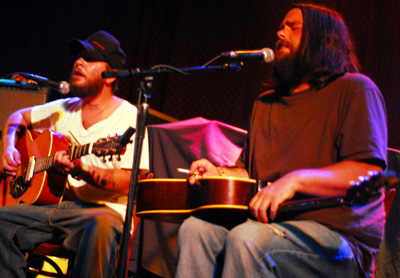 Floored by The Great Depression, I got myself settled in downstage left. I learned from the band's last trip to town that vocalist/guitarist John Baldwin Gourley likes to position himself with his back to most of the audience, facing to his left. Without flourish or any grandiose spectacle whatsoever, the trio that blows into a full fledged sextet on tour began their powerhouse set. Sporadically placed white camping lights strobed to create the only light source beyond a couple of red lights overhead, and the mood was mind altering.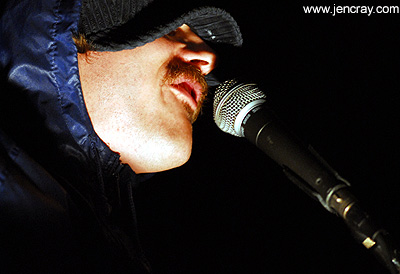 They don't talk between songs. They don't have a setlist. The band operates as a clockwork unit of encouraged improvisation, and the resulting 40 minutes is the most impressive performance I've seen by such a young band, since last year's Mute Math show at the same venue. Gourley is clearly the head of this act and it is his high register vocals, his abstract lyrics and, most importantly, his finger shredding guitar work that elevates this band onto a higher plain.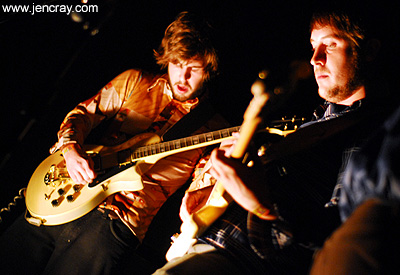 Their sound is hard to peg- and isn't that always a good thing- but it is spawned from the same blues rock roots as Zeppelin and The White Stripes, only with an extra helping of British glam brushed on (T Rex, David Bowie). Younger fans of the new prog rock beasts (The Receiving End of Sirens, The Mars Volta, Circa Survive) will find a hint of something to like in this Alaskan trio, but so will the old school listeners like yours truly.
Their too short set is perfection. Tossing a new song in with loads of head-smashing tracks off of this year's Church Mouth. "Church Mouth," "Sugar Cinnamon," and "My Mind" crush my brain, but it's the band's inclusion of the quietly haunting "Shade" that completely melts my head. This band is going to be massive!
To see more photos of this show, and others, go to [www.jencray.com](http://www.jencray.com/bands_live.htm).
---