Flash Gordon – Volume 4
by Alex Raymond
Checker Book Publishing Group
I've learned a lot by re-reading these 1938-era color Sunday strips about Flash Gordon, America's favorite spaceman. Big, hunky guys with more principles than brains end up recapturing the same super villains over and over. Great super villains don't make great jailers, and Flash is slipperier than Bin Laden. Hot women like Dale Arden can be bitchy whiners. And while Planet Mongo perfected the combination Rocket/Submarine, they never got the idea of a small, light sidearm like a Luger or Baretta.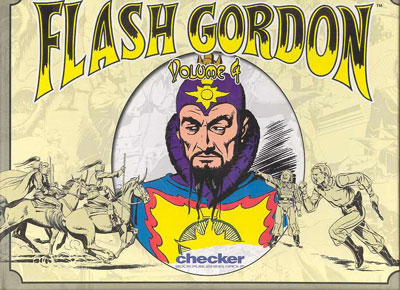 Checker Books reprints these high quality strips in clean but subdued color, with a short editor's introduction and not much else. "The Tyrant of Mongo" and "Ice Kingdom of Mongo" date from the depths of the Depression, and show the sort of "Can Do" attitude we took into the war against a suspiciously similar set of Asiatic looking enemies. Storylines flit about, but of course we were never meant to read these strips in one sitting. Rather, they are episodic adventures to dip into once a week – a panel to pick up continuity, resolution of last weeks cliff hanger, then a giant leap of story into another seemingly insoluble problem. Both episodes are about as defocused as their titles indicate, but there's a subtly chaste sexuality that keeps you turning the pages. My favorite was the Ice Kingdom series, with Dale and Princess Fria strutting around in short skirts and transparent snow suits. Flash is routinely brought near death, and occasionally both women work to "nurse him back to health", the lucky dog.
These are quality books, and the wildly swerving storylines are not so much charming as educational – this is how to tell story with spectacle rather than situation, and stereotype rather than character. Don't scoff; this is how the big bucks films, from Star Wars to X-Men, work. Learn from the master, grasshopper.
Checker Books: http://www.checkerbpg.com/
---