Peanut Butter Wolf
Madlib, Arabian Prince, Guilty Simpson
Chicago, IL • November 30th
Chris Catania
Did you know that Americans consume more than 700-million pounds of peanut butter each year?! So how does Chris Manak (aka DJ Peanut Butter Wolf) fit into that figure? Not exactly sure, but I do know that the Stones Throw label owner/DJ/producer is responsible for spreading and seducing a growing legion of hip hop fans into consuming some of the best hip hop over the last eleven years. The show he anchored at the Abbey Pub on a frigid night in Chicago would suggest he is a very unique blend of peanut butter–the kind that's not confined to a single label or disposable plastic jar. And it's clear that his mixture has way more soul and style than the USDA recommends.
"gulitysimpson"
Once the venue filled up and the rhythmic body heat pushed the frigid air out, Manak, serving as the DJ for his artists, worked a table full of turntables like the moniker suggests–sly and nimble–dropping numerous pleasure grins as he saturated the sold-out crowd in layers of funked-out '70s soul cuts and tripped out Bambatta-based psychedelic grooves that were injected with tripped-out and retro cartoon sound bites he absorbed growing up in the mid-seventies.
The current Bounce Tour was in support of the 2007 mixtape B-Ball Zombie War that features an enticing mix of Stones Throw stalwarts–Madlib, Quasimoto, and MF Doom–and newcomers emcee Percee P and Supreme Team, among others. Opening the night was DJ Arabian Prince, formerly of N.W.A, who served up a prefect priming set of preliminary funk and classic hip hop cuts, tossing in some guilty pleasure junk food with Vanilla Ice's "Ice Ice Baby" just to get the crowd fired up and to keep us on our toes.
Detroit rapper Guilty Simpson was the first of many to deliver lyrical and beat-based tributes to J Dilla who passed away in 2006. Simpson's hard-knock-life lyrics peaked with an endearing shout out to Peanut Butter Wolf, who worked the decks behind him, and the influential J Dilla. Gripping the mic, Simpson smiled at the crowd and then back at Wolf and said, "J Dilla introduced me to this guy. Dilla saw my skills and you (Wolf) brought me on board."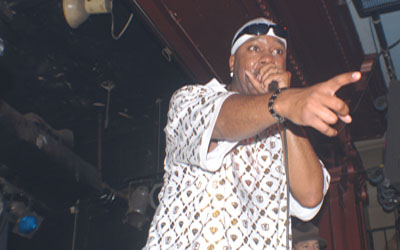 "Look! No rims, no bling! I'm just gonna spit it a capella for ya!" And so did the 19-year hip hop veteran emcee Percee P, as he worked the crowd with tracks from his 2007 debut Madlib-produced album Perseverance. Showing his polish and persistence in the rap game, the Brooklyn emcee's tenacious Tommy-Gun flow quickly coalesced into an explosion that ignited with a fiery front row call-and-response and blazed all the way to the back of the house.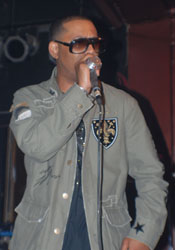 Then came California-native emcee/producer Madlib and his versatile style that ebbs and flows somewhere between the '70s soul of Marvin Gaye and Miles Davis's jazz, and a hilarious rap style that's a concoction of George Clinton-meets-Richard Pryor-meets Melle Mell's robotic cadence. Like most of the Stones Throw artists, Madlib colors his rhymes with an intellectually playful cartoon mythology that creates an eclectic playground, merging hip hop's poetic force with the childhood innocence of cartoons, leaving you with a brilliant and fresh perspective of hip hop here in the 21st century.
The lights turned low as DJ Peanut Butter Wolf finished the night back-dropped by a video screen that flashed an MF Doom Adult Swim style cartoon and an '80s and '90s rap video montage that was synced to his turntables, allowing him to deftly move the video to the beat of his scratches. And like a seasoned live DJ alchemist, he mixed a perfect dose of expected dance tracks, creating an elixir to send the gathered grooving into the fantastic and psychedelic terrain amidst his B-Ball Zombie War.
After eleven years, Peanut Butter Wolf has the right idea and a clear vision of what kind of beat he wants to groove to, capturing hip hop's past, present, and future, creating an irresistible style and sound that blends genuine soulfulness with sanctified silliness, leaving little doubt about what lies at the heart of Stones Throw and in which direction he thinks hip hop should head.
Stones Throw: http://www.stonesthrow.com ◼
---