Aaron Lewis of Staind
Lo-Pro
Nokia Theatre, Times Square, NYC • August 28, 2007
Mark Fredrickson
As the diehard Boston Red Sox fan Aaron Lewis took the stage in Times Square, the Yankees squared off against the Red Sox at Yankee Stadium in the Bronx fighting for the lead in the Pennant race.
With Staind on a short hiatus after the release of their greatest hits album, "The Singles: 1996 – 2006" Aaron Lewis once again hit the road to play solo acoustic shows across the country. Aaron is far from new to the solo performance circuit. His performance of the song 'Outside' in front of the sold out Biloxi, Mississippi crowd (with a little vocal backup from Fred Durst) helped Staind jump from metal obscurity to one of the top selling bands of the last decade – almost overnight.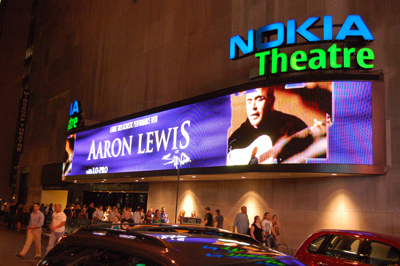 On previous solo tours it has just been Aaron, but for this tour he invited Lo-Pro, a band he discovered and signed to his vanity record label 413 Records, to open for him. After the song "Sunday" off of their debut album took off, many fans and critics expected great things for Lo-Pro, but the head of Geffen Records surprisingly dropped them from the label. As the band performed stripped down acoustic versions of their once heavy sounding songs, it seemed that they had something to prove. Whatever it was, they proved it to the small crowd that arrived on time to get their money's worth. As Pete Murray, formally of Ultraspank, belted out verse after verse with almost unbelievable range and control, I kept hearing audience members turn to each other and say, "Who are these guys?"
Since they were dropped from Geffen Records, Lo-Pro has been busy. While they played some songs off their debut album, their new material is much richer and more mature. Being dropped from Geffen appears to have been a blessing for this band, as they play with something to prove to the audience and themselves. How far this band has come was clearly evident in their new song "All I Have" about soldiers fighting in Iraq. Pete explained after the show his motivations for writing the song, "I wrote the song when I saw a news report on soldiers saying goodbye to their families and friends as they were being deployed to Iraq. Since writing that song, I've had to say goodbye to many people headed to Iraq and it's brutal. I can't wait for them all to come home." Their evolution of song writing is very impressive. Keep an eye out for their album to be released sometime next year, possibly released without a record label as Pete told me after the show.

Sitting on a stool, acoustic guitar in hand, it seemed that Aaron and the crowd were recreating that moment in Biloxi all over again. Just as "Outside" was spontaneous (the decision to play the song was made 10 minutes before their set time) this evening would prove to be just as exciting and unique. The first nine songs that Aaron played were all Staind songs, ranging from well-known hits to unreleased songs like "Something Like Me", and the crowd began to get bored and tired of yelling out requests for covers with no results. Just when I thought he had lost the crowd, he said the unthinkable, "Go Red Sox!" While most of the crowd laughed, then began to chant "Red Sox suck", Aaron had won the crowd back. From there his performance took off. He played a new song "Anywhere But Here" that he, "wrote in a parking lot in South Dakota" about wishing to back home with his family, a common theme in almost all of Staind's recent songs.
Between songs many people in the crowd yell requests as Aaron contemplates what to play next. This is what makes his solo shows so incredible. You really never know what will happen. A group of obviously drunk guys kept yelling something about how Long Meadow rocks, and the more Aaron ignored them, the louder they became. Finally, Aaron responded saying, "If I acknowledge you, will you stop yelling?" to which the crowd cheered in support of Aaron shutting them up, but Aaron wasn't done. "Any ladies in here? Stay away from those guys – that was the ultimate cock-block!" While drunk people seemed to flock to his concerts, Aaron has seemed to perfect ways to keep them quiet.
The first cover of the night was the song "Rainbow Connection." Yes – the one by Kermit The Frog. "This song blew doors open for me, and helped me decide to play music" said Aaron before starting his brilliant rendition. The biggest disappointment was how he started many covers like "I'm Bringing Sexy Back" by Justin Timberlake and "Love On The Rocks" by Neil Diamond, only to stop after the first few words – just like your friends who only bother to learn the chorus to every popular song, and sing it over and over. Aaron has an amazing ability to turn any song into a masterful rock ballad – but he should play the entire songs, instead of going for laughs by playing the first verse or chorus.
Another addition to this tour was Chris Ballini who played with Aaron in an acoustic band that played mostly cover songs in small bars before Staind took off. Chris joined Aaron halfway through his two hour set and provided another layer of vocals and acoustic guitar. As Aaron and Chris began to play "Black" originally by Pearl Jam the crowd went crazy. This was no doubt Aaron's best cover of the night. His voice is a perfect match for this song, and the way he builds the intensity level as the song progresses is very powerful. Tool's "Sober" was next, and besides his botch job of singing the right lyrics, his performance was on par with the previous song. Since he has what must amount to over 700 songs memorized, a few missed lyrics are excusable. That is what makes his shows so enjoyable. You never know what will happen next.
After a few more covers, and the oddly uplifting performance of "So Far Away", Aaron left the stage. Since the room remained dark, we all knew that Aaron was going to do an encore. It was so obvious that most of the audience didn't even demand an encore by screaming and clapping. It wasn't that we were unhappy by the performance – we just knew that it was going to happen. Sure enough, after five long minutes of near silence, Aaron returned to play "Outside" and redeemed his Red Sox remark by yelling "New York City! This is the real fucking deal y'all!" in place of Fred Durst yelling "Biloxi" during their 2001 Family Values duet.
Despite the high ticket price – even for New York City standards – which many in the crowd complained about at the beginning of the show, most of the audience members appeared in awe of the show. For every fan of modern and grunge rock, going to an Aaron Lewis concert should be at the top of your to-do list.
Much to Aaron's disappointment, the crowd got the last laugh as the Yankees beat the Red Sox five to three.
Catch Aaron Lewis on the final leg of his solo acoustic tour through the middle of February on the East coast, with select shows on the West coast.
http:// ◼
---