Nire
An Interview With Josh Hinton
Matthew Moyer
Confession: I fell head-over-heels in love with Portland duo Nire last year. Their debut album, Vespers, landed unexpectedly in my mailbox in the early autumn, like a letter from an old friend I hadn't heard from in far too long. And it was just what I needed. Warm, whispered, minimal laments and lullabies delivered via soft softer softest acoustic guitar, piano, Casiotone keyboard, and the most fragile and telepathic boy/girl vocal interplay I'd heard in forever. I listened to it over and over again, feeling like I had to crack some secret code, alternating between feelings of guilt at lingering so long in the face of such nakedly personal moments and a sense of comforting warmth, like I was wrapped in a blanket on a winter's morning. Nire are Josh Hinton (vocals, guitars) and Erin Morgan (vocals, keyboards, organ). There is no drummer, you will not miss it. They are yet another incredible band from Portland, OR. They sound like Lou Reed's "The Bed," Leonard Cohen's "Bird On A Wire," the Pastels, Mojave 3's first album, Madder Rose at their quietest, ramshackle loveliness like the Softies and the Crabs. They are a duo, and a duo only, which I always find the most idealistically romantic musical arrangement – in the same way that I find Royal Trux, Suicide, World of Skin, Soft Cell, Shadow Project, the Kills, DAF, Alien Sex Fiend, and Porter Wagoner/Dolly Parton romantic. Ink 19 typed back and forth furiously with Nire as the year 2008 dawned.
•
Please introduce yourselves and give us a little background on how Nire came to be and what previous projects you were involved in.
Erin and I formed Nire in 2003. We're originally from the East Coast, but have been living in Portland, Oregon for the past three years. It's a bit difficult for us to classify what we do in terms of genre. We create quiet, pop-structured songs with an existential bent, using only organ, piano, guitar, and hushed vocals. Though we have several prior CDR releases, our official debut LP, Vespers, came out this past October on Abandoned Love Records.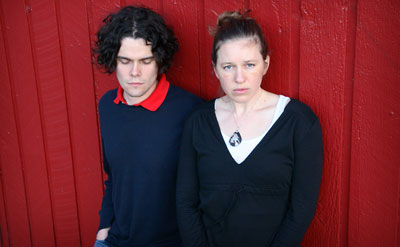 Neither of us were involved in any formal projects prior to the formation of Nire, though creating music has been important to each of us on a personal level for quite some time. Erin began studying piano with a French concert pianist as a teenager. She paid for her own lessons and practiced up to three hours a day. She learned a great deal of music theory very quickly and soon began creating her own minimalist compositions. I have no formal musical training, coming from the self-taught guitarist/songwriter/lo-fi home producer type of background. We met in Philadelphia and began sharing ideas on four track. Collaboration came fairly naturally to us and Nire has steadily and consistently evolved over the years.
You currently reside in Portland? How does that influence your sonics and aesthetics if at all? I can't help but think that a more creative city like that would make it easier to develop your own distinctive sound and yet still find an appreciative audience.
I think the city and climate of Portland serve as a nice backdrop to our music, and vice versa. Nire songs seem to work well with both the dreary, rainy winters and the less-publicized stark, bright summers here. Portland also has a kind of insular feel and seems somehow out of sync with the rest of the world, much like our music. As for the cultural environment of the city, there is definitely a DIY spirit and an "anything goes" mentality which we have found to be freeing. That being said, we aren't particularly tied to any of the local music scenes and are actually more comfortable playing out of town. Going on tour is an amazing experience, while playing a local show at the end of a typical work day kind of gets us down.
What's the division of labor on a Nire song? Who does what? Tell me about the instruments used. Do you start with a melody or with lyrics and how are parts layered and added?
I typically initiate the songwriting on guitar, sketching out the basic chord progressions, melody, and lyrics. Over the years, I've sort of learned to write half a song, and I can never tell if it's going to actually work until Erin adds her piece. She helps refine the basic structure and writes all the keyboard lines and vocal harmonies. Erin also has an implied veto. She refuses to play songs that she doesn't like and will not rehearse a keyboard part that hasn't "clicked" for her. We've both learned to be patient with the process and to not force things.
Though the guitars have been acoustic on all the recordings so far, I've been using an old Airline electric for live shows and plan to record with that on the next album. In addition to her piano, Erin's favorite keyboard is the Casiotone 1000p, a rare model from the early '80s. She's hoarding them, if anyone has one that they'd like to sell.
If I may further force the question above, would you tell me all about the compositional process for the song "Girl in the Moon"? There are parts of that song, especially the church organ sound, that I became absolutely obsessed with…
Erin's parts in this song are built around something that she likes to call "descending broken thirds." She says this part just came to her when she first heard the chord progression. "Girl in the Moon" has become very important to us and deals with some common themes in our lives. It hints at art in conflict with everyday realities, as well as being obsessed with things that others don't see or don't care about. The first verses start out kind of light and dreamy, but things quickly shift and by the end everything's kind of drenched in realism. Life seems to go that way sometimes.
The vocal delivery is so subtle and intimate, kind of like you're telling one another secrets or trying not to wake someone in the next room – How did you come to that style? Does it feel more natural for you both to be singing that way?
I think we've developed this style by really paying attention to each other's singing and attempting to unify our voices. Often when people sing together, it sounds as though they are competing for attention. We work to complement one another and blend tonally with the instrumentation. We're also fascinated with the subtle nuances of which the voice is capable at low volumes. Erin talks about creating a visceral experience in which the voice is at times felt more than heard. She usually loses me at this point in the conversation.
How does it translate in a live environment with all the fucking clinking glasses and chitchat and all? For that matter, how have audiences taken to you on your tours thus far?
At times, it doesn't translate so well! One of our first shows was in a pool hall, not the best environment for putting "subtle nuances" on display. Playing such secretive music in louder venues does create an interesting juxtaposition that can draw some people in and force them to pay close attention. Of course, we've also played in very quiet places like living rooms and art galleries as well. This can be very intense. In terms of presentation, the music does not lend itself to wild stage antics. We sit facing each other and kind of let the audience observe us. The ones who get what we're doing really seem to connect with it.
Are you a couple? Does that have an effect on your work in real life, as in, are things more unspoken and telepathic when you're composing/playing live?
We are a couple and have been together for almost 9 years. When initially putting songs together, nothing goes unspoken. We hash out EVERYTHING, which can be a bit painful. We both have some tendencies toward perfectionism. But playing live is quite different and very special. Things are more unspoken in that setting and we are typically very much in sync with one another.
Do you find you get more accomplished than a typical band?
It depends on how you look at it. We aren't incredibly prolific in comparison with many bands these days. However, I do think we are able to pursue our vision in a purer form than some others. We don't get sidetracked with gimmicks and band line-up changes. In the end, we're not worried about pleasing anyone but ourselves. So maybe in terms of pursuing that vision we are able to accomplish more with our setup than a typical band.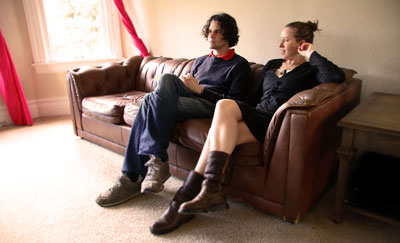 There's this sense of interdependence and fearlessness that I get when listening to Vespers – like I can't imagine five dudes with funky haircuts and tight jeans in a van composing music this insular. Do your songs ever feel too vulnerable? I'm thinking of "All This Time" on my last listen to Vespers. Is there such a thing as too vulnerable for you, or is that the point when you know you're on the right track, with a song?
We are both really comfortable expressing vulnerability. Our favorite songs are the ones that feel the most raw. This is what draws us into other people's music as well.
Not to lean overly on the press release, but there is mention of Vespers being something of a bedroom record – I'm not sure I heard it – it sounded completely full-bodied to me – but does this speak more to the recording equipment/setup you used? Do you use a home studio – what is the recording setup? Did you record things live, together? It almost seems like the music is too intimate and intertwined to be separated out into a million different takes and overdubs.
We've done all of our recording over the years at various homes; neither of us has any desire to go into a studio at this point. The environment and technical limitations of working like this naturally give the recordings a sort of intimacy, though we've never attempted to make things sound overtly lo-fi. Vespers is the first work we've recorded and mixed entirely on our own. We were tentatively slated to work last winter with our friend Casey Foubert, who engineered our My Father's Record Player EP. However, around that time he strapped on a pair of butterfly wings and we lost him to Sufjan Stevens' touring band! We were running up against some deadlines and decided to push ahead on our own. We holed up for a week in a friend's apartment while he was out of town. The apartment is located in a fairly quiet Portland neighborhood and the living space has a great room sound. All the main recording was done live with some minimal overdubs. We experimented with tracking things out one part at a time but weren't able to achieve the energy and tone we wanted this way. Our set-up consisted primarily of an inexpensive, large diaphragm condenser mic and a laptop. In the end, we were thankful that circumstances pushed us to record ourselves, and we plan to continue working alone on future releases. In a way, we've created a sort of private world with our music and it doesn't make a lot of sense to arbitrarily bring someone else into the recording process.
Are you working on new songs right now?
We actually have the bulk of a new album written, which we're planning to record over the summer. In the meantime, we'll be touring in April from Chicago to Boston. We've also started a pen pal project in effort to connect with friends and fans in a different way. Anyone who'd like to be our pen pal just has to send us their address through Myspace and then sit back and wait for a pretty little envelope to arrive at their door.
Nire: http://www.niremusic.com ◼
---