Wilco
Chicago,IL • February 20th
Chris Catania
In the sky above the Riviera, the Moon hung out in the Earth's shadow, while inside, alt-country sextet Wilco created a two-hour eclipse of their own, casting a transcendent shadow for the hometown crowd to get lost in. On the heels of another Grammy oversight, Wilco unleashed a 33-song double set that ended a five-night string of sold-out shows, during which the band pledged to play every song from their catalog, slipping in and out of every Wilco incarnation in the band's 14-year history with a little help from another local favorite, violinist/whistler Andrew Bird.
Even though Wilco has won Grammys before, frontman Jeff Tweedy has never been one to covet accolades, so it was no surprise that after the Grammys gave the award for Best Rock Album to the wrong band (again!), Tweedy and company didn't seem to care and had their attention focused on celebrating with their fans, unleashing everything in their varied arsenal of folk rock, alt-country, and art-rock, showing where they've come from and where they're headed. And when the last song was finished you had the feeling that the band was pleased with their past work but ready to move onto the next incarnation.
With only enough room to breathe, fans crammed together, teeming from every corner of the Riviera, some with seats and others standing in the stairwells, craning their necks to see. Tweedy was playful and humorous about playing for five nights, "just to let you know we've taken human growth hormones to get through this week," but he was completely serious about showing why they are one of the best and most influential bands of the last ten years.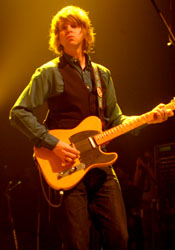 Sky Blue Sky is a more straightforward, less experimental diversion from the recent art-rock releases of Yankee Hotel Foxtrot and A Ghost Is Born. But there was something different about this show, a hinting of things to come. The bursts of energy that exploded and coalesced during the straight forward rock numbers "Got You (At the End of the Century)" and "I'm a Wheel" had you thinking that the next album might take fans back down the trail of Tweedy's love for pure rock 'n' roll. But then again, part of being a Wilco fan is thinking you know where Tweedy is heading but never really being quite sure of what sonic route Wilco will take or where Tweedy's rebellious punk rock-rooted muse will lead him. And after a show like this one, any diversion is fine with me and I have complete trust in where Wilco's sound will go, regardless of their collection of tiny golden gramophones.
The night cruised right on by with "Jesus Etc." "Hate It Here" and "What Light" being the best songs, during which Wilco and the crowd peaked together to create a moment of communal intimacy that left a satisfied euphoric grin on the face of every Wilco fan. And even though they came on for a few songs after "Less Than You Think," the resounding three-note cloud of hazy reverb cast over the crowd at the end of the A Ghost is Born track was the rhythmic experimental noise icing on a night of wonderment and expectation, an exciting threshold to a wide open door to Wilco's next album.
---