Justice
with Diplo
Chicago, IL • March 20th
Chris Catania
"I'm gonna warm it up for an hour," and so he did. Baltimore beat-splicer Diplo primed the crowd like a seasoned maestro, turning the crowd into a steaming and pulsating rhythmic amoeba of twisting torsos and gyrating hips and waving limbs. Pulling from his laptop and turntables, Diplo mixed in a sizzling smörgasbord of unique sequenced samples, splicing Hot Chip against Beach Boys, Nirvana against Chicago house and AC/DC against the "Percolator" and M.I.A's "Roadrunner." The Mad Decent radio curator knew his audience well, tossing in snippets and sonic shout-outs to local rising stars, Flosstradomus, Kid Sister, and Cool Kids.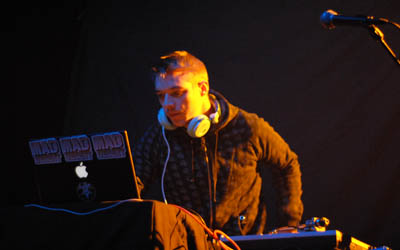 Within the first few seconds of "Genesis" (the lead track off Justice's debut album Cross) electronic strings blended into ear-rattling timpani then came an explosion of bass topped off by a climax ignition of the duo's trademark illuminated cross beaming with white-hot light from the front of their control deck, letting everyone know it was now time to be rocked. And within the last three years (with two 2007 Grammy Nominations and co-causing one 2006 Kayne West MTV Video award show tantrum) the French duo (Xavier de Rosnay and Gaspard Augé) have gathered a large following and been deemed the unofficial heirs to Daft Punk's French-house legacy. But Justice clearly has more rock, muscle, and swagger and a bigger desire for pop appeal. They could thank their current tour sponsor Myspace for the publicity and Daft Punk for inspiration, for sure, but after 90 minutes, I'd say these guys have the remix chops and skills to rightfully claim (at the very least) every friend and profile view given to them.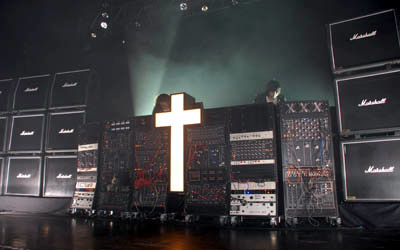 Performing to a sold-out crowd in the birthplace of house, Justice's shaken and stirred cocktail of disco, rock and electronica blasted the Chicago crowd into a frenzy but it was the duo's skills for the on-the-fly-remix that created a subterranean storyline of melodies and techno tempos, circling around, over, and through you. They never tired of turning the sublime sonic drama of "Cross" into one part engulfing interpretation of pop-disco and all parts a whirlwind house club thumper.
Standing watch over the show as if some sort of French-house guardian and roots-reminder, a fan, dressed in a glowing red Daft Punk-style costume, robot-danced in the balcony, as Justice submerged the crowd deeper into the disco-orchestrated beats of "Cross", traveling through various versions and detoured incarnations of "DVNO," "Let There Be Light," and "Thhee PPaarrtty," climaxing with the crowded-chanted choruses of "We Are Your Friends" and "D.A.N.C.E."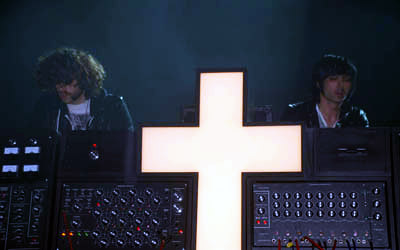 And for once, the Grammys got something right this year, nominating Justice's "D.A.N.C.E." for Best Dance Recording and Cross for Best Electronic/Dance Album. The Grammys also did the duo a favor by keeping their creative ego in check and giving the Best Album honors to the Chemical Brothers who are clearly another important ingredient for Justice's live show, which exists somewhere between a rock show, a rave, and a club gig, a sprint and a marathon through every dance genre, a remix on a rumbling fault line that leads to oblivion and beyond.
Justice: http://www.myspace.com/etjusticepourtous/ ◼
---