Megadeth
In Flames
Chicago, IL • May 6th
Chris Catania
The banner with Megadeth tour mascot Gigantour slowly rose and then loomed in the background as we waited for frontman Dave Mustaine and the rest of Megadeth to come onstage. As Gigantour stared menacingly down, burning holes through us during most of the show, I couldn't decide whether he was grinning with elated pleasure at Megadeth's past success (and what could be in 2008) or sneering with disdain at the truth that this concert was more about nostalgia and celebrating a gifted musician who changed the face of metal but unfortunately hasn't done much to push metal any further in recent years, despite a prolific career of unleashing genre-defining music and multiplatinum albums.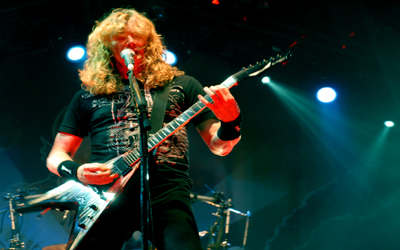 My throat rumbled and my skin lurched back and forth as the riffs rolled over me like military-assault vehicles while a pounding bass and drum section took care of the sub-dermal rhythmic grinding pleasure, making the show a tremendous clinic of how to blend monster chords and melody into a symphony of pure rocking mayhem. But the Aragon ballroom was barely half full and teeming with black tees whose backs documented Megadeth's (past) conquering tours. The crowd was a mixture of young fans who came ready to rock and earn their seeing-Mustaine-live rite of passage, and other fans who, as if in their living rooms rocking to Guitar Hero, wailed hard on their air guitars not minding the fact that even though Mustaine's fretwork was mind-blowing as expected, the "new" songs still sounded dated and sadly blurred with the back catalog into a long laborious train that never went anywhere new or exciting, except into the past as Mustaine blazed through tracks from United Abominations (2007) and traveled back to classic tracks "Sweating Bullets" and "Symphony of Destruction."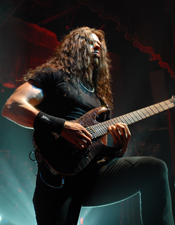 There were a few moments of progressiveness and contemporary contributions, but those happened when Mustaine wasn't playing. Precluding political anti-war abomination anthems "Gears of War" and "Washington is Next," Mustaine fired shots at the current administration as older fans watched on the outer rim, gently head-banging and flinging horns while a tangled-knot of moshing, crowd-surfing, and slam-dancing smoldered at the lip of the stage.
While Mustaine's guitar work is amazing to behold, the downside of seeing him live is that his complex and crafty lyrics get lost in the sophisticated chaos he creates. But, hey, what metal fan comes to the show to hear lyrics and ponder Mustaine-politics or personal struggles, anyway? Megadeth live is (or once was) all about having your entire body sonically pounded into a bloody pulp, having eardrums bleed and joints swell and necks ache from the release of pummeling aggression blasting through the speakers. And in that process who cares about lyrics, right?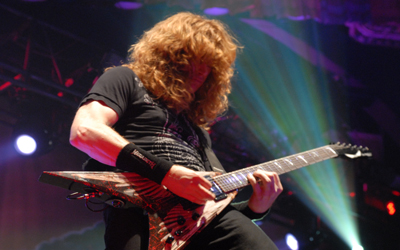 The foundation and influence of Dave Mustaine and the many incarnations of his supporting Megadeth cast on the history of thrash metal is undeniable, as openers In Flames worshipfully declared at the end of their fiery set. I expected to be amazed, and was initially, but was really hoping to experience the "studio" Mustaine tearing it up live. And he did, for about the first five songs, and I watched in awe as he indulged minor showboating and showcased his gift for clever and flawlessly intricate songwriting. But then the show lagged and the dated downers and doldrums began to settle in. And looking around the ballroom, toward the end of the set, it became clear that when Mustaine's past accomplishments that defined the metal scene in 1983 were celebrated and enjoyed more so than tracks off United Abominations or other recent albums, and Megadeth's best live show moments occurred during songs written twenty years ago, the post-show feelings were more like having experienced a 90-minute tour through thrash-metal's wing of the Rock and Roll Hall of Fame and less like a live show that was pushing genre boundaries in 2008.
Megadeth: http://www.megadeth.com/ ◼
---