Kid Koala
Jester the Filipino Fist
Phat-n-Jazzy @ The Social, Orlando, FL • May 6, 2008
S.D. Green
Over the years, Phat-n-Jazzy has provided some chicken grease to Orlando's vegetable oil-style nightlife by showcasing funkier fare than Downtown Disney or Universal's City Walk could ever match with a million KC & the Sunshine Bands. But tonight the crowd at The Social was sparse (no doubt due to the Radiohead show going on at the other end of I-4 at the Tampa Amphitheatre). Far be it for me to complain, 'cause I like being able to reach my Heinekens without having to part a Red Sea of patrons corkscrewing like they're trying to pop the champagne and party like it's 1999. In fact, Phat-n-Jazzy has been swinging since partying like it's 1999 actually was the future, and seems, at times, like the old prize horse ready for the shot gun and glue factory.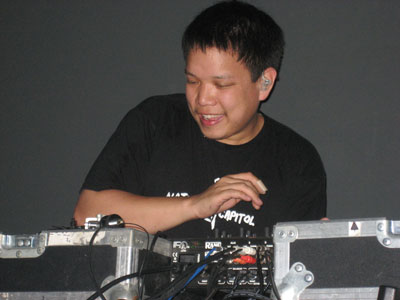 When I rolled up, house DJ BMF was lazily skipping through classic hip-hop gems by Tribe, Souls of Mischief, etc., with the fresh fruit of a major computer manufacturer shining like a beacon from the DJ booth – gasp! Hard to get phat and/or jazzy with a laptop computer. Thankfully, Kid Koala kept his playlist analog and fruit-free.
During this downtime, I checked out some wares for sale. Where once stood boring barroom pool tables, The Social has added an arts bizarre complete with handmade jewelry, urban threads, and live painting provided by none other than Orlando's own bohemian renaissance dread, Swamburger. He hailed me with the offering "Anytime you want to come by and paint, we're here," before turning back to his big, smiling, black and blue canvas. Fellow Soliloquist Alexandra sketched in a notepad as she watched the jewelry table with one regal eye. This crew seems to be everywhere at once, never relinquishing their spiritual vibes of positivity. The Soliloquists of Sound are Orlando's true flavor, so savor them before they move somewhere more organic – I'm talking to you, Orlando!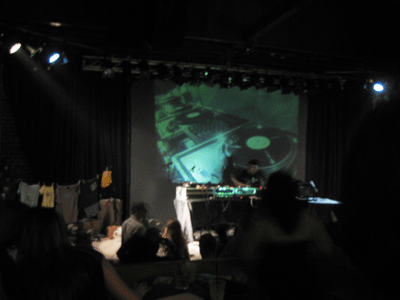 As the Kid took to the tables and cued up his first record, a tiny camera projected his sleight of hand to a huge onstage screen. As he launched into "Excerpt 1: slew test 2/…" from Some of My Best Friends Are DJs, he bobbed and bounced between his quartet of turntables and tweaked, flipped, and rode the switches like Dr. Frankenstein summoning the monster up from the operating table.
Of all the different sub-genre's of hip-hop music, turntablism most closely resembles the non-musical art of graffiti. With turntablism, the DJ takes pristine pre-existing tracks and "scratches" them, leaving his own unique scrawl on property he never owned, and defacing it in the process. This is the essence of turntablism, and so, if turntablism is a visual art, Kid Koala is its Michaelangelo. His wax work focuses on feel and sidesteps mile-an-hour crab scratches and gimmicks; instead, he seems to massage and coax melodies out of thin air. He also shows a solidarity with jazz cats of the past, as his tracks like "Drunken Trumpet" and even his current animation/musical collaboration about a jazz-playing mosquito betrays his connection to jazz. In fact, his fluidity and spontaneity with the tables make him look Coltrane-esque. He shows a genuine enthusiasm for the music, singing along to tracks and swinging to the side and grinning a Satchmo-sized smile when the synergy causes him delight. He was truly jubilant and seemed to be having a lot of fun.
Maybe it was due to the occasion for the tour. Leading up to the show, I couldn't find any evidence of a new release. His project with Dynamite D and the mosquito project with Louisa Schabas are still in production. Turns out he's in Florida for his sister-in-law's wedding and just figured he might as well throw in some tour stops. So, he just played for the laughs, and got plenty. He and tour buddy Jester the Filipino Fist played a kind of variety show with audience members competing against Jester for merch. Just let me get my hands on those yellow Kid Koala oven mitts! No dice. They went to the dude who beat the Fist in a thumb war. Good looking out for repping with the Canadian version "1,2,3,4, I declare a thumb war: bow, kiss, shake!" Not exactly how I remember it. Must be a Montreal thing. They do things weird on the French side of the country. They also threw down a bubble blowing contest and a staring match.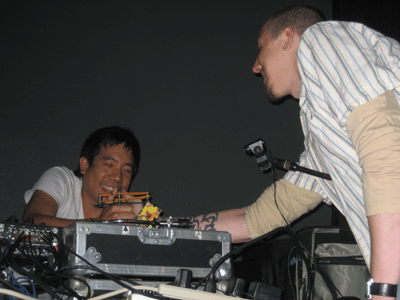 "They told me I could get as arty as I wanted and y'all could hang," Koala warned from the stage. It's nice to know somebody thought we could handle Koala's adventurous soundscapes. It's not like he got all Christian Marclay with it, but he deftly bounced from Bjork to a shredding of the Flaming Lips, intercutting Outkast and White Stripes into a seamless experimental mix.
I don't know if the audience knows the difference between Luc Ferrari and Lil' John, but they damn sure didn't seem to care. Are those girls really booty dancing? Is that couple swing dancing? Swing? Is this "Do whatever you've seen in a video night?" I couldn't hate. Maybe they were inspired by the Koala, himself. His set sparkled with a capricious lightness that infected the audience and sparked a carefree attitude.
He closed the night with his mother's favorite song, "Moon River," a suitable wedding song, and something more befitting the slow dancers in the crowd. At this stopover on the way to his sister-in-law's wedding, he could have been making a case for being the DJ at that gig. Too bad. Story goes, she wants Jester. Maybe Kid Koala's too arty for her. A real Michaelangelo.
Kid Koala: http://kidkoala.com ◼
---