Reno Divorce
Weapons to Go, Gatorface
Uncle Lou's Entertainment Hall, Orlando, Fl • June 8, 2008
Jen Cray
Racing back to Orlando on Sunday evening after a matinée show in St. Petersburg, Reno Divorce treated family, friends, and future fans to a homecoming show. The Social Distortion-style punk band has called Denver, CO home for a decade, but the band originated in a tiny suburb of Orlando called Deltona. If you want to trace the band's roots back even further, singer/guitarist Brent Loveday fronted a precursor to Reno Divorce back in his high school days called Prospect Zero – a band that even teenagers at the rival high school in the next town over knew about. I should know, I was one of them.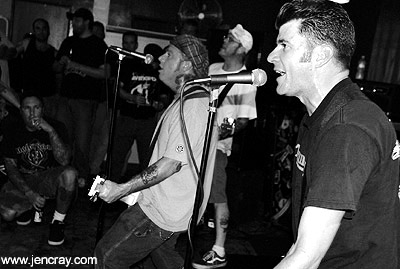 By the time I slipped through the doors of Uncle Lou's Entertainment hall, GatorFace was already loading out their gear. The band is another side project for members of New Mexican Disaster Squad (the Orlando punk outfit that branched out in the form of Virgins), and though I had every intention of catching their set I was minutes too late.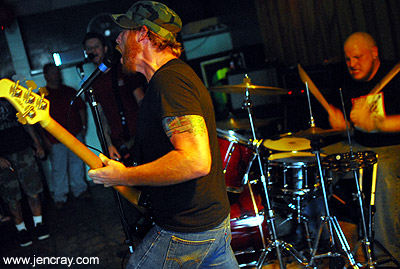 The first band on the bill that I did get to see offered me another connection back to my childhood. Weapons To Go's drummer is the brother of my elementary school best friend. This provides me with a certain amount of insight into the musical history of at least one member of this band. Though their current sound would categorize them alongside melodic hardcore acts like Fugazi, or Face to Face I know that drummer Pete Wellmaker learned his craft while jamming along to Guns N' Roses records.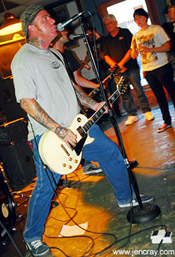 The trio is barely a year old and so still in their infancy, but this is a band I plan to keep an eye on.
The small room that serves as a bar, pool hall, and punk rock hotspot got even tighter as Reno Divorce got ready to play. Crammed up against a wall, with the audience inches from their faces, the band pounded through a 45-minute set that had whittled everything off save for the essentials. Not a band to offer a lot of flash, RD plays their songs, plays them well and leaves it at that. Luckily their songs are good enough not to need a lot of spectacle.
There was no pit, and little energy coming from the crowd, but there was a wonderfully spontaneous moment when Loveday sauntered up in front of his mom for a song, during which she smiled and played air guitar back at him. Perhaps it was the fact that the audience was so full of family members that gave the audience the need to keep the aggression to a respectable level. Even when Loveday urged the audience to get even closer, everyone stood sort of numb. Not even the childlike grin and frenetic energy radiating off of the band's drummer, Andrew Erich, could get the audience to loosen up.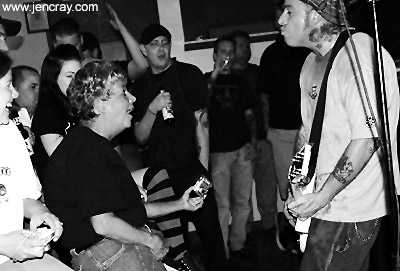 Homecoming shows in front of people you know can be strange like that. It must be bittersweet to go home after being away for so long.
The baker's-dozen set of songs included "Let it Loose" and "He's a Fuck Up," in addition to a mighty cover of Motorhead's "Ace of Spades."
To see more photos of this show and others go to [www.jencray.com](http://www.jencray.com/bands_live.htm).
Reno Divorce: http://www.myspace.com/renodivorceonlinecom ◼
---