The Kooks
The Morning Benders
Chicago, IL • June 2nd
Chris Catania
With a moniker like The Morning Benders, I should have known that their more pop friendly songs might not be as good as their "darker" songs, as lead singer Chris Chu called them. But it was the San Francisco quartet's "darker" deviations that made me forget that they were the opening band when they slipped on a murky cloak of spaced-out psychedelic rock, and finished the set with Chu ripping a page out of Karen O's book and hot-gluing it to an exuberant crowd sing-along chorus, using rock's favorite word to yell during a refrain of "Yeah, Yeah, Yeah."
Then the curtain rose to the swaggering surf rock of Link Wray's "Rumble." The Kooks strutted out and then charged into the punchy single "Always Where I Want To Be," from their latest album Konk. Frontman Luke Pritchard poured on the lovable attitude with each passing song, hitching and jerking and thrusting to the jagged chords of Hugh Harris on guitar.
During the 45-minute show, it was startling to see how much Britpop's canon (from the Kinks to Coldplay), UK punk, pop, or even glam-rock has inspired other Britpop indie-rock bands like the Kooks, which makes it just as fun to watch as it is to listen to. As the melting pot of influences poured out, it showed the Kooks' admiration in different ways. Was that Johnny Rotten or Billy Idol, a bit of Bowie? Was that a Coldplay ballad seeping out or an Oasis subversive snarl?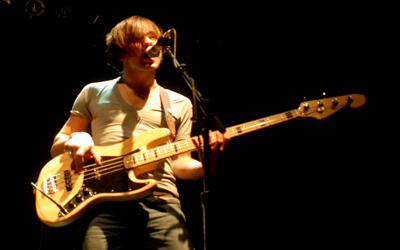 Pritchard's mop of curly locks flailed to the rapid rhythms as the space barrier between the stage and the first row became a moat of salivation pouring from the mouths of screaming female fans armed with flashing cell phones, fighting for that perfect shot to show their friends during class the next morning.
Halfway through, as the Vic Theatre filled up with pulsing sexual energy, the climax came during the sexually-charged provocation "Do You Wanna." With a pumping fist and thick British accent, Pritchard led the crowd straight through, chanting the rousing chorus "Do you wanna make love to me?!" until the walls of the Vic dripped a strange kind of sour lust.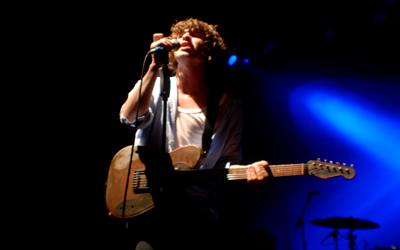 But although the sexual strutting was entertaining, it was too much. And it wasn't what I expected at all. There are some pretty good Kooks songs – and they did play most of them in some form or another – but unfortunately, those would-be intimate solo acoustic moments never really blossomed and felt insincere when spliced in-between all the overdone up-tempo rhythmic shagging. Maybe the disconnect happened because the Kooks were playing only their second show with a new drummer and were still getting used to a new bassist since their first album?
Either way, even though those pedal-to-the-floor moments did get my head bobbing and satisfied most of the crowd, it's in those very same moments that what I most enjoyed about the Kooks on-album – clever kooky songwriting and lyrical sincerity – was sacrificed and lost among the fog of summertime's-finally-here pheromones.
The Kooks: http://www.thekooks.co.uk/ ◼
---