A Wished-For Song: A Portrait of Jeff Buckley
by Merri Cyr
Backbeat Books/Hal Leonard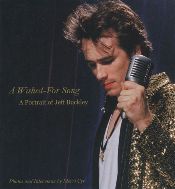 June 1, 1997, Sean Combs released "I'll Be Missing You," a remix/cover/interpolation – of sorts – of The Police song "Every Breath You Take." It quickly went to #1 on several Billboard charts. Three days prior to its release, Jeff Buckley drowned in a Memphis river, on May 29, 1997. The song was a tribute to Biggie but could just as easily have been for Buckley, an artist who hadn't yet received chart success but had won over fans with compositions combining the hard rock of Zeppelin with the spiritual transcendence of his beloved Nusrat Fateh Ali Khan. Where Puffy was respected by rap legends for being a hip-hop Horatio Alger, Buckley was adored by rock idols for his inner Siddhartha. Jimmy Page, Chrissie Hynde, and Paul McCartney were awed by his curious rock gospel – his visceral, multi-octave voice playing in haunting registers, a spiritual antecedent to Antony Hegarty (Antony & the Johnsons' drummer, Parker Kindred, played in Buckley's band).
The estranged son of the late '60s folk-jazz experimentalist Tim Buckley, who also died suddenly, in many ways, Jeff was always a mythological figure waiting to be discovered. Buckley's music was so heavy with romantic pathos that his debut album, Grace, overwhelms the listener with emotion. This garnered him a rabid following that seems instantly clichéd by his tragic passing, but was already in place before the myth overtook the man: Jeff the kinetic Scorpio, the imp, the goofball. This is the character Merri Cyr's book, A Wished-For Song: A Portrait of Jeff Buckley, wants to bring into focus, one that might surprise the casual fan. As Buckley's unofficial photographer – from the eve of his debut until that fateful day in Memphis – Cyr composes a scrapbook of intimate pictures and anecdotes from friends, bandmates, and rock luminaries like Elvis Costello and Eddie Vedder.
Short of biography, A Wished-For Song is a memento, a shoebox full of intimate fragments to keep under your bed – packed with pictures of Buckley at rest, onstage, at photo shoots, and in the studio. For any fan, stories about how spending the night in his spartan house was like camping out or how, in the early days as an unknown, he inhabited Manhattan's Sin-é Café like a hobo and both heckled and serenaded tiny audiences will be bittersweet; bringing fans closer to a beloved artist and within arms reach of a man they never quite knew. You can imagine reading this book in Sin-é while Buckley smiles up at you from a crossword puzzle.
Yet, there's another deeply-woven subtext to these musings in almost every recollection of friends and associates: a near obsessive commitment to protecting Buckley. Each openly admits this desire to coddle him and you begin to wonder if it was motivated by some supernatural knowledge that his light burned too intensely for this world, or if it betrays some inner recklessness verging on self-destruction. In hundreds of beautiful photographs, Buckley's spirit seizes the camera at the same time it dances out of the frame. There's a tension alive in A Wished-For Song, a feeling that we're seeing a spirit that was never fully here in the flesh, as much as Cyr tries to show the apparition as real.
In the face of all the attention, Buckley was motivated by his musical muse and not chart-topping success. But, maybe in spite of himself, Buckley, like contemporary Kurt Cobain, was both drawn to and repulsed by fame. He wanted success on his own terms. He wanted to connect with his audiences and share legitimate love, not deification.
Ironically, it was a remix/cover/interpolation – of sorts – that eventually earned Buckley a #1 chart position in 2008 when an American Idol's cover of his interpretation of John Cale's version of Leonard Cohen's "Hallelujah," pushed Buckley's "Hallelujah" to the top of the digital singles charts. While it was technically a cover, comparing Buckley's to Cohen's is like comparing a castle to a cave. It's a testament to Buckley that his version, not Cohen's or Cale's, shot to the top of the charts, but A Wished-For Song: A Portrait of Jeff Buckley is proof that his greatest legacy is his soul and spirit, a legacy that supersedes any posthumous chart success.
Hal Leonard: http://halleonard.com
---