Pink Floyd: The Black Strat
by Phil Taylor
Hal Leonard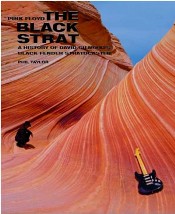 Some instruments are almost as iconic as the musicians who played them: Hendrix's inverted Strat is a visual metaphor for how a Black gypsy turned the rock world upside down; Keith Richards' vagabond Telecaster, with its missing high E-string, a symbol of hard wear and good times; and Angus Young's Gibson SG – with its devil horns and blood red finish – screams mischief and mayhem. The guitar is a mythical lightning rod for the notes of the gods, a phallic obelisk whose necromancy seizes every adolescent boy craving to wield the power of Thor's hammer and ascend to the demigod status of Chuck Berry, Muddy Waters, Jimmy Page, and, well, Dave Gilmour.
Jumping into Pink Floyd's six string duties in 1968, and saving the band from Syd Barrett's psychotic vacations, Gilmour's tear-dropping tones are some of the most distinct in rock. With his shifting rhythms and intergalactic solos, Gilmour fingerpainted outer space, dipping his digits directly into colors with svelte and gorgeous bends, psychedelic swells, and deep blues scats. So it's no surprise that Gilmour's Black Strat is now the subject of its own nicely-packaged coffee table biography, Pink Floyd: The Black Strat – A History of David Gilmour's Black Fender Stratocaster.
Gilmour himself seemed less than enthused with the whole project – one of only two Gilmour quotes opens the book: "I told Phil that I wasn't interested. It seems a daft idea to me, writing a book about an ordinary guitar that I bought at Manny's." Perhaps due to this ambivalence, the job was given to the guitar's wet nurse, Phil Taylor, who's served as Pink Floyd's only full-time backline crew member since 1974. Opening the book with this quote seems to suggest that Taylor agrees. It's not until the outro that Taylor concedes the book was commissioned by Fender to coincide with the release of their Fender Custom Shop David Gilmour Signature Series "Relic" Stratocaster (a name almost as long as its $4,799 sticker price is high).
Taylor's history begins just before the Black Strat (and the album A Saucerful of Secrets) and chronicles its transport, modifications, and upgrades. While Taylor's writing adheres mostly to facts – it falls somewhere between tech-heavy roadie bathroom reading and memoir type recollection – this makes it irritatingly dry if, thankfully, devoid of Behind the Music-style drama. (As far as Taylor and the Black Strat are concerned, Roger Waters simply disappeared from the band one day).
The book is light on Guitar World-level details about how distinct tones and effects were produced on Pink Floyd's live or studio output, and even though there's a section in the back with picks, straps, guitar cases, etc., there are no specs of Gilmour's rigs or diagrams of his effects set-ups, making the book virtually useless to hardcore gear heads. What the book does have are hundreds of pretty cool pictures of Gilmour with the Strat in places like Pompeii's Roman Amphitheatre and the cavernous Abbey Road Studio 1 where he recorded the intro to "Shine on You Crazy Diamond," as well as some neat memorabilia like concert tickets, invoices for guitar parts, and a letter of thanks from Hard Rock Café when Gilmour put it up on "permanent loan" (he'd later recall the guitar, to Hard Rock's dismay).
Pink Floyd: The Black Strat is a nice "thank you" for someone willing to fork over the five grand for a replica of the signature guitar. But the book reveals very few secrets of how Gilmour gets it to sound the way it does – which would be nice since the guitar's been through so many modifications that it's hard to know which "Black Strat" your reissue is replicating.
In the end, when you remove the dust jacket from this pretty little hardcover (doesn't everybody remove those annoying dust jackets from hardcovers?), the stamped silhouette of Gilmour's Black Strat will stare out at you from the black cover, a black hole in the galaxy of music; and you'll still be wondering how Gilmour populated that space with those infinitely twinkling stars of sound.
Hal Leonard: http://halleonard.com
---