Bill Bruford: The Autobiography
by Bill Bruford
Jawbone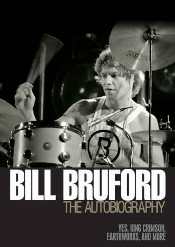 When presented with a 300-page autobiography of a drummer, I was expecting a long read for not much gain. Plowing into this cheeky story, though, I was impressed with its Cook's Tour of the rock and roll business. Bill Bruford got his start with a pair of snare drum brushes from his older sister's boyfriend, and went on to drum with the greats, most notably Yes and King Crimson. He approached drumming the way a master approaches any subject: study, innovate, and practice, practice, practice.
The book doesn't tackle his life in a linear manner, rather chapters are organized by topic – "Why did you leave Yes? Who's managing the managers? What's it like working with Robert Fripp?" – and the great mystery, "So, what do you do all day?" He actually works about as hard as anyone, and the burden is increased by the low respect most drummers receive. Bruford points out that when a star rises out of any scene, his old band must fade away. The drummer and bass player go first, then the keys, and finally the songwriting partner. Despite this progression, Bruford relates how he hung on, kept his self respect, and made actual innovations in Progressive Rock and Jazz.
The opening chapters talk about the business of progressive rock in the mid-'60s. Managers booked gigs, made recording deals, plugged the product, and paid the band a pittance. More importantly, they NEVER let groups see the books. Bands had no idea if they were making money, or how much, or if they were just being ripped off. The same can be said today of the RIAA – they make a big deal about busting a college student for downloading U2, but I have yet to see them make a big deal about giving Bono that missing royalty check.
Buford's story is as good a primer to the business as you can find. He did make a few dollars along the way and he's always made his living from his chosen field and has a fairly normal family life. The book does drag after a few hundred pages as Bruford returns to his favorite themes over and over. Most notably, he believes when you join a new band it is imperative that you abandon the old ways of doing things for something new, and that you should strive to change the music. Risky work that, and Prog Rock burnt out when the innovations overpowered the mass audience. The punters (as we butts-in-seats are known in England) bailed for the stripped-down, sped up 2:20 punkers. Bruford reacted well to the collapse of double quartets touring in stadiums; he started a Jazz band and toured the world. He was, in fact, Big in Japan.
This Bruford autobiography is more than his story; it's the story of rock and roll in the critical '60s when it morphed from teen fad to major industry. Now that industry is on the ropes, like autos and newspapers, and a look back is timely.
Jawbone Press: http://www.jawbonepress.com
---