Grunge Is Dead: The Oral History of Seattle Rock Music
by Greg Prato
ECW Press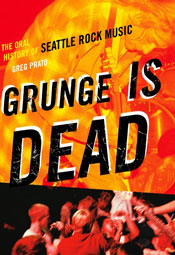 Despite almost being hobbled right out of the gate by a pedestrian cover that makes it look like a quickie "Sounds of Seattle" chord book and weirdly giganto-sized text on the inside, you really have to look beyond the presentation here, for content is king. Author Prato works from a very gutsy premise – that the Seattle "grunge" scene of the late '80s/early '90s was in its own way as important as the New York punk scene of the late '70s. To that end, Prato gives grunge the full Legs McNeil, gathering up all the major players in the Seattle saga, large and small, for a Pacific Northwest edition of Please Kill Me. Fans and concertgoers (interesting gambit) share talking-head duties with members of marquee bands like Soundgarden, Mudhoney and Pearl Jam, Alice in Chains, while club owners, label impresarios like Bruce Pavitt, Slim Moon, Jonathan Poneman and Daniel House, artists, managers, producers like Jack Endino, and pioneer bands like Mother Love Bone, Tad, Melvins, and Fastbacks fill in the rest of the blanks.
Everyone involved holds forth in a surprisingly candid manner, considering not all the bodies are buried yet, and at least half of the interviewees are still active artists, laughing and crying and reminiscing fondly and still a little shocked that everything exploded in the way it did, and all the tragedy that eventually overtook the scene. Most entertaining nod goes to Mark Arm, cult figure supreme/frontman of Green River/Thrown Ups/Mudhoney, with a close runner up being Jeff Ament, bassist for Green River/Mother Love Bone/Pearl Jam/Deranged Diction. In fact, it's a pretty major coup to get the likes of Eddie Vedder, Ament and Stone Gossard, still pretty fresh off the Pearl Jam press blackout. But it's mutually beneficial, they share their side of the story, and there's a lot of history to tell, and they get their still somewhat spurious rep burnished by the likes of Arm telling a story about how after touring with both Nirvana and Pearl Jam, it was Pearl Jam who seemed more independent and in control of their own destiny. Elsewhere Duff McKagan gets his historical due, beyond just bleach blonde GNR knucklehead to punk rapscallion and scenester extraordinaire, as a member of Fastbacks, Ten Minute Warning and the Fartz.
The sordid story is told in full, from all sides – artist, promoter, consumer. And it's an entertaining story, full of black humor and pathos about how an unlikely city's music scene basically slipped on a banana peel right into the manhole of popular consciousness. If you ever thought Sub Pop's Pavitt and Poneman had a grand plan, they themselves, along with insiders like Tad Doyle, Daniel House and Kim Thayll are quick to discount that notion. I don't need to remind you of the particulars of Soundgarden, Nirvana and the house that Sub Pop built – if the book just retold that yet again, it would be worthless. It's the human anecdotes that make this book – whether it's a bunch of Seattle hipsters going to see the first Seattle gig of "Duff's new band" (Guns N' Roses) and ending up horrified, Andrew Wood dressing up in KISS makeup and pointing to imaginary balconies full of fans in dive bars, Pearl Jam and Mudhoney deciding not to do a Green River reunion as an encore because they remembered how much their music "sucked," Soundgarden having the most passive aggressive band breakup ever, or Tad getting the shit sued out of themselves repeatedly, for unfortunate choices of cover art – it's the stuff that Woody Allen films, and Spinal Tap songs would beg for.
Some parts of "the story" don't get the attention they deserve. For instance, Everett True's recent Nirvana biography captured the more slapstick/art-pranks side of Seattle music, like the Thrown Ups and Tad's outrageous antics. Though, to be fair, relevant members of each outfit are given copious interview time. As is Blag Jesus/Dahlia, the inimitable frontman of one of only two bands who've ever scared the shit out of me live (the other was David Yow, and the runner up was Leslie Rankine from Silverfish), who's just gloriously contemptuous and contrarian about every bit of conventional wisdom about Seattle music (like, Nirvana was good, etc). And there's just this uncomfortably mawkish chapter of reminiscences of Kurt Cobain (and then Layne Staley) that almost torpedoes the whole book, until Dahlia swoops in and shits on everyone's fond memories. Oddly, a similar chapter about Andrew Wood is much better.
If you're into oral histories – and you should be, Studs Terkel knew what was up – this is probably the closest "grunge" will get to the definitive no-agenda record.
ECW Press: http://www.ecwpress.com
---