The Avett Brothers
with Matt Butcher & the Revolvers
House of Blues, Orlando, Fl • July 17, 2009
Jen Cray
If you've ever looked around at the current crop of bands topping the charts and snagging magazine covers and wondered where all of the talent has gone, then The Avett Brothers should refresh your ears like a mean Chuck Berry riff on a quiet acoustic night. The pair of brothers journey cross the bridge over the canyons of country, folk rock, and pop and do so while singing, playing a string instrument with their hands and – often times – a percussive one with their feet. As for their songwriting skills, imagine a hybrid of Johnny Cash and Buddy Holly with a comfortable smidgen of Kings of Leon thrown in for the blood brother flavor.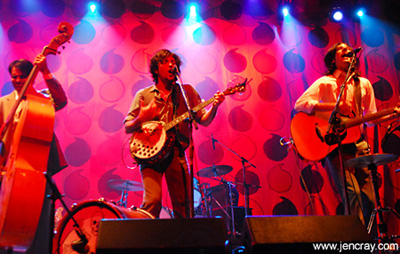 Local favorite, and former front man for the now-defunct band The Heathens, Matt Butcher gave an opening set that has the intimacy and casual approach of a house party. The crowd was brewing over with fans of Butcher and has band of Revolvers, which kept the lanky and spry singer/guitarist playing to impress – and conversing with and family between songs. In keeping with The Avett Brothers' blurring of musical styles, Butcher allows room for his folk music to stretch its legs. You could call it alt-country, but that would be dumbing down Butcher's empowered approach at a well-worn genre.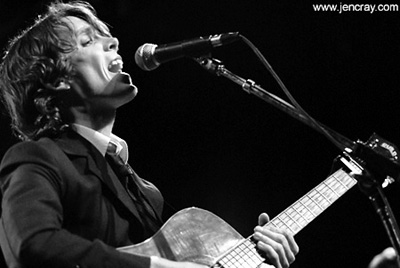 Lined up deep on the stage, in front of a pastel backdrop, The Avett Brothers – which include Scott and Seth Avett, Bob Crawford on upright bass and cellist Joe Kwon– are dapper, dashing, and look ready to step out on The Ed Sullivan Show. There's a timelessness to the North Carolina group that starts with the way they dress and goes right through to their polite demeanor and the music they play.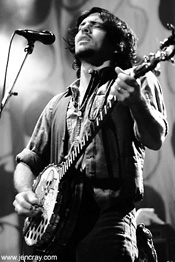 Swapping vocals while bursting at the seams with unfailing energy, the two Avetts are so captivating that it's not until after a particularly bouncy "Will You Return" – the third song of the set – that I realize that while the drum kit at the back of the stage is empty I've been hearing drum kicks and cymbals throughout. 'Tis then I notice that as Scott sings and plucks away at his banjo or guitar he's also jumping down hard on a bass drum at his feet, while long-haired counter part Seth stomps down on a high hat. If that's not enough to make the average musician feel horribly lazy, Scott also routinely sits behind the drum set. The pair have got so much stage presence, the last folk artist I saw who impressed me like this was Langhorne Slim – who has, fittingly, toured with the boys in the past.
This sweat inducing set reached its emotional apex when everyone left the stage to Scott for the acoustic ballad "Murder In the City." The heartbreaking, naked lyrics reveal a son reaching out for his father's affections and feeling overshadowed by his brother. It's a cry-in-your-beer moment that sparks an enthused sing-along on the part of the men in the audience.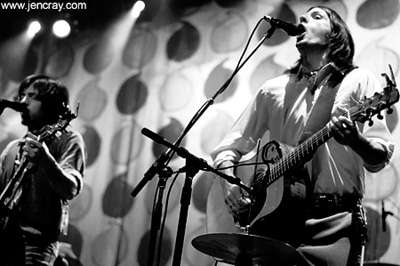 Amidst the weeping men, the hippie population is out in force, as was to be expected for this sort of country-friendly folk rock show. Mingling 'round the House of Blues, and the bubble blowing, deodorant-less fans, are some unexpected faces that despite looking somewhat out-of -place seem to be having a grand ol' time.
With a Rick Rubin-produced album coming out in September, I and Love and You, the Brothers' ascension is just beginning.
To see more photos from this show, and others, go to [www.jencray.com](http://www.jencray.com/bands_live.htm).
The Avett Brothers: http://www.theavettbrothers.com/home • Matt Butcher: http://www.myspace.com/mattbutchermusic ◼
---