The Soddyssey and Other Tales of Supernatural Law
by Batton Lash
Exhibit A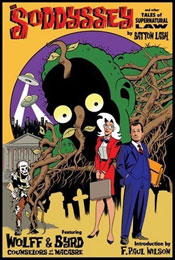 Batton Lash's Supernatural Law sits atop the mountaintop of independent comics. Not only is his book the current longest running independently published comic, but he has been nominated and won numerous awards over the years. Since 1979 Lash has been writing and drawing about the trials (pun intended) and tribulations of Alanna Wolff and Jeff Byrd, lawyers who specialize in representing the supernatural and supernatural-afflicted, or better put, Wolff and Byrd, Counselors of the Macabre, the original title until issue 24. This witty and irreverent humor comic features everything I love about comic books.
Wonderfully written and drawn, his stories bring back that feeling of love and awe you had for the medium as a kid, but also possess an intelligent quality that appeals to an adult audience. Lash's classic cartooning style is heavily influenced by Steve Ditko, Will Eisner and Harvey Kurtzman, the former two his teachers – and unquestioned masters of graphic storytelling – at the School of Visual Arts in NYC in the seventies.
The Soddyssey is a newly re-mastered graphic novel of long out-of-print issues 9 thru to 16, including a few subtle changes, new re-lettering, and new gray tones. These stories were originally written in the mid-nineties and touch on topics of the day but retain a timeless feel, seamlessly switching between parodies of Alan Moore's Swamp Thing, The X-Files and new comedic takes on horror icons Satan, Dracula and Werewolf.
The heart of Supernatural Law is Lash's theme of male-female relationships. He deftly captures the nuances of complex situations that allow you to relate to his characters and their problems. Pulling off a book with relationship themes is even more impressive since these small moments run throughout the laugh-out-loud hilarity of the ridiculous scenarios Lash creates with his memorable cast of otherworldly supporting characters.
Batton is a true wordsmith, crafting stories as well as anyone in comics. Wolff & Byrd's clients are saved by the duo's deft knowledge of the law; there's no need for Van Helsing's stake. The Producers of Law & Order would kill for (yuk yuk) the drama and suspense Lash creates in his courtroom scenes. Can you recall a scene were an angry Satan loses his chance at his unborn Antichrist by being outwitted on the stand due to contract law?
If my lavish praise hasn't convinced you to pluck down your hard earned cash, take a look at Supernatural Law's new original free online stories.
If you don't laugh out loud I'll give you your money back! If you dare sue me over breach of contract, be warned, I've retained counsel with Wolff & Byrd. My ex-girlfriend was right – I really am a Goon! Mwahahahaha!
Exhibit A Press: http://www.exhibitapress.com
---