Juliette Lewis
with American Bang, The Ettes
The Social, Orlando, Fl • Sept. 26, 2009
Jen Cray
She's retired her band of glam punk boys in favor of an anonymous group of backing players, but the back catalog of songs remains – as does her trademark Native American headdress. Even when she went with the shared billing moniker of Juliette & the Licks it was always very clear who the main attraction was. Now the thin shroud of modesty has been exorcised and Juliette Lewis embraces the lone spotlight openly. Her return trip to The Social, where she played an unforgettable Halloween show two Octobers ago, brought plenty of bodies into the small club.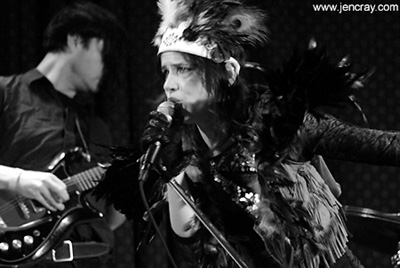 Greasing the passage for a Saturday night layered up high with ass-shakin' rock 'n' roll were The Ettes. The band beefed up to a four-piece as an unidentified second guitarist joined the trio onstage. While not necessary, the addition of a long-haired ax man was an interesting twist – his particular playing style gave their solid garage-y sound a bit of a classic rock edge.
Frontwoman and Central Florida native CoCo Hames charmed the attentive crowd as much with her '60s sockhop style as with her heart-melting voice, and chest thumping bassist Jem Cohen brought not only the low end to the grooves but a certain Strokes-ian hipness to their look. The secret to this band's success lies beneath the petite but powerful appendages of drummer Poni Silver. Seemingly lost in a trance as she plays, Poni's arms and feet gracefully rise before repeatedly crashing down with unexpected power as they hit the skins.
Their time onstage never fails to get the bodies below them moving. The only real flaw with The Ettes' live show is their less than stellar set list. They have a tendency to not only leave out some of their best material, but to throw in a few subtle numbers that allow for the audience's attention to wander. Their strength is in their hip-shake songs, the ones that marry the sweet and sultry sounds of The Shangri-Las with the oily grit of a female fronted Stooges – "No Home" and "Lo and Behold," a pair of new songs that the band worked on with Dan Aeurbach of The Black Keys, are perfect examples. The subtle tracks should be reigned in a bit, at least until they've built up a more substantial fanbase who are willing and eager to listen intently no matter what … and that day may not be very far off.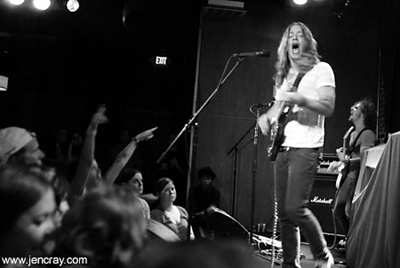 American Bang, the band between the two that most had come to see, can be pretty effectively written off as a Kings of Leon copy. Hailing, like The Ettes, from Nashville with enough pride to garner a tattoo on front man Jaren Johnston's forearm, this band's got a lot of rockstar posturing, but very little substance. While their American rock tunes washed the beers down well enough, there was nothing overtly special about them. It was a relief to bid them goodnight and dip into the seductive whirlpool of Juliette Lewis's live show.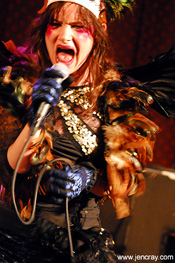 Strutting onstage wearing a wide headdress and a matching feather-filled vest, the actress-turned-singer savored the screams before plowing face first into a breathless set of songs and attitude that owe thanks to both PJ Harvey and The Kinks. Taking cues from women like Courtney Love, Patti Smith, and Peaches, Lewis uses her sexuality to her advantage without ever losing the upper hand. Her confidence could be intimidating to faint-hearted fans, though for most it's invigorating. Behind this estrogen jolt is a straight-up appreciation of all things rock. Her music may not be the most innovative, but it is unique to Lewis and it is sincere. Objective number one: to rock out and have a good time.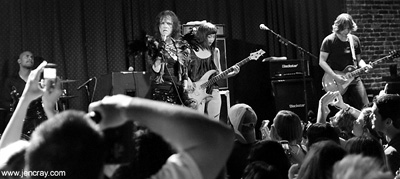 She crawls across the stage, she sings mere fractions of an inch from fans' faces, and she somehow manages to hold contact with virtually every hungry pair of eyes in the room. Who knows if this animalistic, sensual being is a character she pulls out of her hat for her tours, and who really cares?! The connection is real, and the songs are the perfect soundtrack to a sticky sweet Saturday night.
To see more photos from this show, and others, go to [www.jencray.com](http://www.jencray.com/bands_live.htm).
Juliette Lewis: http://www.myspace.com/juliettelewis ◼
---