Brand New
with Thrice, Crime in Stereo
House of Blues, Orlando, FL • November 4, 2009
Jen Cray
Playing to a sold-out crowd for the first of a pair of shows at Orlando's House of Blues, both Brand New and Thrice gave fans reason to be grateful for their good fortune at being one of the lucky folks who made it inside.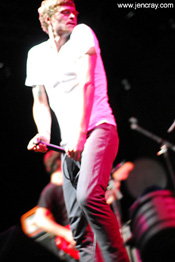 Not to downplay the joyous displays that marked many faces during opening band Crime in Stereo's set, but it's doubtful that the Long Island band – who had just played for 400 fans earlier in the week at The Social, opening for Strike Anywhere – was the main draw for many. Their set, while a totally different experience than that given on their usual stomping grounds of clubs, living rooms, and warehouses, was yet another opportunity for the post-hardcore act to shed another layer of their roots and branch out into a new direction. Exactly what that direction is was still unclear, but instrumental jams that go on for two minutes while the singer sways, entranced by the music, is worlds away from your older brother's hardcore. The band's shift is still in the making, and so not entirely worked out just yet, but the move is bold and their performance impassioned – even standing eight feet above their audience.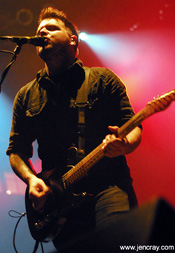 If the loss of some of their old school fans gets Crime In Stereo down and they need a shoulder to cry on, they need look no further than the men in Thrice. Here's a band that has transformed itself from the epitome of screamo into a textured rock act that could very well be the missing link between Radiohead and Jawbreaker. Throughout this move away from the mosh pit standards, they've left a lot of their fans shaking their heads in confusion, waiting for those precious moments in their set when they throw them an old hardcore bone, like when they played "Silhouette" off of 2003's The Artist in the Ambulance. It became the sole mosh moment, but oh, what a grand one. 'Course though some of their fans have been left by the wayside, they've also won over the ears of even the biggest skeptics, turning those who once went to the bathroom during their set into raving fans who rearrange their work schedules to catch them every time they come to town (confession: that's me, folks).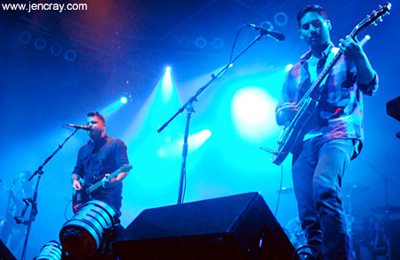 Virtually ignoring everything they've done prior to their most recent release Beggars, the brave foursome marched to its own beat – hardly noticing the idle chatter that littered the air – making them, once more, the underdogs who don't give a damn if they win the game, so long as they have a good time playing. And for the evolved fans, or the ones who've jumped on board in recent years, the new songs sounded golden. With "In Exile" and "Doublespeak" they've uncovered the pop sensibility and heartfelt nuances of The Cars without losing any of their modern voice. This band makes me wanna slow dance as much as it makes you wanna slam dance.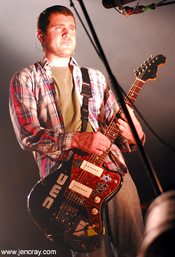 With the promise of Brand New's appearance approaching, the audience got good and giddy. While their music is decent enough if you can get past the emotive sing-along choruses, I can't say how they top the bill over a band as stage-claiming as Thrice. Vocalist/guitarist Jesse Lacey, wearing an expressionless face and hiding behind two microphone contraptions, backs in and out from quiet contemplation to tight-eyed screaming. This style, when combined with his flannel shirt and the extreme angle at which he holds his Fender, hints at hours spent watching Nirvana videos. In fact, more than a little '90s alternative (think Archers of Loaf or Superchunk) seeps its way into this young modern band's sound. Like a generic cola it's fizzy enough, but it's not Coca-Cola.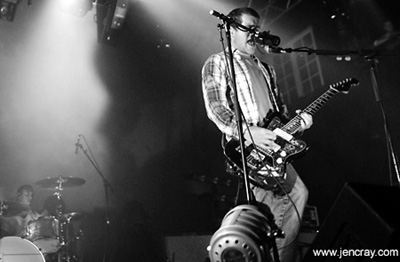 The band felt a little uninspired at the start, though the crowd was completely starry-eyed for them immediately. They screamed along, charmingly out of step, to the songs that tickle them most – like "Sic Transit Gloria…Glory Fades" and "The Quiet Things That No One Ever Knows," both from their 2003 release Deja Entendu – not noticing or caring that the performance was a bit on the lazy side. These songs sound much crisper and punchier on record. Maybe they were having an off night, or maybe they should hand the headliner reigns over to Thrice, who owned the bill.
To see more photos from this show, and others, go to [www.jencray.com](http://www.jencray.com/bands_live.htm).
Brand New: http://www.fightoffyourdemons.com • Thrice: http://www.thrice.net ◼
---