Captain Action: The Original Super Hero Action Figure
by Michael Eury
Twomorrows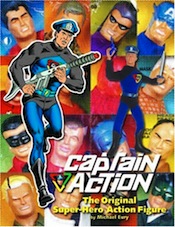 I remember the first time I saw Captain Action. It was in an ad from a tattered comic book back issue from the '60s that an older relative foisted off on me. The house ad showed a noble, square-jawed, supercop-lookin' type who could transform into Superman, Batman, Aquaman, Captain America, Spiderman, Flash Gordon, and the Lone Ranger, and the seven-year old me was just floored. What the hell was this? Why was I born too late for this? Fuck! I had to content myself with making a set of paper-plate masks of each of Captain Action's alter egos, and the thought that maybe I'd somehow come across the Captain in a comic store or flea market some day. Well, it never happened, but I gotta say this new tome from Michael Eury brings back that childlike sense of wonder even better than a chunk of plastic in the form of der Captain himself. No mean feat.
Captain Action was more marketing genius from licensing pioneer Stan Weston, who later played a pivotal role in the Mego lines of comic action figures. Captain Action was a clever concept that we will never see the likes of again, as companies like Marvel and DC hold on to their action figure licensing with a kung-fu death grip. The Captain was a superhero whose power was to assume the forms and abilities of the greatest heroes of all time – Superman, Batman, Sgt. Fury, Flash Gordon, Buck Rogers, Aquaman, Green Hornet, Captain America, Spiderman, Steve Canyon (!), Tonto, and the Phantom. Basically he was, as your mother or girlfriend or sister derisively said, a "man Barbie." You bought the original Captain Action figure, a strapping hero in his own right, and then bought each individual outfit/identity separately to dress your Captain up in. The costumes were incredibly accurate – each one consisted of a full body outfit, headmask, and a score of accessories. The Captain was soon joined by Action Boy, who could take the form of sidekicks like Robin, with a phalanx of accessories and battlepacks and vehicles, and his own villain, the disco-looking alien Dr. Evil. Interestingly, this divergence in the original character concept weakened sales and branding of the line as it caused confusion – was Captain Action a vessel for other heroes or his own man?
The book is similar in format to last year's Mego coffee table book from Twomorrows. It's an oversized, hardcover volume stuffed with glossy, color photos of the Captain in all of his many guises. The book walks that delicate line of being just as fit for John Water-esque kitsch culture enthusiasts as "serious" action figure collectors. Pop culture obsessives will love displaying this handsome tome on their coffee tables and getting more than a few guffaws over the cheesy and clumsy nature of the costumes and accessories (especially the unfortunate, frightwigged Super Queen series with Supergirl and Batgirl), while hardcore collectors will appreciate the exhaustive cataloging of all the various costume and accessory sets and vehicles (and variants within) with copious photo evidence and historical data. Another quality Twomorrows product.
Twomorrows: http://twomorrows.com
---