If It Ain't Cheap, It Ain't Punk: D.unI.tY.
directed by Joe Biel
starring Cliff Claven
Microcosm Publishing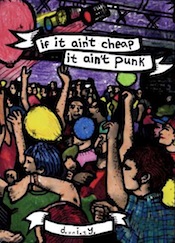 A third of a century ago, Sid Vicious spit on his audience, shot cheap heroin, and called the Royal Family a fascist regime. He was such a huge success he got himself banned from the BBC. But today punk is just another musical style, no different from Baroque chamber music or hip-hop or alt-country, and frankly, the fun is gone. The kids with the tats and the torn jeans and the tongue studs are really recreating their grandparent's music, becoming a sort of civil war reenactment club that wears the costumes and knows the history, but completely misses the point of tearing down society to its nihilistic, anarchistic roots.
But off in odd corners of the internet, in private houses and the basement of used record stores, the mid '70s punks have merged with the mid '60s hippies and recreated the idealistic Earth Shoe-wearing community, but without the promiscuity and drug use. This 480×640 pixel documentary focuses more on the people than the music, and it's great to see all this love and openness and sharing, with the music almost an afterthought. The action revolves around the 2006 Plan-It X fest in Bloomington Indiana and it's a smaller, friendlier version of Burning Man or even a Fringe festival. The golden spirit hovering over the scene is Chris Claven, founder of Plan-it X Records. He's a middle-aged guy with a slicked-down combover Mohawk, and he makes his modest living off of the meager sales of these obscure bands. Their followers are dedicated to the music and ideals – strangers help each other get to gigs, and words like aesthetic, community, and infrastructure pepper their commentary.
Yes, you can make a living selling $5 CDs, but you'll never have the limo or lunch at Spago. And yes, you can swear a vow of poverty with your fellow hipsters, and do what you love, so long as you acknowledge that it is your goal and mom will just have to get over it. And you can commit to maintaining hipness against the very real face of success and maintain your pride and your ideals. The modern DIY punk ethos is full of people who are in it for love not money, and even if you're living on vegan burritos and sleeping in a 1999 Ford Explorer, you're still having fun and no one will criticize you for playing punk glockenspiel. And THAT, my hipster friends, is the essence of being cool.
[Ed: From each DVD sold, Microcosm gives $1 each to Mother Hubbard's Cupboard and Pages to Prisoners.]
Microcosm: http://microcosmpublishing.com • Plan-It X: http://www.planet-it-x.org
---