Isis/ The Melvins
Theatre of Living Arts, Philadelphia, PA • June 17, 2010
Mike Hanan, photos by Michelle Smith
A warm June night brought metal powerhouse Isis to The Fillmore TLA for its final Philadelphia show ever. A shocking May 18th announcement on their website declared the end of their impactful 13-year run:
Simply put, ISIS has done everything we wanted to do, said everything we wanted to say. In the interest of preserving the love we have of this band, for each other, for the music made and for all the people who have continually supported us, it is time to bring it to a close.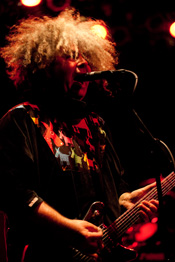 Co-headlining the show were the ageless Melvins, who pounded out an hour-long set with a syncopated two-drummer assault. The Melvins' set could best be described as giant Afros, sing-along anthems, capes, and synchronized stage theatrics.
Right-handed drummer Dale Crover set up center stage, directly next to the left-handed Coady Willis. This odd configuration created a visually intriguing mirror effect that showcased their technical drumming. Flanked to the left and right were guitarist Buzz "King Buzzo" Osbourne and bass player Jared Warren, both with giant frizzed-out hair and flowing capes. The two drummer and four singer arrangement chanted out their gritty anthems in true Melvins unorthodox fashion.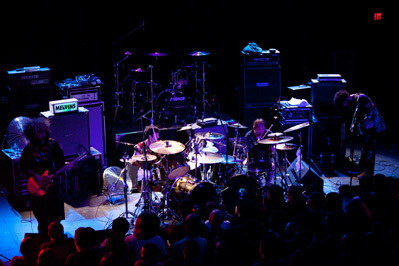 Headliner Isis took the stage around 11:00 pm, opening with two songs from their latest album, Wavering Radiant: the fast-paced "Threshold of Transformation" and the driving, low-end heavy "20 minutes / 40 years." They later dipped further back into their extensive catalog highlighted with "So Did We" and powerful intensely melodic "Holy Tears."
Isis seemed determined to play every note of every song with furious intensity. Even the crowd seemed to be more focused, perhaps with the notion in the back of their minds that what they were watching was already over.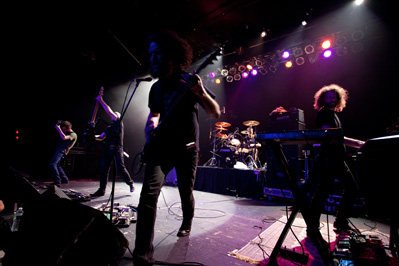 The 90-minute final Philly set list looked like this: "Threshold of Transformation," 20 Minutes / 40 Years," "Collapse and Crush," "Not in Rivers, But in Drops," "Ghost Key," "In Fiction," and "So Did We." Encore: "Holy Tears," "9. The Beginning and the End."
Why would such an explosively powerful band call it quits? I wondered. A small chat with Isis front man/guitarist Aaron Turner prior to their Bonnaroo tour date gave me some answers.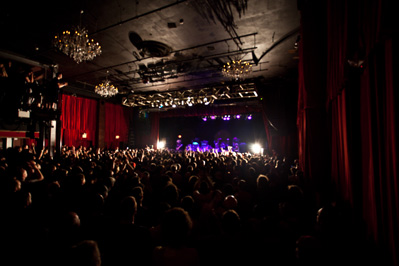 • •
Does Isis enjoy playing the larger shows like Bonnaroo, or do you prefer the smaller, more intimate venues?
We generally prefer the smaller show, but we have had some very successful performances on festivals and opening for larger acts. I think generally the most satisfying thing has been playing our own shows at the smaller settings.
How has the tour been going for the band, knowing that you are calling it quits?
Pretty well… there is an element of sadness [for some of us more than others]. I think knowing that has enabled us to put even more of ourselves into each performance knowing it's the last time in any given city. There is an added incentive to completely go for it. It also seems reciprocal from the people we are playing for, they seem to be more attentive knowing it'll be the last time they see us.
What has the feedback from the fans been like after your announcement?
A lot of people do seem disappointed, but on the flipside there seems to be a lot of respect for our reasoning and a lot of understanding for why we are choosing to put an end to it… I don't think we are the only people who have noticed how often bands outstay their actual ability to maintain a focus on the music over a long period of time. It's sad to see great bands go from being great, to just being pale imitations of their once-great selves. From the beginning we said that we wanted to make sure we called it a day when we noticed we were drifting apart on a musical level.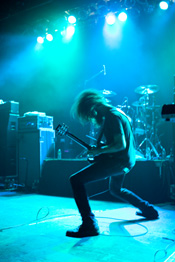 What are your thoughts on the way the music industry has changed with electronic media, file sharing, the internet, etc.?
Some things are better, some things are worse. We came from a largely punk/ hardcore/ underground metal background, so I think all of us felt like the preservation of DIY ethics was an important thing to bring into Isis. A lot of stuff that used to be underground and precious and almost a secret is now becoming part of the mainstream. Although that part of it is a little bit disheartening, bands like Isis, Converge, or to an even larger extent Mastodon have been able to bring music to a larger audience who otherwise would never have heard it.
As far as file sharing, I think it's great that people in places like Russia or Malaysia or India are getting exposed to bands like Isis. I'd rather our music be heard for free, than not heard at all. At the same time there seems to be a level of cynicism in the US and Europe, where people very well could afford to support the artists they enjoy, but feel entitled to steal their work. It's disturbing.
How would you like Isis to be remembered?
While there was never any specific ideological or spiritual agenda we wanted to communicate, if anybody takes anything away from what we've done with Isis, it would be this: knowing the power and the strength of the human spirit when put to positive ends.
Isis: http://www.isistheband.com • The Melvins: http://www.themelvins.net ◼
---