The Secret Life of Glenn Gould: A Genius in Love
by Michael Clarkson
ECW Press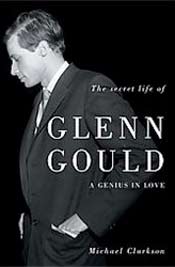 It took me many years to develop any real appreciation for what they call "classical" music. It struck me as cold, antiseptic, and elitist; it just didn't appeal to me. But all that changed upon hearing my first Glenn Gould recordings. Gould, and later the magnificent Martha Argerich, are responsible for transforming my personal aesthetic, which allowed me to experience music in new ways. Jazz, for example, exploded into worlds of tone and texture that simply did not exist in my brain before then.
When my local library foolishly divested its entire collection of vinyl records a decade ago, selling off thousands of dollars' worth of archival-quality, largely out-of-print material for exactly 50 cents each, I bought all the Gould, Argerich, Landowska, and Sviatoslav Richter they had for a total of about 40 dollars, and made that much back selling the doubles. (They sold the stuff because the main library building at the time was old and over-full of materials; a new building was built just a few years later, and it's still a mystery why no greater efforts were made to preserve the investment made on all that vinyl.) Their loss was my gain; it was an investment that continues to pay off.
Gould (1932-1982) was the foremost exponent of the music of Johann Sebastian Bach in the second half of the 20th century, as Martha Argerich was to Chopin. It's not like Bach needs anyone's help, but Gould brought an overt intellectualism not really seen in the music world at that time. He took the stuffiest, stodgiest old-world music and gave it a sheen of jazz-era adaptability, taking extreme liberties with the sanctified tempos of the masters. This approach drew heat from crowds and colleagues on multiple occasions, most notably with longtime friend Leonard Bernstein; such incidents helped to precipitate Gould's exit from the concert stage at 32. Never again would he would perform in any setting more expansive than the Canadian Broadcasting Corporation studios, where he was given carte blanche.
Despite having no professional association with the jazz world, it's impossible not to see him in that context now. His entire 27-year recording career was spent at Columbia Records, whose own jazz archives are perhaps the world's best. Miles, Mingus, Brubeck, Louis Armstrong, Duke Ellington – all worked in the same studio (666 5th Avenue, NYC) that Gould did in the first half of his career. The extent of his knowledge of these figures, musically or personally, remains a mystery, but one might guess Gould's relentless, near-obsessive curiosity with his instrument and the technical aspects of recording would have been intensely stimulated in such an environment.
When Columbia Records introduced its version of stereophonic albums in the '50s, Gould's signature sound (along with Ellington's "Track 360" and other highlights from the catalogue) was used to help demonstrate the technology. When Sony bought the CBS Records Group in the 1980s, Gould's albums were among the earliest reissued on CD. And that's no accident: Gould was known to have gone Steinway-shopping with the great Bill Evans (whose 1961 Village Vanguard recordings are still the apogee of the piano trio style). He also dabbled in jazz in informal situations, but his conservative style kept him from any serious experimentation in the mold of a Friedrich Gulda.
It is a testament to Gould's complex legacy that a number of the key books about him (such as Geoffrey Payzant's Glenn Gould Music & Mind and Peter Ostwald's Glenn Gould: The Ecstasy and Tragedy of Genius) were written by people whose professional roots lie in the realm of psychology. Add to this Glenn Gould: A Genius In Love. Writing for the Toronto-based ECW Press (best-known perhaps for its books about professional wrestling), Michael Clarkson has helped flesh out the biography of his fellow citizen, one of the greatest Canadians of all-time.
As to the author's qualifications, it's best just to quote from the press materials, which make the relevant points most succinctly: "Michael Clarkson is the author of five previous books on psychology. He has a distinguished career as a newspaper reporter, and was nominated for a Pulitzer Prize in the U.S. for his story on a rendezvous with J.D. Salinger. Clarkson is considered an authority on fear and stress; this is one of the reasons he wrote this book on the phobic Glenn Gould."
Clarkson has made a sizeable contribution to our understanding of this intensely private but deeply passionate artist – no small feat, given that Gould has already been the subject of at least 16 books and hundreds of articles, essays, and reflections. Rather than diving back into Gould's ocean of recorded material, cribbing quotes from interviews or recapitulating the dozens of articles written by Gould himself, Clarkson actually found himself a wholly unique angle: the heretofore unexplored personal life of one of the most private citizens in known memory.
As with many great creative talents, you can tell Gould's story in large part through his significant others. As a lifelong student himself, he surely knew that, and sought to avoid that outcome by enforcing rigorous demands on those who filled his orbit. The aggressiveness with which Gould pursued privacy was matched only by the ruthlessness with which he dismissed those who crossed him, many of whom still don't know what they did to lose his favor. Privacy, in this case, is not to be confused with the solitude he championed through his groundbreaking radio documentaries.
The first big achievement of Clarkson's book is to clarify that Gould – a late-bloomer, to be sure – was not the totally reclusive hermit we once thought he was. In fact, he maintained several serious and not-so-serious relationships throughout his adult years. Another achievement, hopefully, is having finally closed the door on speculation that Glenn Gould was gay. Raised in a conservative household, Gould's sexuality found almost no public expression of any kind; in the parlance of our overly demonstrative male culture, where chasing tail is considered as de rigueur as earning a living, his reticence was widely interpreted as characteristic of either a closeted gay or an asexual grump. As it turns out, neither was the case, but his outward restraint did set him apart from most major artists and musicians of the increasingly permissive 1960s and '70s.
By all accounts from those closest to him, he was aggressively hetero. He knew what he liked, and he usually got it. The young Glenn Gould was handsome enough to elicit public comment from both men and women. It was a different type of musical male beauty than, say, Chet Baker, and the polar opposite of what Elvis would unleash within months of Gould's American debut. If anything, he could maybe be compared to Jerry Lee Lewis – which conjures the frightening mental image of Glenn Gould dipping into Lewis' amphetamine stash. (Oh, you think you heard vocalizations before!)
The Secret Life of Glenn Gould is a must-read for all fans of the artist, and if you've not heard his stuff before then by all means do so. Sony Classical now sells a triple-CD set containing both versions of the Goldbergs (1955 and 1981); this is the best introduction to one of the most richly rewarding bodies of work ever produced by any musician. For all that he's given to humanity, it's great to know that Gould was conscious of his contributions, and was even able to indulge his own humanity sometimes.
ECW Press: http://www.ecwpress.com
---