Taddy Porter
Elianne Halbersberg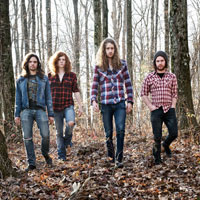 It's been a long time coming, and given the state of radio and the industry in general, a time that many had given up on. But somehow, in the last two or three years, rock and roll made a comeback, minus Auto Tune, pitch correction, and everything on a grid.
Oklahoma band Taddy Porter – that's Andy Brewer (lead vocals and guitar), Joe Selby (lead guitar and backing vocals), Doug Jones (drums), and Kevin Jones (bass, and yes, they're siblings) – epitomize everything that real rock and roll was meant to be. They play the kind of dirty blues that's usually reserved for musicians twice or thrice their age, and they proudly carry the torch that was originally lit by Humble Pie and then passed on to the Black Crowes.
During its first week at radio, their first single, "Shake Me," from their self-titled debut album, entered as No. 3 Most Added track at Active Rock, and kept climbing. Two tracks, "King Louie" and "Mean Bitch," were featured in the season premiere of the HBO series Entourage. Their songs have also appeared on Monday Night Football, ESPN's SportsCenter, and the WWE film Legendary. The band is spending part of September opening for Slash.
All of this changes nothing in the world of Taddy Porter. The road is their home: traveling in a van, bunking down in one Motel 6 after the next, playing show after show, night after night. Watching yet another stretch of interstate go by, Kevin Jones – he of the frenetic stage presence – called Ink 19 (precisely on time, it should be noted) to talk about all things bass and how that translates to making music with two guitars and one brother.
• •
Your CD was released on June 29. It was an instant add, you had television placements and now the tour with Slash. Is it overwhelming at times?
I don't think so. It's all happened really fast, but we don't have time to be overwhelmed because we're too busy being awed and happy to be here.
You've been together for almost three years. Let's look at the steps that were taken from putting the band together to getting it to where it is now.
The first year, I was a senior in high school and we would play on weekends. The band was in Stillwater, which was an hour and a half away from me. I would drive to practice and to shows. The day after graduation I literally moved to Stillwater. So we played there, in Tulsa and Oklahoma City, then we started going to Dallas, Fayetteville, and surrounding areas. We won a battle of the bands in March 2008 and we met Saving Abel's managers. They're now our managers and that's how we started touring. We went out with Radio Moscow, a three-piece band on the Black Keys' label. We did eight or nine dates with them and it was our first time doing anything like that. It was a very cool experience. It's different now because we're on these big tours where there are crews setting up people's stuff. We don't have a crew – we're our crew! But it's different from those weekend shows playing Fridays through Sundays.
At what point did you notice that something was happening with the band?
I was very optimistic early on, and to be honest, the first time I heard Andy's voice I knew I had to get into this band. Of course, I thought that in my other band and we were terrible, so I guess it was luck of the draw, but I knew something was going to happen when I heard Andy sing.
You realize how unusual it is to go this far today without winning a television competition show or a major label pushing you.
Oh yeah. But with the industry the way it is, we're trying something that could become the new standard. We signed with a publishing company, a marketing company, and without them we would not be here. It's different, but we have more artistic control, we're able to talk to the president of the label, and he is behind us and supports us.
Several references have been made comparing you to Southern rock. Do you think this is accurate? Your sound seems much closer to British blues-rock.
We love the Allman Brothers and Lynyrd Skynyrd, and I can see where some people might say that there's a Southern rock sound, but you're right, there's definitely more of a blues influence in this band, and a blues-rock direction.
What led you to play bass?
I stole my first bass from a friend. Actually, he left it at my house and I kept it. I had a group of friends who asked if I played bass, but what they really needed was a PA system, which I had. I said, "Yeah, I can do that." I was playing guitar and violin at the time, and I was in my sophomore year of high school when I picked up the bass. I wasn't really playing. I played with a pick, I followed the guitar lines and I didn't know what I was doing. When I joined Taddy Porter I dug into it. I got rid of the pick and started learning to play the bass – really play and not just imitating.
What was your previous band like?
My other band was extremely different from this one. It was hard-core metal. I looked at my guitarist, and whatever root notes he played in the lower parts, I'd imitate those and add a layer and not try anything new. I never tried to write a bass line. With Taddy Porter, I looked at what other players were doing and made it my own. The first bassist I admired was John Paul Jones. I'm really into the Beatles, and Paul McCartney is an outstanding bass player. I'm very much into Victor Wooten, although I'm never going to get to that level! I've learned a lot from listening to them, and I add a blues feel to that. As a guitarist and violin player, I add more highs and dexterity and speed to it, as well as more finesse. Most bass players are brutish and straightforward. I think of the bass as a cello. I guess I just try to add more flair to it.
When did you begin playing violin?
I took orchestra in school and played first violin. I was first chair once and then it went downhill all the way until I was last chair and second violin. The classes were just so lame. You play the music they give you, and I wanted to write and not imitate. Classical music is amazing, and I'm still influenced by it, but I haven't played the violin in four or five years. I really should play again.
You were not the first bass player in this band. What took them so long to hire you?
Mainly they were leery about me being in high school. That was a lot of it. But I had the drive and everybody liked me. I had been going to Stillwater to hang out with my brother and we were all developing a friendship, along with the ability to play together. When I showed them how much I had been practicing and writing, and how much my playing had improved, they were ready to have me in the band.
How did your approach to the instrument change when you joined Taddy Porter?
I went back to standard tuning. I was playing in drop D in the heavy metal band. Back then I also played with my strap low; the bass was more around my thighs and not below my chest. When I began to move my strap I became more dexterous. It gives me different ways to practice. I moved my strap again two nights ago to see what would be comfortable. That's something I'm learning about every day.
Have you always played in two-guitar bands?
Yes. When I was in eighth grade, I played in a cover band with two guitars, and the metal band had two guitars. I was the singer.
Where does the bass fall in between two guitars and the drums?
My job is to link the guitars to the drums. When you have rhythm and lead guitars, you have to connect both of those with your playing and take all of that back to the drums. You also have to follow the vocals and melodies with your bass lines.
Interestingly enough, you and your brother did not play together in bands prior to this one. Did you have any problem finding the pocket or was it natural?
We're three-and-a-half years apart, and we had never played together. He had his bands and I had mine. When Taddy Porter needed a bass player, we started playing together and it just worked. The pocket was natural; it was almost instantaneous. Maybe it's because we were raised in the same house, listening to the same music, which my dad played for us, and we had the same influences. We are very different people, so we weren't always hanging out together. When I joined this band we became friends again. Doug started out playing guitar and singing, and he did that for 12 years before he took up the drums. Oklahoma has a lot of punk, hard-core metal, and country bands, and when we were young those were the easiest things for us to play. I think our dad made us both into musicians. It would have been weird if one of us had made it and the other didn't, so it's good that we're together now.
Onstage you're using the Orange AD200 head and the Ampeg 410 cab. Is that also what you used in the studio?
Actually, it wasn't. I only use that onstage. I don't think I had the Orange when we were in the studio. I used a generic amp with the gain knob turned up to my settings and got it where I wanted it to sound.
What else are you using?
I'm using a Fender bass, but we recently got an endorsement from Gibson. I had a '65 Gibson SG, which was amazing – the tone with the Orange was so fat and dirty – but it got stolen. So right now I'm using my Fender American Standard Jazz, which is a great bass; I love it. I like more fuzz sound, not necessarily over-fuzzed, but I want the bass to boom and still hit the mid-range. Gibsons are perfect for that, so I'll probably get an EB 3. I use DR strings, 40-100 gauge, and I change them every three or four months. I like dirty strings.
What did Skidd Mills bring out in you and Doug as a rhythm section, and in the band overall?
I think he brought a "go after it" attack out of Doug. There were times when we felt a bit timid, like any band – you're in a big studio, with a real producer, for the first time. You're nervous. You don't want to break anything; you don't want anything to go wrong. I think he helped Doug gain more confidence, and he didn't let me go too crazy. He was open to every idea we had and was willing to consider them. The album was done in two weeks and it was as simple as that. We were so rehearsed, the songs were written, we had been touring them for a year – I tracked every song in one take. I think we made a great album with him.
How do you keep your chops up when you're playing night after night, sometimes seven or eight nights in a row? Do the gigs become your practice?
Yes, basically. When you haven't practiced in a while, you can tell. You've got to practice to keep your chops up. The gigs can do pretty well for that, but you can only go so far, especially if you're only playing 30 minutes as the opening band. Practicing for three and a half hours makes a big difference. When we feel the need for group practice, we rent spaces in different cities. It really helps.
Where do you see the most changes in your playing as a result of recording with Skidd Mills and all the touring you have done? Also, have you had to see a chiropractor? You're pretty active onstage, to say the least.
Yes, I have seen some chiropractors! You get to a point where you're almost backtracking out here. It's so tiring and draining, and you're constantly working at it and trying to be a better musician. If not, your playing will level out. Touring has helped me learn how to work, play, and continue progressing. I've seen a lot of improvements in my playing, and I've learned about warming up and preparation. Something as simple as stretching my fingers, which is easy to do, has made a difference in my strength. My hands don't cramp as much. I'm building up my endurance, dexterity, and finesse. I can do sweeps on the bass; I can get to that speed. You have to keep trying new things, go out on your own and play for yourself to see how much better you can get and what you really can do as a musician.
Taddy Porter: http://www.taddyporter.com ◼
---