The Rolling Stones 1969-1974: The Mick Taylor Years
starring Keith Richards, Mick Taylor
Chrome Dreams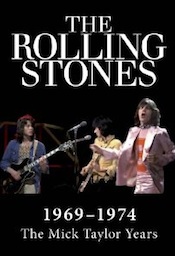 Has any band come close to topping The Rolling Stones' streak from 1969 to 1974? In that short period the band released Beggar's Banquet, Let it Bleed, Sticky Fingers, Exile on Main Street, Goat's Head Soup, and It's Only Rock and Roll. Sure, you could quibble about the last few albums, but that is still a streak of classic albums that bands would sign a pact with the devil to have. So what was their secret weapon behind this remarkable streak? Could it be newly added second guitarist Mick Taylor, fresh from John Mayall and the Bluesbreakers?
Unfortunately, The Rolling Stones 1969-1974: The Mick Taylor Years never really makes a strong argument. After the death of Brian Jones, the Stones added Taylor as a second guitarist, which allowed Keith Richards to come into his own as a writer and lead guitarist. Taylor was a widely regarded player who was initiated into the band by starting a tour that began with the Hyde Park memorial to Jones and ended with Altamont. During Taylor's stint in the band, not only were the Stones able to develop their own style rather than strictly aping their influences, but they were playing bigger and bigger venues, changing rock from a teenage fad to big business. This is all fascinating stuff, but where does Mick Taylor, the guy on the cover of the DVD come in? It's hard to say. While several of the interview subjects mention his role in freeing up Richards to take more control of the band, not too much is said about the supposed subject of the documentary. We get some great clips of the band performing, and lots of stories about the making of Exile on Main Street, but very little on Taylor.
If I was one of Taylor's relatives picking up this DVD, I would be pissed, but a fan of the Rolling Stones or rock music in general would be pretty pleased. Extras include a six-minute Mick Taylor biography.
MVD Visual: http://mvdb2b.com
---