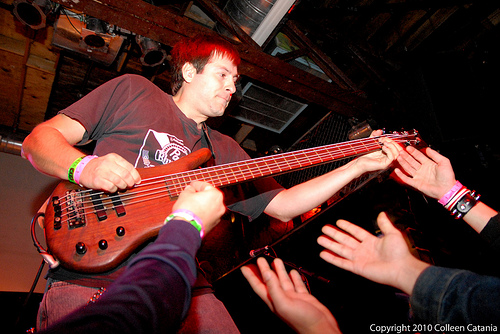 Voice of Addiction
Reggie's Rock Club, Chicago, IL • November 14, 2010
Chris Catania
Live punk music makes me happy. And I was grinning with pleasure all the way through The Wrecking Ball Punk Festival at Reggie's Rock Club in Chicago.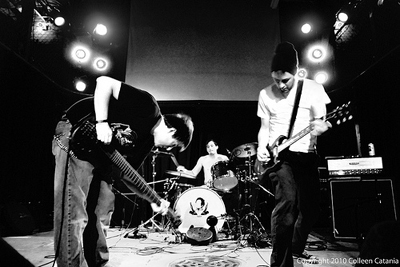 The fest's ambitious army of nine bands was a promising showcase of what's going on in Chicago at the moment, as well as what lies ahead. The night was also a worthy celebration of the city's historic reputation of producing genre-defining, and redefining, punk rock. Some references were obvious and admirable, while other stylistic inspirations were more nuanced as bands melded and mixed in their own interpretations. Nonetheless it was clear that Naked Raygun, Peg Boy, The Effigies and other Midwest punk rock pioneers still reign supreme and remain a major influence as contemporary Chicago post-punk, hard-core, and pop-punk bands look to blaze their own courageous paths in 2010.
One of the night's highlights was the trio Voice of Addiction, notably the bass work and songwriting chops of Ian Tomele. Unable to control themselves, fans at the foot of the stage reached out to touch and engage with Tomele's carnival of body thrusts, surging battle cries, and circus-like showmanship. Leading the way, he screamed and sang his way through a blistering set of gritty, intelligent, edgy, and politically crafty songs from their recent release re-Evolution.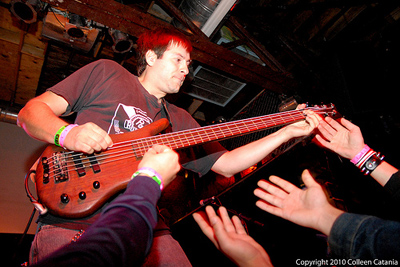 I had listened to the album prior to the show, and experiencing the live rock, thump, and purr of the songs was a real tasty treat. And like the pogoing fans bouncing around the floor at Reggie's, I dug the rhythm and rawness of "Got Your Number."
As the set rolled on I grew more impressed by the band's rowdy, yet mature blend of punk, rock, and reggae. So after the performance I briefly spoke with Tomele, who was also the organizer of Wrecking Ball Fest.
With sweat still dripping down his forehead and the hazy glaze of post-show euphoria still plastered on his face, I shook hands with Tomele and told him I really enjoyed his bass work. He smiled, said thanks, and then playfully explained that he aims to play the bass "like he's fondling a nicely shaped girl…" I laughed when he told me that because that was the first time I had heard anyone explain their love for making punk music or playing the bass in such a humorous and sensually articulate way. Tomele also told me that he was honored to have the chance to host Wrecking Ball Fest and he hopes to do something like this again very soon.
I hope that he does, because with the much larger Riot Fest taking place back in October – which saw Naked Raygun, Peg Boy, and other legendary and up-coming punk bands rock the stage – and Wrecking Ball Punk Fest following suit a few weeks later, I'm confident that the future of DIY music and the Chicago punk rock scene is in mighty good hands.
Voice of Addiction: http://voiceofaddiction.com ◼
---