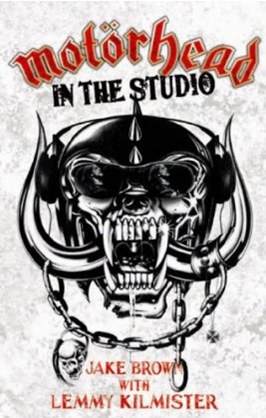 Motorhead in the Studio
by Jake Brown (with Lemmy Kilmister)
John Blake/Trafalgar Square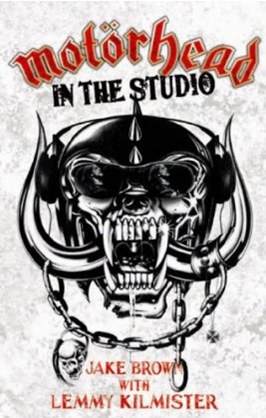 I approached this book the same way that I would approach a new Motorhead album, with a whole HELLUVA lot of goodwill. Not only is Motorhead a living middle finger to age-old pop culture dicta like "Live Fast Die Young" and "It's Better to Burn Out Than Fade Away," making loud, primal, and crucial music with its leader and living legend Lemmy Kilmister well into his 60s, but Motorhead is one of those bands that are so relentlessly themselves that you can't help but approach them with knee-jerk awe. Lemmy is like the William S. Burroughs of heavy metal! Speaking of writers, Lemmy's 2004 autobiography White Line Fever was honest, self-effacing, and funny as hell, so the news that author Brown had secured Kilmister's cooperation in penning this book boded quite well. And finally, fuck man, this relentlessly inspirational band's story needs to be told ad nauseum. Unfortunately this book falls somewhat short of the mark. To be fair, Brown's precis – to delve into the behind-the-scenes stories of each of Motorhead's twenty-something albums – was just too ambitious from the beginning. Realistically telling the stories, warts and all, behind these albums would have extended this book far beyond its relatively slim 251 pages.
There are some mindboggling compositional gambits in these pages. You know you're in trouble when each chapter is padded with lengthy excerpts of reviews from magazines like Billboard and Rolling Stone and interviews from fansites. Why was this necessary? Are you telling me that you're writing a book about Motorhead, a band that writes their albums in the studio by all accounts wired to the gills on cheap trucker speed, WITH LEMMY ON BOARD, and you run out of fucking anecdotes? Here is a band that recorded an album in L.A. DURING THE RIOTS! Paint me a fucking picture with words, man!
Mythology, it's central to rock 'n' roll. Instead, we get producers and engineers droning on about what mics they used (zzzzzzzz…) and how they snuck bottom end onto Lemmy's bass tracks. Sneaky assholes! Lemmy does, in fact, contribute both valuable insights and his characteristic bone-dry humor, but he must have fucked off early into the project, as it relies far more on press clippings, website posts (!) and past interviews than original insights. This book would have been much better off taking more cues from the recent Decibel Precious Metal tome, mixing historical context and musical detail with a healthy dose of humorous anecdotes and first-person memories. Instead, chapters feel rushed and slapped-together with too much emphasis on the producer/engineer's end. There is some bang for your buck in revelations that Motorhead write their songs in the studio on the day of recording, with Lemmy penning his lyrics while the rest of the band are running through the songs and initial tracking, that Lemmy's customized bass amps are named "Murder One" and "Killer," and that the record company snubbed Lemmy at a Grammy party (pretty much in their honor). Interesting concept for a book, but ultimately Motorhead deserves better.
Trafalgar/IPG: http://www.ipgbook.com
---