The Art of Classic Rock
by Paul Grushkin
Collins Design/ Harper Collins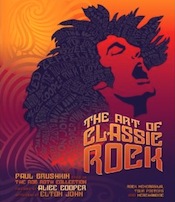 Not everyone is a collector, but if you collect, here are three rules: Keep focused, learn everything possible about your collection, and always buy the best material you can afford. Rob Roth did this in spades. Once he won his first Tony, he set out to buy up every promo item from his favorite bands. That would be the Rolling Stones, Alice Cooper, Queen, Elton John, David Bowie, Led Zeppelin, Pink Floyd and The Who. His collection includes album art, backstage passes, record shop stand-ups, posters, and ticket stubs, and the more obscure the better.
The book and the collections are overwhelming. At 250 glossy pages and six pounds, you're not likely to fit this in your Kindle. The printing and graphics are superb, the chapters are well organized in chronological album and tour sections, and there's clear and useful explanatory text by Grushkin. At least I think Grushkin wrote the text; not all sections flow together and certain key events such as John Bonham's "death from the effects of alcoholism" don't read consistently from page to page. Scandal is avoided, but there's a clear thread of who was responsible for the Rolling Stones' lips and tongue logo, the Led Zeppelin Hindenburg cover, and the Queen Crest designed by Freddy Mercury himself. There are subtle echoes to other threads of rock history as well. See if you can find the scene in Spinal Tap that makes fun of the Queen logo and its creation.
As print drifts to e-books and mobile phone apps, there is a still a place for the glossy, artsy coffee table books. These posters need to be seen in maximum size; that's where they reveal the glorious detailing and love that went into their creation. While a poster is a commercial advertisement on one level, it's also a peephole into the spirit and drive behind an artist, a demonstration of the collaboration that's needed to make something special for the fan and reminder to pick a catchy graphic and hammer it home when you're building an image. Overnight success can take years, but try to make art on the way. Someone out there is collecting.
Harper Collins: http://www.harpercollins.com
---