Coheed and Cambria
Jannus Live, St. Petersburg, FL • April 15, 2011
Christopher Long
Simply put, Coheed and Cambria is arguably THE preeminent American rock band of the last decade. And to commemorate their 10th anniversary, the New York based, modern-day prog rock quartet embarked on their twenty-three-city Neverender tour this spring.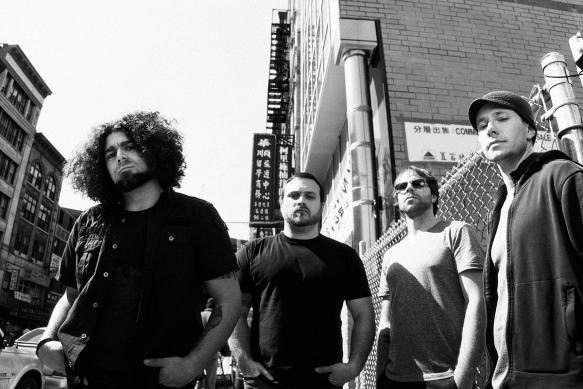 Featuring a host of acoustic remakes along with a butt-load of deep catalogue rarities as well as a slew of "must-play" biggies culled from its five studio records, the three-hour "Evening with" event was a one-size-fits-all presentation designed to appeal to everyone from the casual fan to the most ardent disciple.
This particular clear, cool, spring evening provided the ideal setting for St. Pete's outdoor Jannus Live venue. However, what coulda/shoulda/woulda been an ultimate fan experience was a bit lessened by the fact that not only was the show sold out, it was clearly oversold. In fact, the venue – which according to tampabay.metromix.com holds 1,500 people – was bursting at the seams with likely 2,500 fans. Venue staff could hardly navigate dollies loaded with cases of beer through the crowd without flexing more than a little muscle and trampling a few patrons' toes. As a writer, I typically text notes to myself throughout the various shows that I review, and on this night there wasn't even enough space for me to push the buttons on my ol' Nokia. Fire hazard alert! Do the words "Great White" ring a bell?
But the discomfort of the tightly packed crowd was hardly Coheed's fault – they were there to rock. The band kicked off the show at 8pm sharp and immediately had the crowd chanting along to such fan favorites as "Always and Never" and "Pearls of the Stars." I must admit that I wasn't quite as familiar with Coheed's more obscure material as some of their hard-core followers. However, I was brought up to speed by a guy standing directly behind me who seemingly had a penchant for Budweiser longnecks. He clearly knew every word to every one of the band's songs and apparently felt obliged to serenade me throughout the band's opening forty-five minute acoustic set.
Following a fifteen-minute intermission, Coheed returned to the stage and a mammoth, revved-up, two hour onslaught ensued. Featuring such staples as "Everything Evil" (more crowd chanting), "Time Consumer," "Devil in Jersey City," "Wake Up," "Here We Are Juggernaut," "Iron Fist," and "Welcome Home," rabid fans certainly appeared to have gotten their money's worth.
"This is a perfect show," one enthusiastic teenage male fan told me as I watched the show from the sidelines. "They sound just like the record. They're amazing!" – out of the mouths of some nearby babes!
Drummer Chris Pennie and bassist Michael Todd made up a mighty, rock-solid rhythm section behind Travis Stever's brilliantly blazing guitar work. But it was founder/frontman/guitarist Claudio Sanchez, with his thick head of curly, shoulder-length hair, vintage guitars, and Geddy Lee-like vocals who truly stole the show, proving to be a dynamic, high-energy performer.
Following "I, Robot," the band once again left the stage, only to return for a monstrous, five-song encore which included "Black Rainbow" and ended with "Elf Tower, New Mexico."
Despite the feeling of impending doom due to my cramped, over-sold surroundings, dodging the beer dolly, and the uncomfortable sensation of warm Bud running down my back thanks to my new-found serenading sidekick, the Coheed and Cambria show proved to be an otherwise personally satisfying experience. In short, they delivered an amazing performance – knocking the ball all the way into the cheap seats!
Coheed and Cambria: http://www.coheedandcambria.com/home ◼
---