Mötley Crüe
with Poison and New York Dolls
St. Pete Times Forum, Tampa, FL • July 6, 2011
Christopher Long
This was no mere hair metal revival. This was a bona fide, sanctioned, no-holds-barred grudge battle – a real life, team-style, rock and roll version of MTV's infamous Celebrity Deathmatch.
In corner #1 – Mötley Crüe. With a rather dubious record that includes arrests and convictions too numerous to count, these spitting, cursing, and carousing womanizers were the odds-on Vegas favorites in this match. Given their well-documented disdain for "Team Poison," "Team Crüe" appeared to be out for blood.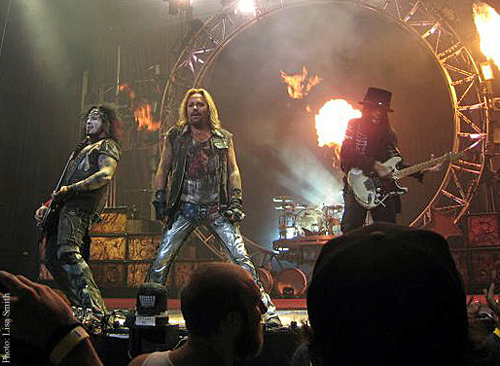 In corner #2 – Poison. These '80s pop/metal poster boys may have looked cute wearing lipstick and eyeliner back in the day, but make no mistake, "Team Poison" can be fierce competitors if put to the test. In fact, when not faced with any other formidable opponents, the members frequently take to beating each other up. Poison's rivals shouldn't be fooled by the good-time, party mantra of such hits as "Talk Dirty to Me" and "Unskinny Bop," for these hombres are as mean as they come. Since "Team Crüe" bassist Nikki Sixx recently called Poison "pussies" (or something to that effect) on MetalSludge, the beloved self-proclaimed "Glam Slam Kings of Noise" certainly had an axe to grind.
In corner #3 – New York Dolls. Seemingly with nothing to lose, these old school, (reformed) drag queen junkies from The Big Apple simply sought justice by proving to the world, once and for all, that EVERYONE has been riding their soiled, sequined coattails all the way to the bank for nearly forty years. However, they were undeniably the underdogs going into the night's competition.
Weighing in at a mere combined five-hundred pounds, the pioneers of punk, the grand dads of glam, the (still) underestimated, frail and pale New York Dolls climbed into the ring just before 7pm. And as if to officially announce, "GAME ON," David Johansen, the iconic (nearly) seven-foot-tall frontman immediately and defiantly announced to the 2,000 early birds in the coliseum, "When I say I'm in love, you best believe I'm in love, L-U-V!" Then, without haste, Johansen and co-founder/guitarist Sylvain Sylvain led their newly re-vamped all-star team, consisting of guitarist Earl Slick, bassist Kenny Arronson, and drummer Jason Sutter, through a raucous rendition of one of their earliest ditties, "Looking for a Kiss." The crowd gasped as the Dolls drew first-blood.
Predominantly dressed in basic black, the Dolls appeared uninterested in simply resting on the laurels of their rich history. In fact, the basis of their powerful offense was to daze their opponents – administering damaging blows by unleashing five songs from the three records they've offered in just the last five years, including their latest, Dancing Backward in High Heels. This proved to be a cunning maneuver, as the two perceived favorites this night have only produced two records of all-new music between them in the last ten years.
Despite having access to only a fraction of the ring, limited lighting, and apparently no sound check, the Dolls remained undeterred in their perceived unrealistic mission of "going the distance."
But the crowd looked on with bewilderment as Johansen was, himself, noticeably dazed twice when he began rambling near the end of the thirty-five-minute set. "How about that German Pope?" he asked. "Do you like him?" Later, Johansen would mutter, slightly off the mic and barely audible, "Let's do one more and get the hell out of here!" However, the Dolls rebounded with an amazing, round-ending, high-octane version of their 1973 garage-glam classic, "Personality Crisis."
Without the benefit of having any new music in which to mount an adequate defense, Poison chose to utilize their two tried and true offense weapons – an onslaught of high-energy, chart-topping fan favorites and a barrage of jaw-dropping pyrotechnics.
Although certain members of "Team Poison" seemed to display a rather lackluster demeanor, frontman Bret Michaels certainly seemed prepared to throw down, donning battle-appropriate headgear and all. But it was drummer Rikki Rockett who truly shined on this night. With head up, eyes wide open, and sticks-a-twirling, the ever-flamboyant Rockett loudly and proudly "rocked" his fabulous new multi colored Rockett Drum Works kit and proved to be his team's MVP.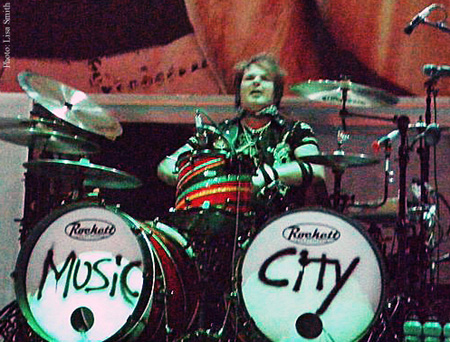 Despite waging a clean and fair fight, Poison did send both of their rivals spinning onto the ropes when they brought every one of the now nearly 10,000 cheering spectators to their feet during the explosive, round-ending, "Nothing but a Good Time." Simply put, America's rock and roll golden boys scored big!
An estimated crowd of 13,000 were in attendance when Mötley Crüe entered the ring at 9:30pm, amid a storm of earsplitting fireworks. Opening with one of their mightiest signature staples, 1987's "Wild Side," it briefly appeared that The Crüe would, in fact, win this match handily. However, approximately one minute into the round, frontman and best-selling author Vince Neil became seemingly winded. Never fully gaining control of his delivery, Neil opted to rely on the audience to contribute the lion's share of his lead vocal duty throughout the remaining eighty-nine minutes of the show. For this violation, "Federation" officials allegedly later slapped Neil with a hefty fine for obviously failing to participate in required team practices.
In what some observers viewed as a desperately cheap shot, The Crüe could apparently only answer to Poison's charisma and the Dolls' authentic nuts and guts approach by berating fans with "F"-bombs – a jarring tactic which actually devalued their otherwise stellar artistry.
I'm not saying that The Crüe set their intellectual bar low, exactly. But I will say that I stubbed my toe on it when exiting the venue later in the evening. In fact, Mötley Crüe has the noticeably uncanny ability to boldly incorporate "F"-bombs where no man has incorporated before. While performing their 1990 single, "Don't Go Away Mad (Just Go Away)," the band cleverly landed a surprise punch by transitioning into their own rock version of the recent Cee Lo Green R&B chart-buster, "Fuck You." And in case anyone was having difficulty discerning Vince Neil's now miraculously crystal-clear, well-enunciated vocals, the often censored lyrics to the popular hit flashed boldly across the enormous onstage video screens. For this flagrant "over-bombing" offense, refs penalized the band seven points.
In one of The Crüe's more touching moments, the band gathered around drummer and best-selling author Tommy Lee, now sitting at a sparkly center-stage piano. Immediately following a campfire-style sing-along for the power ballad, "Home Sweet Home," Lee announced, " 'Til the wheels fall off, fucker!" – apparently referring to the band's unwavering commitment to remaining a team unit, no matter what, despite numerous intra-band squabbles, firings, and re-hirings over the years.
Throughout their set, The Crüe also incorporated the (over) use of scantily clad, onstage rock babes, presumably in an attempt to titillate male fans and to somehow intensify the general live experience for all. However, "Federation" codes of conduct seemed to have been violated when the aforementioned "babes" began gyrating and grinding on what looked to be wooden church pews with signs of the Cross clearly carved into the ends. For this, The Crüe was penalized an astounding fifteen points for "Unabashed Foolishness."
Team captain Nikki Sixx, the tattooed, leather-clad bassist and best-selling author, bravely led his crew through such other mighty Mötley mainstays as, "Primal Scream," "Live Wire," "Shout at the Devil," "Same Ol' Situation," "Looks That Kill" and the non-nostalgic, "Saints of Los Angeles." Often regarded as one of the quintessential rock stars of the last quarter-century, Sixx prowled back and forth from stage left to stage right throughout the performance, spitting on (and at) everything in sight along the way (deduct another three points for un-sportsman-like conduct) – ever mindful of dodging his microphone stand, dangling from the top of the ring, and swinging to and fro throughout the round.
But it was Tommy Lee's death-defying, roller-coaster drum solo that proved to be THE highlight of the evening and provided a certain opportunity for The Crüe to score a TKO. With his clear, acrylic Pearl drum kit literally built into an onstage roller-coaster track, Lee was sent ratcheting from side to side of the circular track, and ultimately left suspended, hanging upside down, approximately fifty feet in the air. But only Tommy Lee could actually "one up" a spectacle of such enormously über rock star proportions, and he did, as he stopped mid-solo to invite a member of the audience to join him for the remainder of the Space Mountain-like, rock and roll ride.
However, "The Tommy Lee Show" fell just short of providing the punch necessary to administer a decisive knockout. With blood, spit, and sweat on the floor and the stench of marijuana and sulfur in the air, the judges were split. But in the end, New York Dolls ultimately won this championship title fight – on points.
Mötley Crüe: http://www.motley.com • Poison: http://www.poisonweb.com • New York Dolls: http://www.nydolls.org ◼
---