Foster the People
with Cults, Reptar
House of Blues, Orlando, FL • September 20, 2011
Jen Cray
If Foster the People continue their career at the lightning pace they've been going, they may just be old news by the time you read this. On the other hand, for a band to be selling out mid-sized venues and have a Top Five single for a song that, a year ago, was just another anonymous MP3 uploaded to the web page of an anonymous band, we may just be witnessing the birth of the next big thing. "Pumped Up Kicks" – love it, hate it, or used to love it but are now sick of it – is the gateway drug that brings out the fans, the live performance is the jolt that leaves us all begging for the next fix.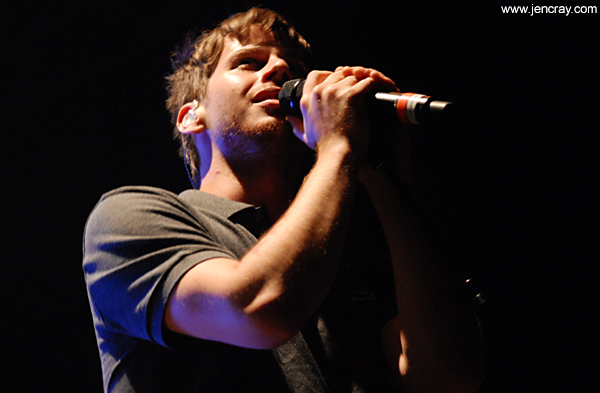 To be fair, this show was triple billed. Cults and Reptar both came packing their own arsenals of music to get fan-geek over, and it was the sum of these three parts that caused this Tuesday evening show to get moved from The Beacham (capacity: 1250) to the House of Blues (capacity: 2100). Even with the upgrade, ticket demand was too high, causing this early bird show (door time: 5:30pm!) to sell out way in advance.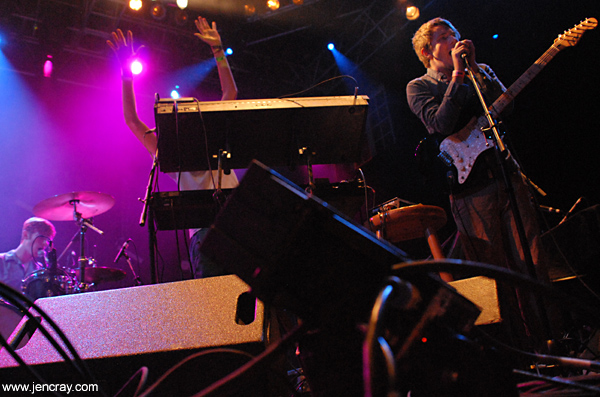 Interrupting the unsuspecting night with their spastic but wonderful dance pop, Reptar pulls threads from the carpets of The Talking Heads, Passion Pit, and Of Montreal. The unevenly woven result would be a train wreck in the hands of a lesser band, but the Athens, GA group cap it all off with just enough melody and singable choruses to make weirdly funky chaotic bursts like "Stuck in My Id" slide down smooth as ice cream.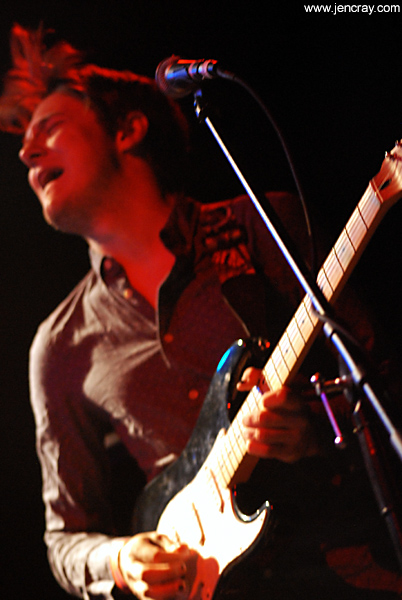 Vocalist/guitarist Graham Ulicny twitches and twists both his body and his face as he spits out his vocals David Byrne-like. Lanky keyboardist William Kennedy, hidden mostly behind his double stack of keys, squeezes in a workout during the band's 30-minute set – doing cardio knee kicks without pause – without missing a note. There were a couple of other dudes on the stage, a drummer and a bassist – both of whom kept the music grounded – but Ulicny and Kennedy were such an interesting pair of characters that I can barely recall their faces.
Everything about this band felt impulsive and immediate, as if they threw these compositions together backstage over a Red Bull. Fun and frenzied, their swift set was over and done before you could say "isn't Reptar a character from Rugrats?"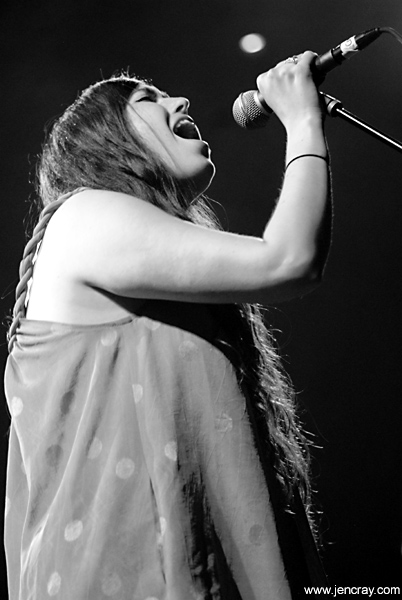 Taking us down a completely different road, Cults dialed down the strange, swooped in with their dreamy indie pop, and allowed singer Madeline Follin to turn on the charm. With a reverb-enhanced voice that flirts with the girl groups that made Phil Spector a very rich man, Follin is the diamond that shines onstage. Surrounded by a band of scruffy guys, one of whom serves up some backing vocals (guitarist Brian Oblivion), all eyes – and ears – are on her to an almost embarrassing degree for the rest of the band. Precious enough to put in your pocket, but with a voice that creeps over your skin like a light breeze, the red-dressed vocalist is hypnotic.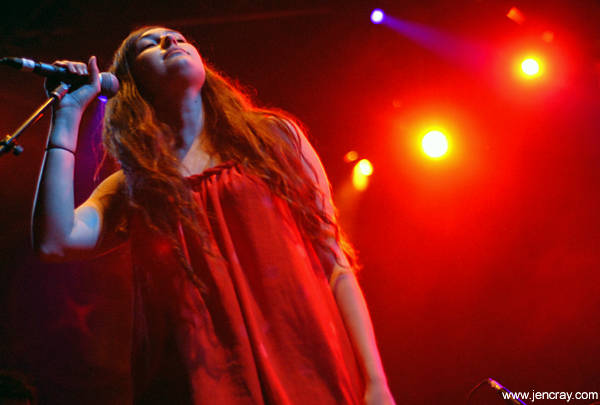 Chills abound throughout, but most notably during "You Know What I Mean," the sweetly cynical "Never Saw the Point," and the band's best three minutes of music, "Oh My God" – which they closed with. Clearly Cults have already begun cultivating their own cult following, and their Florida debut was met with wide smiles.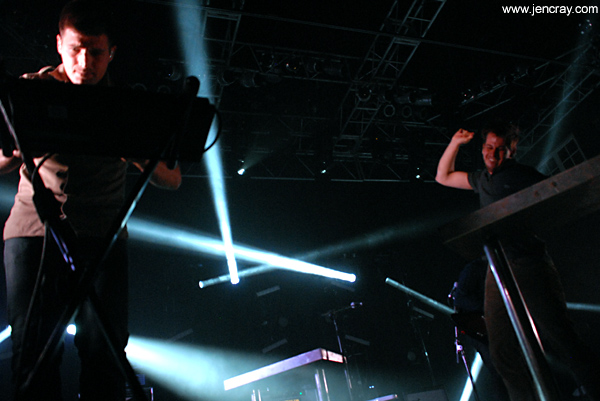 If they were centered in the midst of an elaborate light show and being celebrated by a couple thousand attendees, Foster the People would otherwise look like just a bunch of clean cut guys – band geeks, perhaps. Well groomed and business casually garbed, the Los Angeles group hardly looks like a band ready to run away with MGMT's psychedelically colored dance pop torch, but here they are.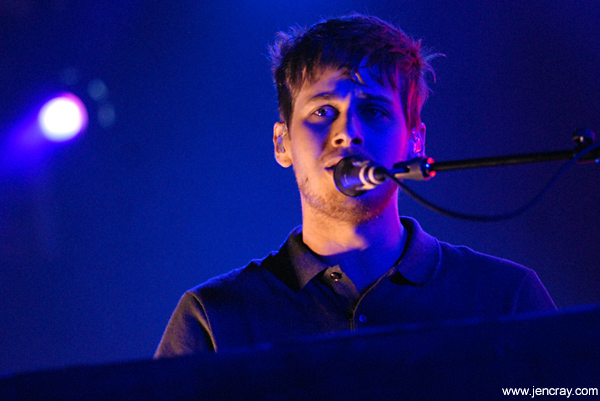 "Pumped Up Kicks" – which they save for the end – is just the tip of the iceberg, FTP create a dance party with "Helena Beat," "Call It What You Want," "Waste" and everything else they whip up. "Don't Stop (Color on the Walls)" has the simple pop appeal of a Sesame Street tune, but they make it work; and "Houdini" bears a striking resemblance to Color Me Badd's "I Wanna Sex You Up" at the chorus, but it doesn't even matter because you're having too much fun getting down to it to care.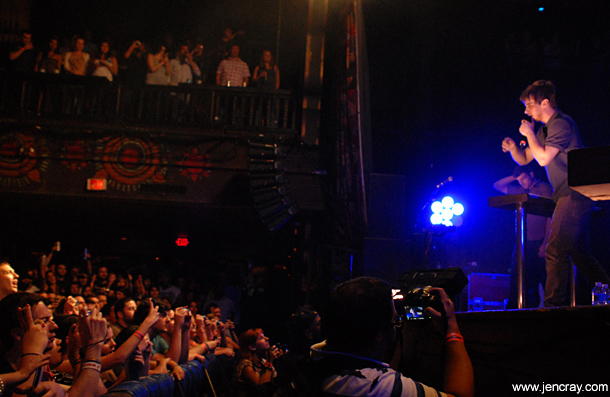 At the heart of the hit-making machine, singer/keyboardist Mark Foster sings like a Bee Gee, and awkwardly dances around the stage – when not tied down to his piano bench – like Corey Haim in Lucas. In his Lacoste polo shirt, he's as un-Rockstar looking as you can get, but – like James Murphy – it fits the electronic world within which he wields his wand. He and all the rest of the many, many band members onstage hop through the lights – jumping in on various instruments, keeping the chaos controlled. The audience matches them step for step, creating a colorful blur of bodies from start to finish.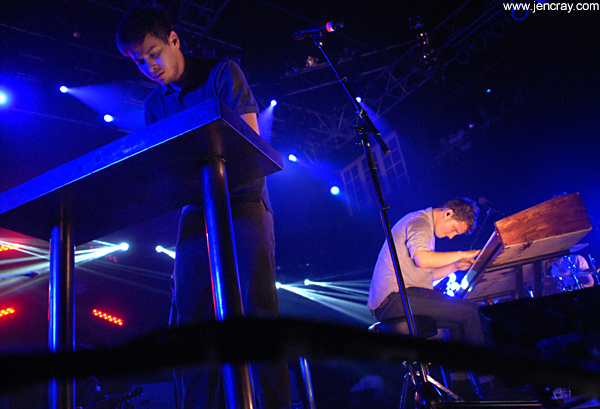 With just the one album, and only 10 songs to play, the night, though short, never loses steam. Foster the People proved to be more than just a band that got a lucky break, but one deserving of the chance to rage on.
Gallery of live shots from this show: Foster the People • Cults • and Reptar.
Foster the People: http://www.fosterthepeople.com • Cults: http://www.cultscultscults.com • Reptar: http://www.reptarmusic.com ◼
---