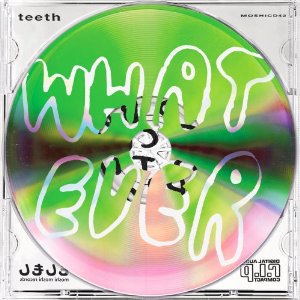 Teeth
Whatever
Moshi Moshi Records
You must admit it's pretty ballsy to hack Lady Gaga's Twitter account, deface it, and broadcast the fact to the world via your press agent. I think there's a law against that, but there is no law against impersonating the noise-punk sound that first came to my attention in 1980 when I heard Jeannie and the Weenies sing "DMV." Never heard of them? Ask Rodney Bingenheimer if you run into him at The Whiskey.
But to the record at hand – this is the sort of snotty stuff the LA scene generated when bands ran out of genuine ideas and went for the weird. Teeth writes relatively simple melodies and then resorts to looping, sampling, slicing, dicing, and Auto-Tuning them into a fruit cake of sticky sweet ideas and candied citron that sticks to the loose filling way in the back of your mouth. Track one is called "Confusion," and that's a fair summation of the band. A Devo inspired phatty bass underlies clipped and distorted vocals as a drum kit overplays the cymbal brushes and an idiot-simple guitar fills in the rest of the spectrum. Equally weird cuts populate the remaining tracks; I suspect they bent more than a few 8-bit synthesizers to get this sound. I do like the vocalist, she's urgent and angry and petulant. Her name is a mystery as is the background for this group; neither official website nor the Big Wiki is much help.
The music alternates from mesmerizing to annoying, and is like some of those weird candies from the Oriental market. At first they taste yucky, but after a while you'll be forcing your friends to try them.
Teeth: http://www.myspace.com/teethdance • Moshi Moshi Records: http://www.moshimoshimusic.com
---